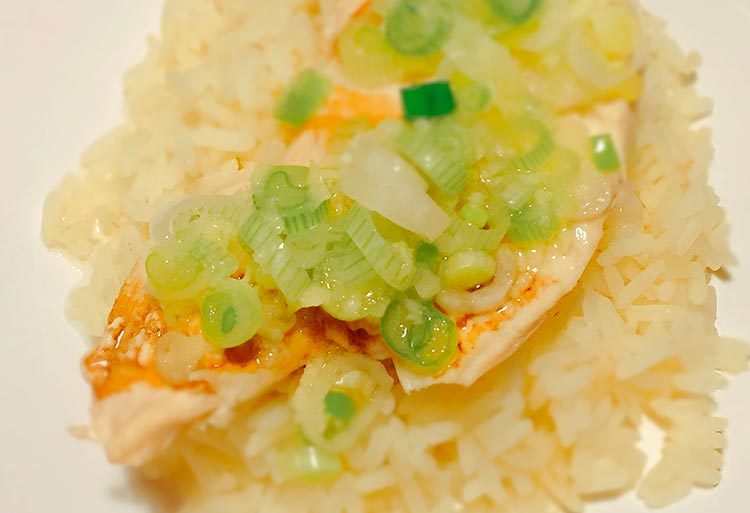 A Cantonese dish by origin, this is officially the quickest weeknight dinner of all time. It can only benefit from a bit more color on the plate, so I would highly recommend serving with some very simple stir fried broccoli or at least a giant green salad.
If you go for the broccoli just put it on the stove right after the rice, throw on some salt and olive oil, and it should be ready to go by the time the chicken and rice are ready.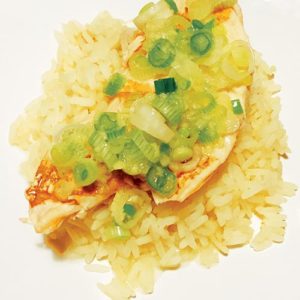 Steamed Chicken with Scallions & Ginger
2016-05-25 16:01:53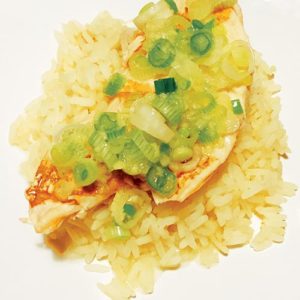 Serves 2
Ingredients
2 boneless chicken breasts, halved lengthwise
1 Tbsp (2cm cube) fresh ginger, peeled and grated
½ cup/ 120ml rapeseed, corn, or other light oil
¼ cup spring onions/scallions, white and green parts, washed and sliced thinly
Good quality soy sauce or shoyu
Toasted sesame oil
White rice
Instructions
Cook the rice according to the package instructions and the number of serving you need.
Steam the chicken over simmering water for 6-10 minutes or until cooked. If you aren't sure if it's cooked just cut into it and check.
While the chicken and rice are cooking, stir together the oil, ginger, spring onions and salt in a mug.
When ready to serve, lay the rice on the plate, and the chicken on top. Drizzle the soy sauce and toasted sesame, followed by the scallion ginger oil.
Victoria's Kitchen http://kitchenbyvictoria.com/