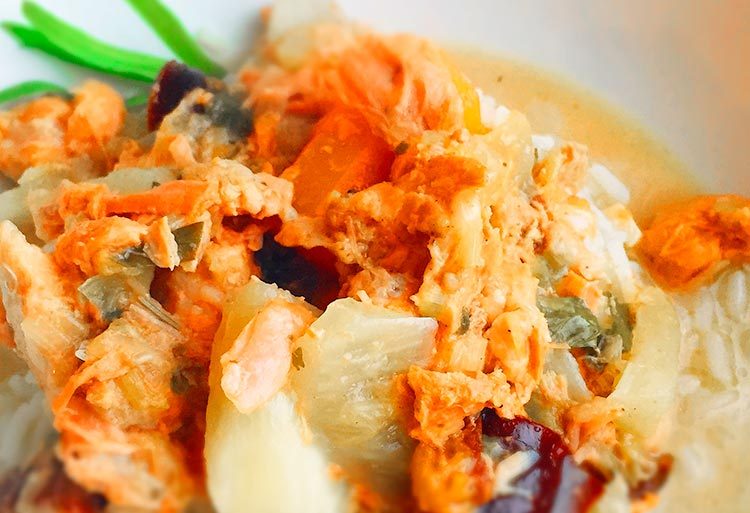 If you don't own a slow cooker, I'm sorry. This recipe is from a book called 'Slow Cooker Revolution', and it is absolutely revolutionary.
If you need to adapt for a regular stove it's fine, just cook it on the stove top for 3 hours. It is important that it's cooked for ages because it's a fatty cut of meat (yum!)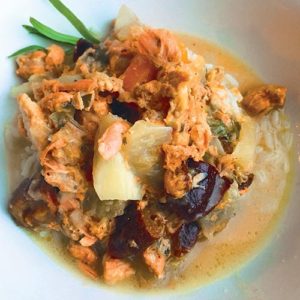 Pork, Fennel & Prune Stew
2016-06-24 14:58:52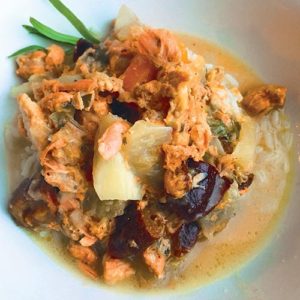 Serves 4
Ingredients
500g leeks, white and light green parts only, halved lengthwise, sliced .5 inch thick, and washed thoroughly
3 garlic cloves, minced
2 glugs vegetable oil
1.5 cups/glasses full of chicken broth
1/2 cup brandy
2 spoonfuls tapioca powder (you'll need to go to a health food store for this one if you live in Belgium. If you live in the US minutes tapioca is fine)
2 bay leaves
500g boneless pork butt, cut into 3 cm chunks
500g carrots, peeled, halved lengthwise, and sliced 1 inch thick
1 fennel bulb, tops discarded, halved, and sliced
1.5 cups prunes, quartered
.5 cups heavy cream
2 spoonfuls minced tarragon
1 spoonful fresh squeezed lemon juice
Instructions
Sautee leeks, garlic, and oil in a pan, stirring occasionally on low heat until leeks are softened. Transfer to slow cooked.
Stir in broth, brandy, tapioca, and bay leaves. Season pork with salt and pepper and nestle into slow cooker. Cook on low for 9-11 hours, or on high for 5-7 hours.
20 minutes before you are ready to eat, steam carrots and fennel on the stovetop. When tender, put into the slow cooker.
Add in prunes and cream, and let sit until the time is up. Season with salt and pepper and a squeeze of lemon juice just before serving.
Adapted from Slow Cooker Revolutoin
Victoria's Kitchen http://kitchenbyvictoria.com/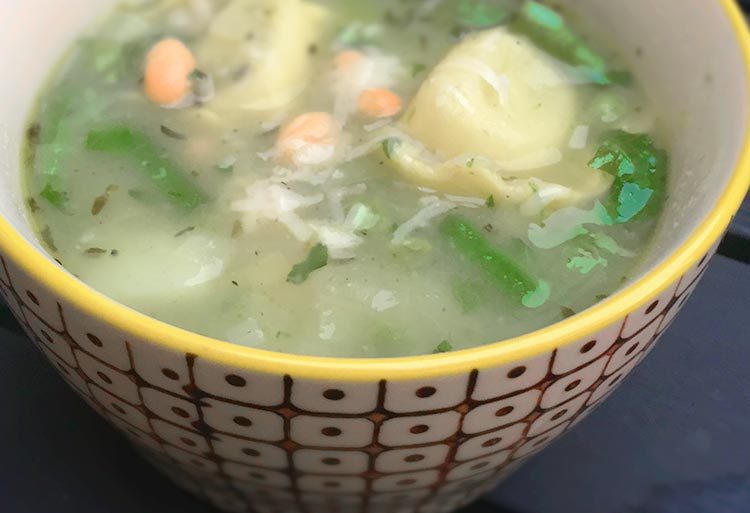 This soup is the perfect for the spring, with all the fresh green vegetables, but also somehow heart-warming for when it's a bit cold out. Perfect for a Belgian summer!
It is largely based on Nigella's recipe, but with some tweaks.
Basic rules of thumb:
High quality Parmesan required

Spinach & Ricotta Tortellini Soup

2016-06-24 14:35:03

Serves 4

Ingredients

3 glugs of olive oil
3 cloves garlic, peeled and chopped
Leaves from a few fresh thyme sprigs or 1 tsp. dried thyme
1 large handful of frozen peas
2 leeks, washed well, halved lengthwise and thinly sliced
1 potato, peeled and finely diced
1 celery stalk, finely diced
1 zucchini, half-peeled and finely diced
1 handful green beans, trimmed and cut into short lengths
2 litres cold water
1 can cannellini or white beans, drained and rinsed
250g fresh spinach-and-ricotta tortelloni
Leaves from 1 small bunch fresh basil (about 1 cup, packed)
A handful of grated Parmigiano-Reggiano cheese

Instructions

Warm the oil in a large, heavy saucepan, stirring in the thyme.
Add the peas and garlic, and stir around in the oil, then add the leeks, potato, celery, zucchini and green beans and stir in the pan.
Pour in the water, add the salt, put the lid on the pan and let come to a boil, then remove the lid and let everything bubble until the vegetables—check the potato particularly—are tender, 10 to 15 minutes.
Remove 3 ladlefuls of the soup mixture, trying to scoop up more vegetables and less liquid, and place in a large bowl. Add in the basil and the Parmesan cheese, and blend with a hand blender. It doesn't have to be smooth, but well blended enough to bring a new texture to the soup.
Add the beans to the pan and bring back to a boil, then add the tortellini and bring to a boil again. Turn off the heat.
Scrape the basil, Parmesan and pureed vegetable mixture back into the pan, stirring it into the soup. Let it stand for 10 to 15 minutes before eating.

Adapted from Nigelissima

Adapted from Nigelissima

Victoria's Kitchen http://kitchenbyvictoria.com/

A drizzle of olive oil never goes amiss.
Most importantly, it's served in the most adorable bowl which was a recent gift from Paris from a very close friend. Arguably the soup is out of focus because I was so concentrated on the cute bowl.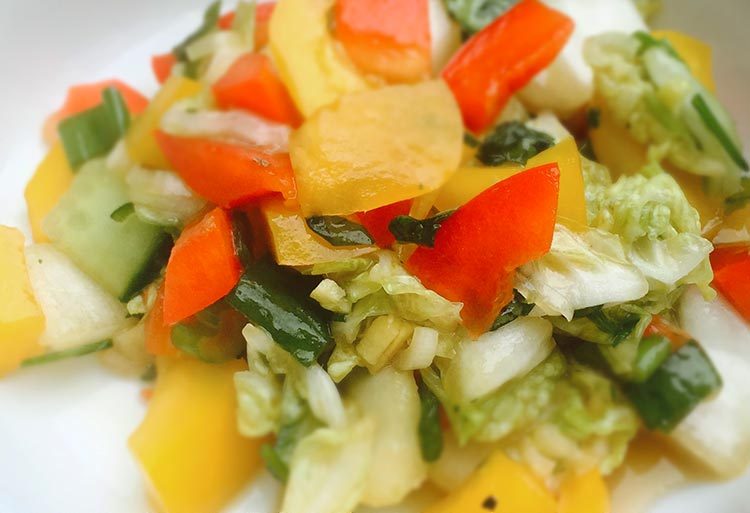 I'm going to be perfectly honest about the fact that I have no idea about the measurements for this recipe. I got so caught up on the moment, throwing around bottles of sesame oil and a sprinkle of this, sprinkle of that. I completely forgot to measure anything.
In any case you should make it to taste, so you should play with the amounts until you are happy with it.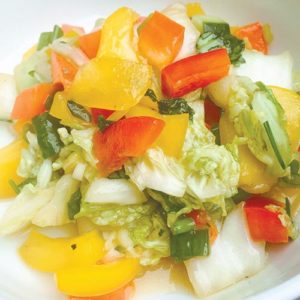 Asian Napa Cabbage Salad
2016-06-06 13:40:44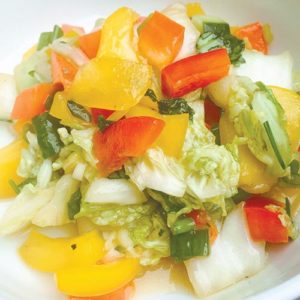 Serves 2
This is so loosely based on the original recipe I'm not sure it should even be linked, but the original is good too so go on and try to make that one too.
For the Salad
1/2 head Sliced Napa Cabbage, Or More To Taste
1 whole Red Bell Pepper, Sliced Thin
1 whole Orange Bell Pepper, Thinly Sliced
Chopped Cilantro, Up To 1 Bunch, To Taste
3 whole Scallions, Sliced
3 whole Cucumbers Peeled And Sliced
For the Dressing
1 whole Lime, Juiced
4 Spoonfuls Olive Oil
4 Spoonfuls Soy Sauce
2 Spoonfuls Sesame Oil
1 Spoonful Brown Sugar
2 Spoonfuls Fresh Ginger, chopped
1 Clove Garlic, chopped
Chopped Cilantro
Instructions
Chop up all your vegetables in the biggest salad bowl you can find.
Mix up all of the dressing ingredients in a mug or separate smaller bowl.
Pour the dressing on top and stir it up. Fiddle around with the dressing ingredients until you get it just right!
Adapted from Pioneer Woman Cooks
Victoria's Kitchen http://kitchenbyvictoria.com/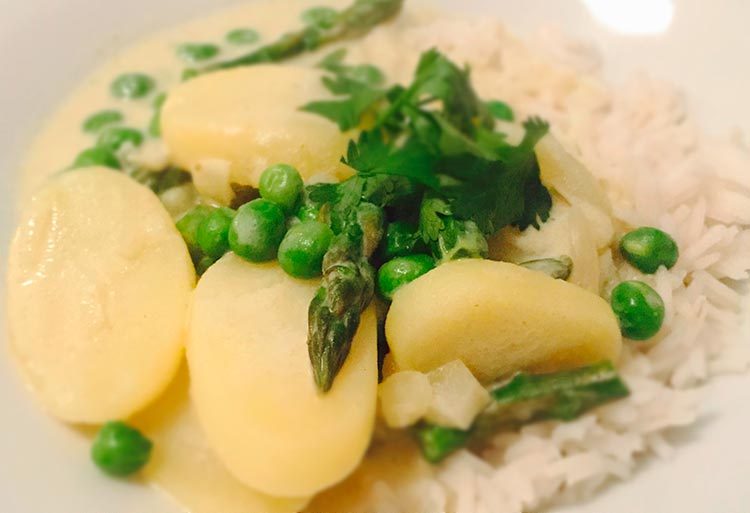 I had the pleasure of being in Schipol (Amsterdam) airport today, where there is the most fabulous grocery store in the Benelux, the Albert Heijn. It's such a customer friendly experience in comparison with Belgium, and they have a great selection of vegetables including these adorable little packages of pre-prepped vegetables.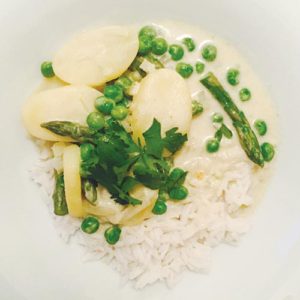 Thai Green Curry
2016-06-06 13:28:55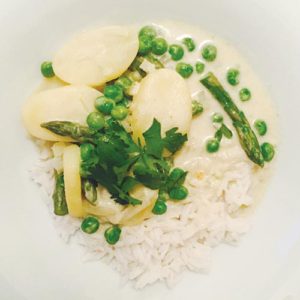 Ingredients
1 Onion, chopped
½ Courgette/Zucchini
A handful of the thinnest green asparagus you can find, chopped
A handful of fresh peas
A handful of pre-cooked potato slices
Fresh coriander, chopped
1 can coconut milk
Green curry paste
1 cup broth
Fresh lime juice
Rice
Instructions
Get the rice in the pot, and cook according to the package instructions.
While the rice is cooking, in the bottom of another pot, stir a spoonful of green curry paste with a small amount of the coconut milk. Stir around until blended, and add the onion until it softens, a few minutes. Add the rest of the coconut milk, the broth, and the chopped zucchini and let it simmer for about 5 minutes.
Taste and add more curry or salt if needed.
Once the taste is to your liking, add in the asparagus, peas, and pre-cooked potatoes. Cook just for a minute or two and pull off the heat.
Serve on rice with a squeeze of lime juice on every bowl.
Victoria's Kitchen http://kitchenbyvictoria.com/
This is an easy weeknight recipe, and it's very adaptable. I like the vegetable combination below, but you can use any combination you like, and the ratios are all up to you.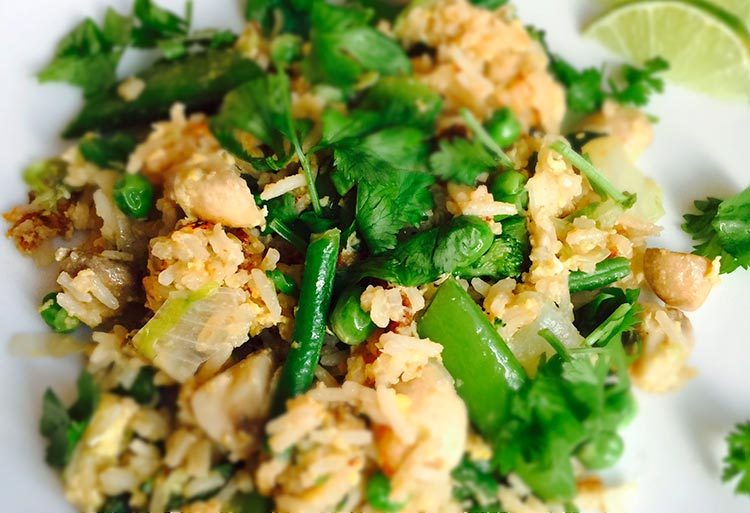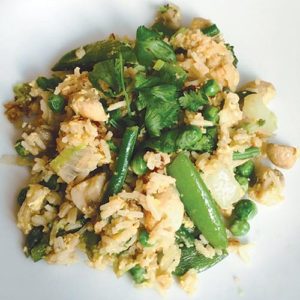 Ginger and Vegetable Stir Fry
2016-06-06 13:24:50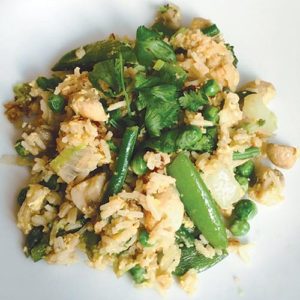 Serves 2
Ingredients
2 spoonfuls Coconut oil
A handful of broccoli or broccolini
A handful of sugarsnap peas and/or green beans
A handful of mushrooms
A handful of fresh peas
3 spring onions/scallion
2 Cloves of garlic
2 Eggs
A half spoonful of red pepper flakes
1 Spoonful of powdered ginger or 1 spoonful of grated raw ginger
Sesame oil
Shoyu or soy sauce
2 Servings of rice (could be leftover from take out the night before)
Coriander to serve
Instructions
If not using leftover rice, cook the rice according to package instructions.
In a separate pan (ideally a wok), heat a lump of coconut oil over medium high heat. Add the vegetables that take longer to cook, in this case broccoli, sugar snap peas, and mushrooms. Stir around a bit until they start to cook through. Then add the fresh peas, spring onion, garlic and red pepper flakes.
One minute later, turn the heat to high, and throw in the cooked rice and powdered ginger. Stir until rice is hot, and then crack the egg on top and stir very quickly so that the rice is evenly coated and the yolk and white are well combined. (If you have the energy to wash an extra dish you can mix the egg in a mug first to ensure it's fully combined before pouring in). I rarely have this energy.
Stir it around quickly, and add salt and pepper to taste. Pour on a splash of sesame oil and a splash of soy sauce or shoyu, also to taste.
In the photo I garnished it with lime slices, which i don't recommend actually squeezing on this dish, I was just desperate for a little side garnish. You could also top with coriander, which is delicious.
Victoria's Kitchen http://kitchenbyvictoria.com/
This is my favourite recipe for leftover rice. It could work with a range of other vegetables, try broccoli, bok chop, the green stuff is best.
It should be noted, that after decades of eating leftover rice without a problem, I recently discovered that if it's not stored properly it can actually give you food poisoning. More information here, but the bottom line is, once you've cooked rice, get it dry, and get it cold (straight into the fridge). The longer it sits at room temperature the more likely bacteria is to grow. If you store it properly there is no reason you can't enjoy it the next day.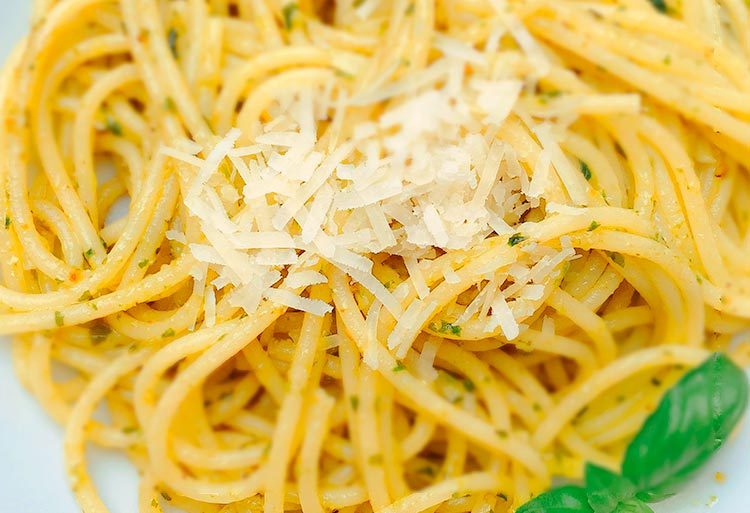 The night before a 20k run, it's important to binge on pasta. It won't save you from hating every minute of the run but allegedly it gives you some energy.
Note: I didn't run the race, but I was in the company o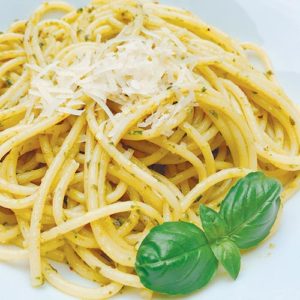 Spaghetti with Pesto
2016-06-02 14:14:07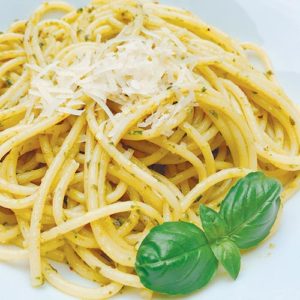 Serves 4
Ingredients
1 clove garlic, chopped (unless you are weak in which case you can add a half clove)
4 large handfuls fresh basil leaves, washed and chopped
1 handful pine nuts, lightly toasted (in an un-oiled pan)
1 good handful high quality parmesan cheese, freshly grated
Extra virgin olive oil
Salt & Pepper
Freshly squeezed lemon juice
Instructions
In a blender, or with a hand blender, puree the garlic, salt, basil leaves, and toasted pine nuts. Add half the parmesan and give it another blend while drizzling in the olive oil. Taste, add salt and pepper, and then add the rest of the cheese and stir to combine fully. Add a squeeze of lemon (to taste). I like a lot of lemon.
Serve on spaghetti with more parmesan and a drizzle of extra virgin olive oil.
Victoria's Kitchen http://kitchenbyvictoria.com/
f the racing team last Saturday, and this coincided with my recent inheritance of a giant unruly basil plant.
Pesto.pasta.night.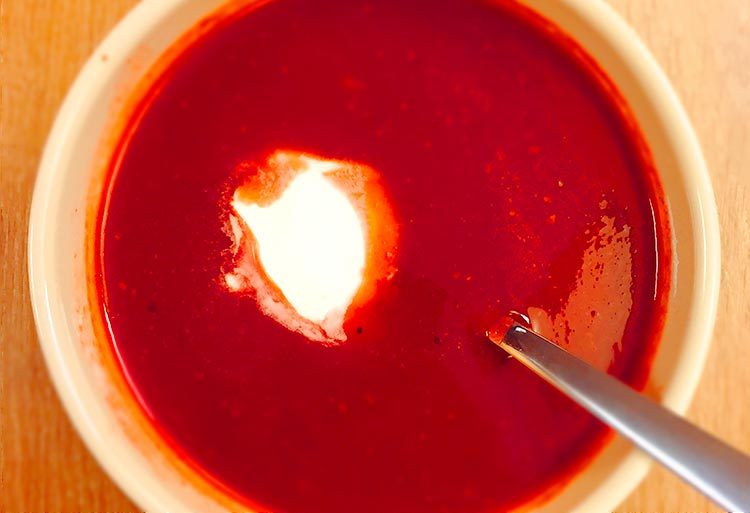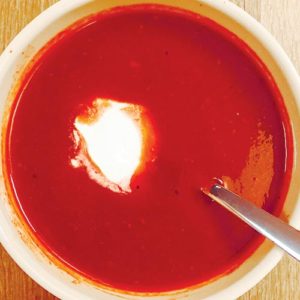 Borscht
2016-06-02 14:08:18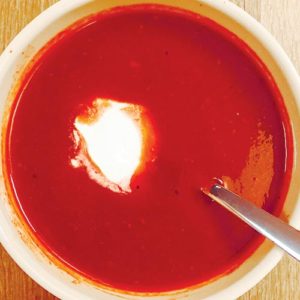 Serves 4
Ingredients
4 Beets, peeled and sliced thinly
2 Potatoes, peeled and sliced thinly
Bouillon
1-2 spoonfuls ground caraway seed
Salt & Pepper
Fresh chopped dill
Sour cream
Instructions
Slice the beets and potatoes as thinly as you can. If you have a mandolin, use it. The thinner the better, I'm talking potato chip thin…
Put the slices into a pot on the stove and cover with water. Bring to the boil and simmer until tender. If you've sliced them with a mandolin this shouldn't be long at all. If you failed and they are thicker it could be up to 10 minutes.
Once tender, pull off the heat and puree with a hand blender until it's as smooth as possible. Add bouillon, caraway seed, salt and pepper.
Return to the flame, turn it down to low, and continue to play with the spices until it feels right.
Serve with a dollop of sour cream & some chopped fresh dill (not pictured here sadly). I should rename this blog 'The Forgetful Cook'.
Victoria's Kitchen http://kitchenbyvictoria.com/
The important part here is that you want twice as many beets as potatoes (weight wise), so don't look so much at the quantity, but rather at the size.
This is my version of borscht, it's not like the Russians do it but it's still very beautiful magenta.
These beets will stain your clothes. Do yourself a favor and wear some clothes you hate while you are cooking.