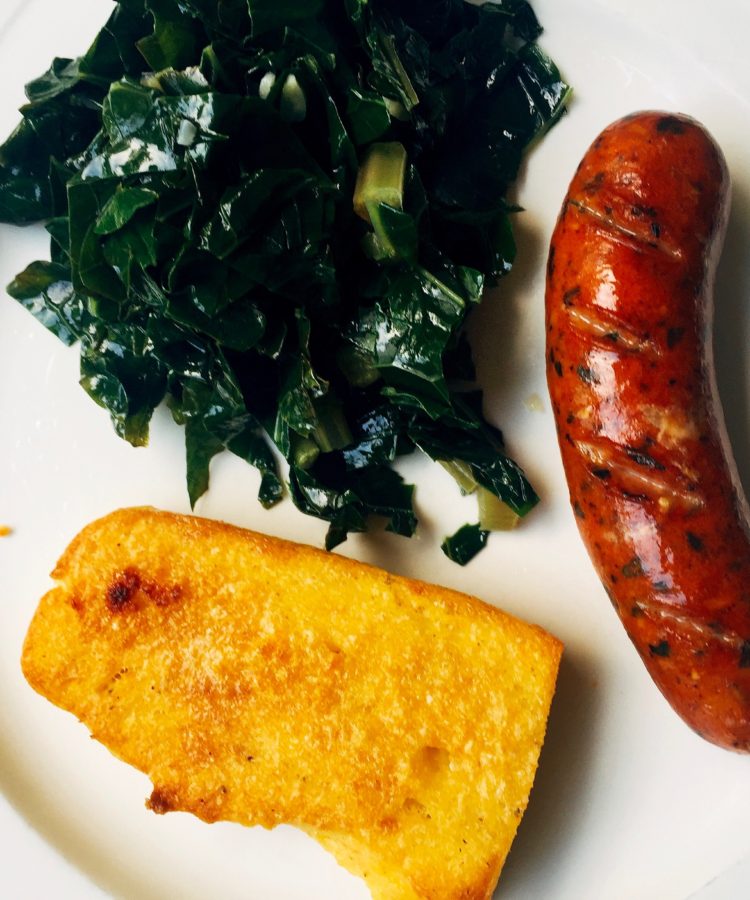 This is a three part recipe, and each part requires a different level of commitment.
The sausages are the easiest of the group, throw em in the pan, and you couldn't screw it up if you tried.
The kale- a two step process, and the polenta, the most complicated of all, but still shockingly easy!!
I'll be honest, I don't love polenta, except like this. Crunch crunch crunch. Oil. Cheese. Do I need to sell it more?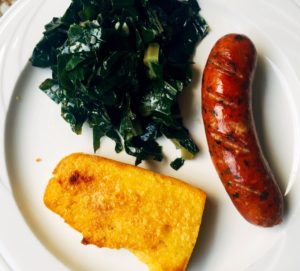 Crispy Polenta with Kale & Sausages
2016-07-28 17:57:42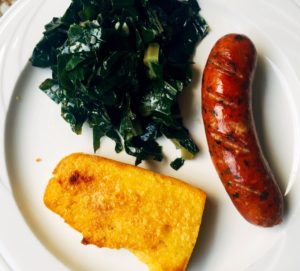 For the Polenta
2 Cups medium coarse or coarse ground cornmeal
6 Cups water
2 Tbsp olive oil
2 Tsp salt
A handful of parmesan cheese, grated
For the Kale
A Giant bunch of kale
A full head of garlic, cloves separated, smashed with a knife, and roughly chopped
A giant glug of good quality extra virgin olive oil
For the sausages
Whatever sausages you like! I used chicken apple, and an Italian style with mozzarella.
For the polenta
Preheat the oven to 350f, and set a rack on the middle level.
Grease a heavy 12 inch dutch oven, add the cornmeal, water, olive oil, salt, and stir with a form or whisk until blended. The mixture will separate, but don't worry this is normal.
Bake uncovered for 1 hour and 20 mins. Stir the polenta with a long-pronged fork, adjust the seasonings, and bake 10 mins more. Remove from the oven and let cool completely (note you can actually do this even a full day in advance.)
When you are ready to eat, preheat the oven to 350, slice the polenta into 1 inch slices, and lay out on a non-stick cookie sheet. Drizzle with olive oil and sprinkle grated parmesan on top of everything.
Bake the tray of polenta slices for 10 mins, before turning the oven to broil for 5 minutes until crispy and browned on the outside.
For the Kale
Separate the stems out (compost them or something), and chop the leaves of the kale.
Steam the kale in a covered pot with a few inches of water for 5 minutes.
Drain, wipe out the pot, and put a giant glug of oil and garlic in the pot. Saute until aromatic, throw in the kale with a large pinch of salt, and saute for another few minutes in the oil and garlic.
For the sausages
Slit them a few times, throw them into the pan, and fry until golden.
Notes
Only the first part of the polenta is based on the cookbook sited above.
Adapted from The Best American Recipes 1999
Victoria's Kitchen http://kitchenbyvictoria.com/