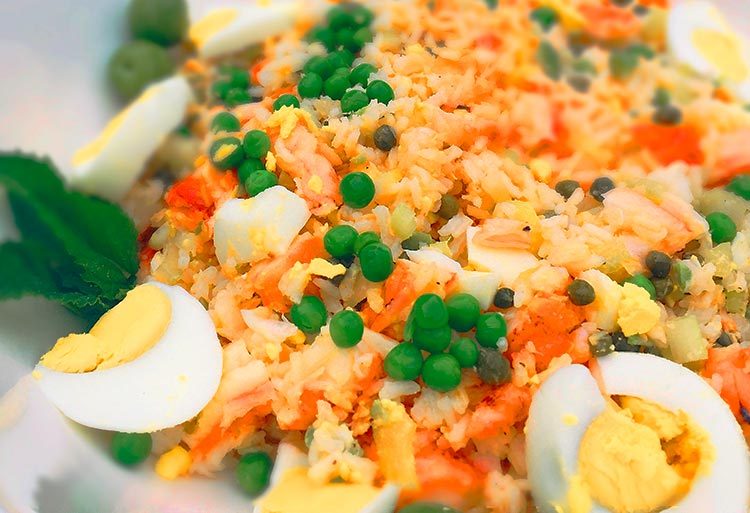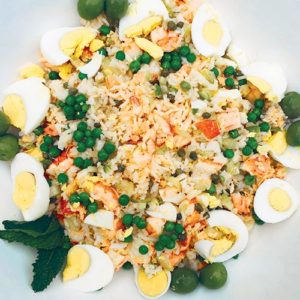 Via Giulia Rice Salad
2016-07-07 17:29:59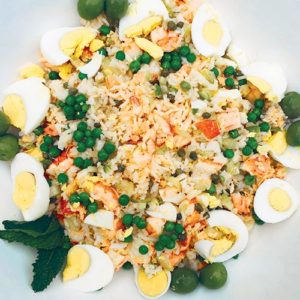 Serves 10
Ingredients
1lb Lobster meat, cleaned and chopped
2 lb Shrimp, fresh or frozen
2 bay leaves, peppercorns, and fennel seed
2 Cans tuna fish
2 Jars of capers
10 Eggs
½ Cup frozen peas
1 Cup green olives, depitted
3 Cups finely chopped celery
1 Bunch of each, Parsley and Mint
2 Cups white rice
For the dressing
½ cup lemon juice
1 cup olive oil
Optional prep work you can do the night before
Hard boil all of the eggs. When they are cooled, peel them.
Defrost the shrimp, peel and devein them.
When you are ready to make the salad
Wash and chop the parsley and mint.
Boil them with 2 bay leaves, peppercorns, and fennel seed, and cool.
Wash and dry the celery, and chop it up.
Mix the lemon juice and olive oil together to make the dressing
Cook the rice, and spread it on a tray to fluff it up, cool it down, and keep it as dry as possible.
Mix together the lobster, shrimp, tuna fish, capers, eggs, peas, olives, celery, herbs, and rice.
Pour half of the dressing on top and toss. Add more if you wish, depending on your preferences. Decorate as festively as possible !
Notes
The key here is to keep everything as dry as possible. You don't want a goopy salad. When you've washed the vegetables, let them dry thoroughly before mixing in the salad.
Victoria's Kitchen http://kitchenbyvictoria.com/
This dish is a festive, celebratory dish which my Italian family served as a day time meal from their beautiful apartment on Via Giulia, just off of Piazza Navona.
My great grandfather George Breck was the head of the American Academy of the Arts in Rome between 1905-1909, and we still have a wonderful family living in Italy.
Every time I visit Rome, and every time my family has visited Rome, we are welcomed by the most loving faces, amazing food, and beautiful weather.
There's no place like Rome.