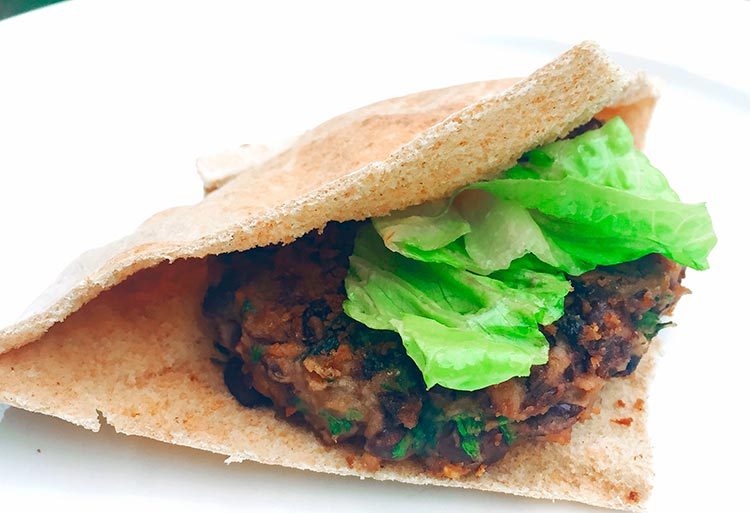 I love a bean burger. I honestly prefer them to real burgers.
Of course, there is really no grill option for bean burgers in the same way as there is for real meat, but do you really care?
Black beans are my protein of choice, and Belgium really needs to stock up, because right now they are a rare commodity.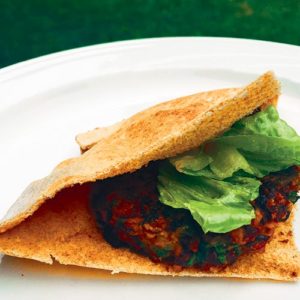 Southwestern Black Bean Burgers
2016-08-28 12:05:36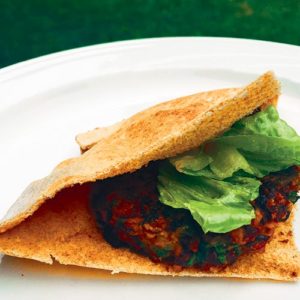 Serves 4
Ingredients
2 15oz cans of black beans (regular sized cans)
4 tbsp mayonnaise
A handful of cilantro/coriander leaves
2 tbsp bread crumbs (or panko if you can find it)
1 spoonful of hot red pepper sauce (depending on your preferences)
2 tsp ground cumin
Salt & pepper
Lettuce slices to serve
4 mini pitas, warmed
1 cup of salsa, to serve
Avocado slices, to serve
Instructions
In a large bowl, using a potato masher or a fork, mash the beans with the mayonnaise until almost smooth, but leave some lumps. Stir in the cilantro, bread crumbs, hot sauce, cumin, salt and pepper, and mix well.
Shape the bean mixture into burgers (you'll have about 6-8 small burgers).
Heat a skilled over medium heat, and add a small amount of vegetable oil to the pan. Cook the burgers until browned on each side.
Slide into the pitas and top with lettuce, salsa, and avocado.
Done! You could serve with a large green salad, or fresh corn on the side.
Adapted from Good Housekeeping
Adapted from Good Housekeeping
Victoria's Kitchen http://kitchenbyvictoria.com/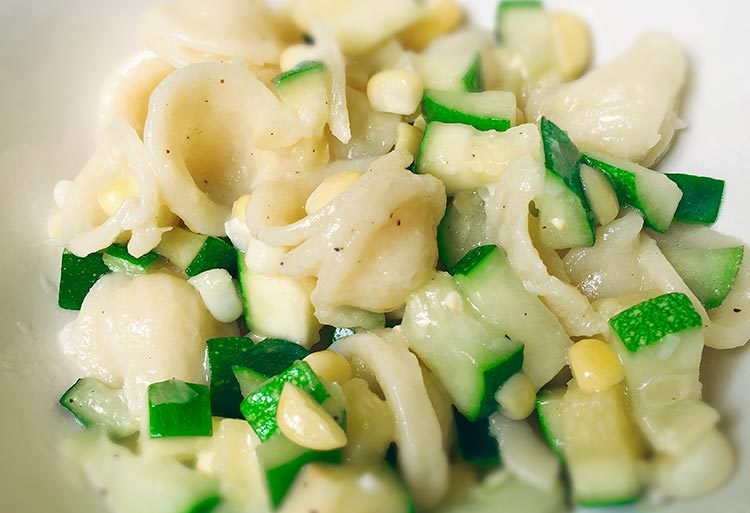 It is really hard to toast pasta. It will stick to your pan. But it will also be super delicious, and needing to soak the pan for a day or two is totally worth it.
This is a really summery pasta, mostly because of the corn.
It should still however be served right out of the pan, because the creme fraiche will be creamiest mixed with the pasta cooking water and it'll just be the perfect consistency. So it's not going to be your go to picnic dish.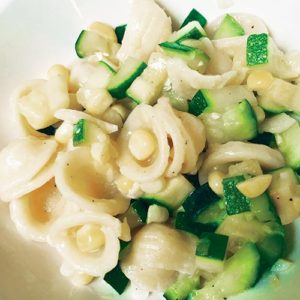 Toasted Orecchiette with Zucchini, Corn, & Crème Fraîche
2016-08-28 12:53:02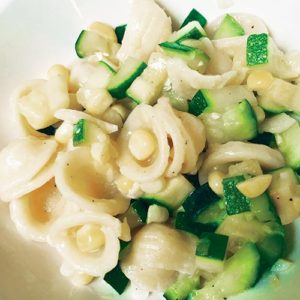 Ingredients
12 ounces orecchiette
Extra-virgin olive oil
4 to 5 small zucchini, small diced
2 ears of corn, shucked, kernels removed
2 cloves garlic, finely sliced
1/4 cup crème fraiche
1/2 cup basil, finely sliced
Freshly cracked pepper to taste
Lemon for serving, optional
Salt
Instructions
Bring a large pot of water to a boil over high heat. Add 1 tablespoon salt.
Cook pasta al dente, reserve 1/2 cup of the cooking liquid, drain pasta, transfer it to a large bowl, and toss with 1 tablespoon of the olive oil. Meanwhile, place 2 tablespoons of the olive oil in a large sauté pan over high heat. When it shimmers, add the zucchini, corn, and garlic. Immediately reduce the heat to medium, season lightly with salt, and cook for 2 minutes undisturbed. Stir, and cook for one minute more, then transfer to a large serving bowl.
Add 2 more tablespoons of the olive oil to the pan. When it shimmers, add the pasta and let it cook undisturbed for 1 minute. Stir, and let it cook for another minute. The edges should be starting to brown. Repeat this process for 2 more minutes, or until the pasta is browned to your liking, then transfer it to the bowl with the vegetables.
Add the reserved pasta cooking liquid and the crème fraiche to the sauté pan and stir until emulsified, then transfer to the bowl of pasta. Add the basil, and toss everything together. Taste. Season with pepper to taste and more salt if necessary.
Serve pasta with a squeeze of lemon.
Adapted from Food52
Victoria's Kitchen http://kitchenbyvictoria.com/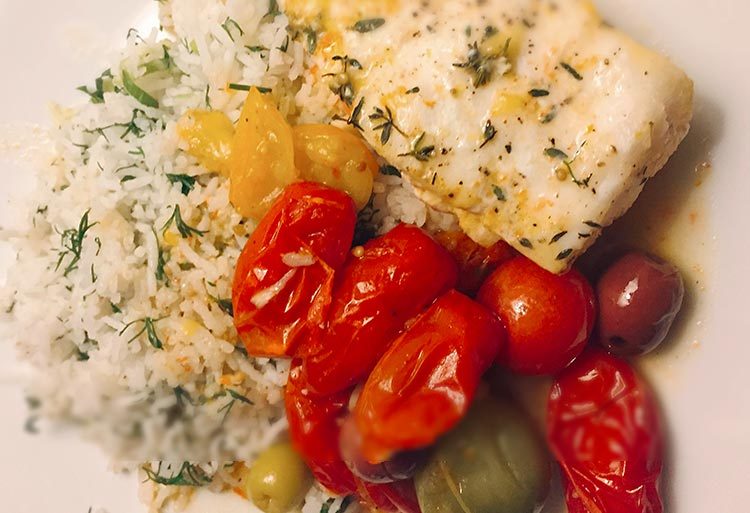 This is an easy meal when cooking for a group of people, pop it into the oven and there isn't much to do after that except for fiddle with your salad and dessert!
It's all about the cherry tomatoes, see if you can find a really fun bunch of green, yellow, orange and red tomatoes to make it really wild.
As for the olives, kalamata and nicoise work best.
I would recommend making this with rice, because all those soupy tomatoes are just begging to be sopped up onto rice.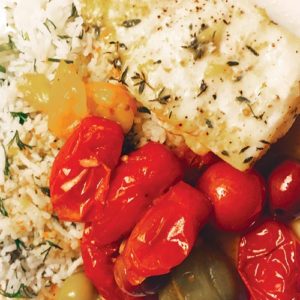 Roast Cod with Cherry Tomatoes & Olives
2016-08-28 12:39:31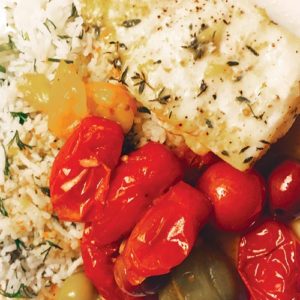 Ingredients
1 pound assorted grape and cherry tomatoes - different colors work best
3 cloves garlic, chopped
4 tablespoons olive oil
1/1/2 -2 pounds cod
30 assorted olives
1 handful chopped fresh herbs (basil, thyme, mint and oregano work well)
1 cup chicken stock - if the cherry tomatoes are too dry
Instructions
Preheat oven to 375f/190c.
Place tomatoes in overproof dish and toss with garlic and two tablespoons of olive oil. Roast for 25 minutes on lower rack in oven. While tomatoes are cooking, cut fish into 4 equal sized pieces, rinse and pat dry.
Remove tomatoes from oven, nestle fish into the tomatoes and their juice, scatter olives and return to oven for about 25 minutes but this all depends on the thickness of the fish. Test for doneness - cod should separate easily and be just opaque. Remove from oven.
Sprinkle fresh herbs, and salt and pepper to taste. Sprinkle last two tablespoons of olive oil all over. Serve hot with rice.
Notes
Juiciness of the tomatoes can vary (especially in Belgium!)- when adding the fish, if the tomatoes are not seeping, add 1 cup of chicken stock.
Adapted from Food52
Victoria's Kitchen http://kitchenbyvictoria.com/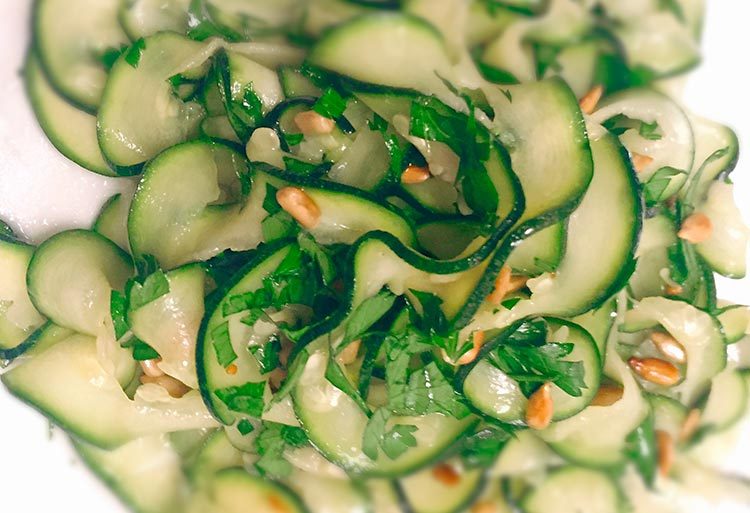 Zucchini noodles are revolutionary. Whatever you call them, zoodles, courgetties, zucchini spaghetti.
They are a healthy and filling alternative to real pasta when served as a main, but also a really nice light salad served as a first course.
Ideally, you own a spiraliser. If not, go on amazon and buy one right now, it'll be the best 25 bucks you've ever spent. If you don't have one, just use a vegetable peeler to peel the zucchini the long way.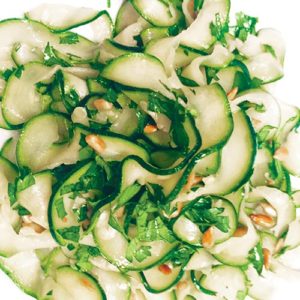 Zucchini Salad with Lemon & Sunflower Seeds
2016-08-28 11:55:28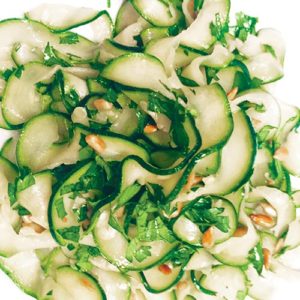 Ingredients
4 small or 2 large zucchini/courgettes
Juice of half a lemon
A handful of toasted sunflower seeds
A large handful of parsley
Salt & pepper
Instructions
Make the zucchini/courgettes into noodles using a spiraliser or vegetable peeler, into a large bowl (not your serving bowl).
Add a liberal amount of salt, and rub over all the noodles with your hands.
Let sit for 15 minutes, until it starts to let off some liquid. Add the lemon juice and let sit in the fridge for another 10 minutes.
When ready to serve, take out and mix in parsley & toasted sunflower seeds.
Victoria's Kitchen http://kitchenbyvictoria.com/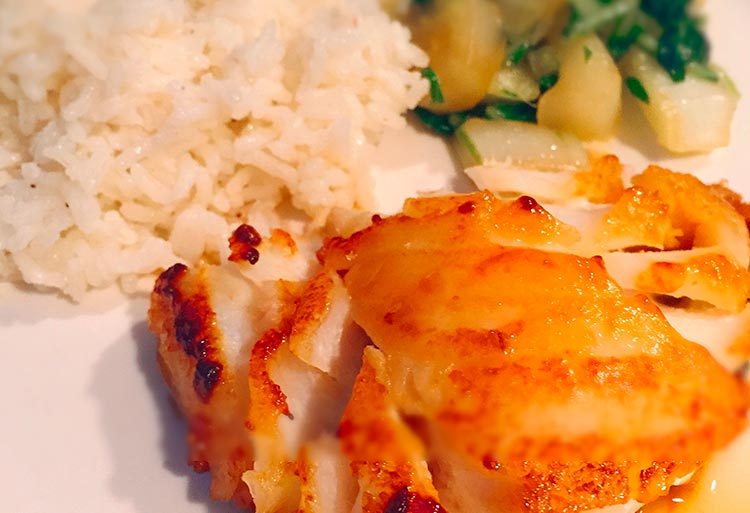 This is all about the marinade. The longer you can do it the better, but a few hours will work. The original recipe calls for 3 days of marinading, but that's impossible for most people.
This should be served with rice & some asian-style bok choy (try sautéing with soy sauce, rice vinegar, ginger, and garlic and giving it a final drizzle of sesame oil).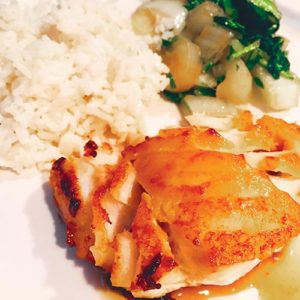 Miso Marinated Cod
2016-07-26 20:15:27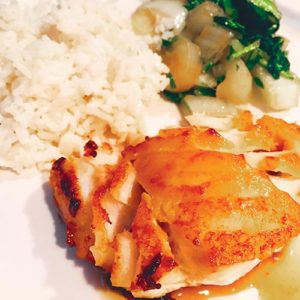 Ingredients
1/4 cup sake
1/4 cup mirin
4 tablespoons white miso paste
3 tablespoons sugar
4 cod fillets
Coconut oil
Instructions
Start by making the miso marinade. Bring the sake and mirin to a boil in a medium saucepan over high heat. Boil for 20 seconds to evaporate the alcohol. Turn the heat down to low, add the miso paste, and whisk. When the miso has dissolved completely, turn the heat up to high again and add the sugar, whisking constantly to ensure that the sugar doesn't burn on the bottom of the pan. Remove from heat once the sugar is fully dissolved. Cool to room temperature.
Pat the cod fillets thoroughly dry with paper towels. Slather the fish with the miso marinade and place in a glass dish or bowl and cover tightly with plastic wrap. Leave to marinate in the refrigerator for 1 day ideally, or in a pinch you can marinate the fish for a minimum of 3 hours.
When you are ready to cook the fish: Preheat the oven to 400°F/200°c. Heat an oven-proof skillet over high heat on the stovetop. Film the pan with a little coconut oil, then place the fish skin-side-up on the pan and cook until the bottom of the fish browns and blackens in spots, about 3 minutes. Flip and continue cooking until the other side is browned, 2 to 3 minutes. Transfer to the oven and bake for 5 to 10 minutes, until fish is opaque and flakes easily.
Adapted from The Kitchn
Victoria's Kitchen http://kitchenbyvictoria.com/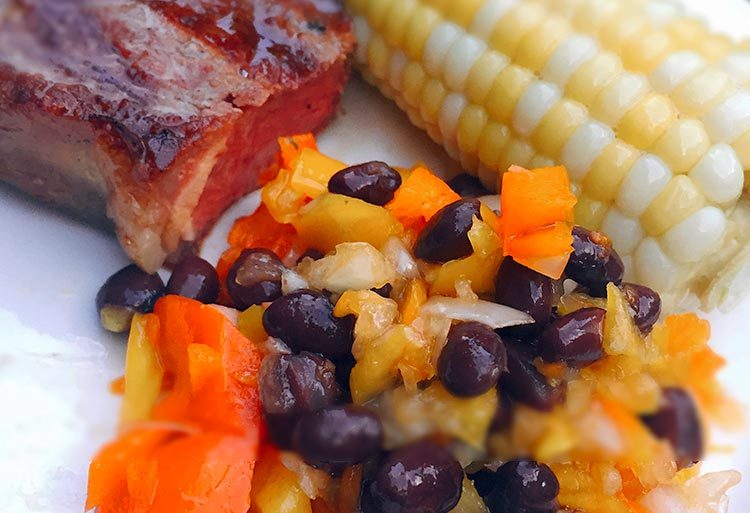 Black beans are the best. Super healthy, super delicious. I could eat them every day. This summer salad can be tweaked in a number of ways, and makes a great side for almost anything.
In this case, pictured with 24 hour marinated steak on the grill, and fresh corn on the cob. Is this not the definition of summer?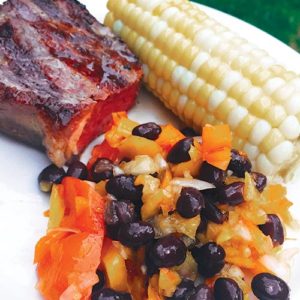 Black Bean Salad
2016-07-27 17:41:31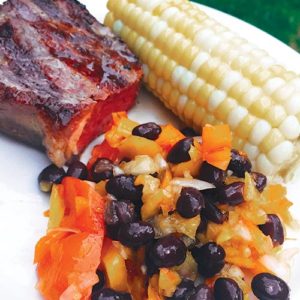 Serves 6
Ingredients
2 Cans black beans
2 Bell peppers, washed and chopped (recommend using yellow and orange if possible. Second choice red. Last choice green)
1 Onion, washed and chopped (or a red onion)
2 tsp cumin seeds, toasted (in a pinch just use ground cumin)
2 tbsp Sherry wine vinegar
1/4 cup Olive oil
Instructions
Toast the cumin in a dry pan if using seeds.
In a large bowl, combine the beans, peppers, and onion. Add in the cumin seeds.
In a mug, combine the oil and vinegar, and drizzle over the bean mixture. Add salt and pepper to taste.
Victoria's Kitchen http://kitchenbyvictoria.com/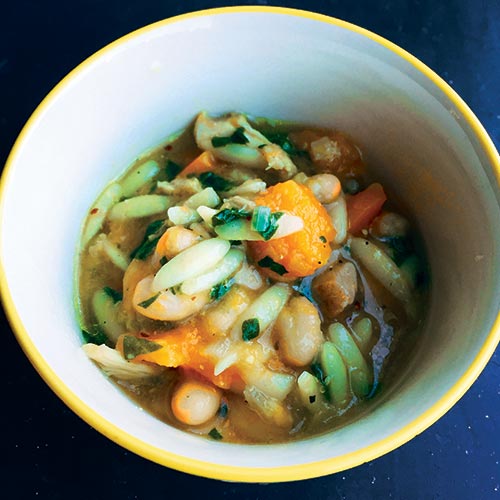 The combination of chicken and pumpkin is not one to forget. It's quite autumnal because of the color, and because it's hot soup.
Also, critically, pumpkin is one of those veggies that freezes really well, so you can keep it in the freezer and whip it out whenever you need it, officially making this a convenient after work meal. You just need to buy the chicken meat and you're good to go.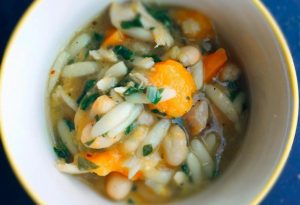 Chicken & Pumpkin Stew with Thyme
2016-08-28 12:32:37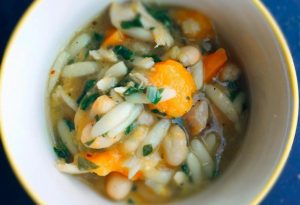 Ingredients
6 chicken thighs, either boneless, or not
Chicken bouillon
Bay leaf
Thyme (3 stalks fresh or 1 tsp dried)
1-1.5 cups frozen cubed pumpkin
1 onion, chopped
2 carrots, chopped
1 celery stalk, chopped
1/2 cup orzo or any other small soup pasta
A handful of parsley, chopped
Instructions
Bring a pot of water to boil (this will be your soup broth, so aim for the amount of soup you'd like to make).
Turn the heat down to medium, add the chicken, and poach it until cooked. Remove from the water and once cool shred into tiny bits.
Into the same water, add the bay leaf, bouillon, onion, carrots, celery, pumpkin, and thyme. Cook over a light simmer for 15-20 minutes, or until the vegetables are soft. Add back in the chicken, remove the bay leaf, and add salt and pepper to taste.
Once finished, add the chopped parsley and serve immediately.
Victoria's Kitchen http://kitchenbyvictoria.com/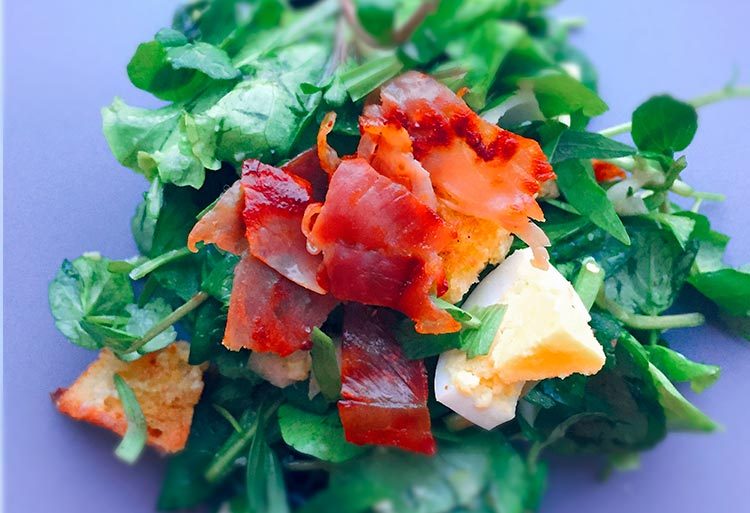 Found this recipe in an airport magazine. The airport: JFK, the magazine: Cook Fresh.
It is truly delicious. But, I'm not going to lie… it's also labour intensive. It's not difficult, it just takes time.
It was a little reminder for me that eggs really can be the crown jewel of a salad, and homemade croutons are worth every extra second spent.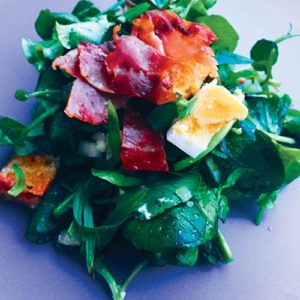 Egg & Watercress Salad with Curry Vinaigrette
2016-08-28 09:31:21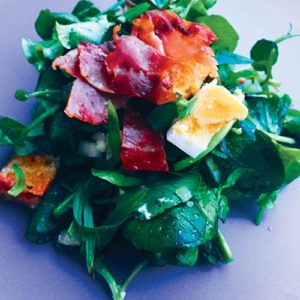 Serves 2
Ingredients
Extra Virgin Olive Oil
Pinch of cayenne pepper
Salt & pepper
4 slices bread, cut into small cubes
2 slices prosciutto, coarsely chopped
3 large spoonfuls of white wine vinegar or white balsamic vinegar
1 tsp curry powder
1 tsp dry mustard
8oz watercress, trimmed
4 hard-boiled eggs, coarsely chopped
1/4 cup finely chopped sweet onion
2 spoonfuls chopped fresh tarragon
Instructions
Heat the oven to 450f/225c, and put a small pot of water on to boil.
Combine the bread cubes with a splash of olive oil & the pinch of cayenne, and lay out on an aluminum foil covered baking sheet. Pop into the oven until golden brown (5-8 minutes).
When the water is boiling, hard boil the eggs.
Separately, in a dry skillet over medium heat, cook the prosciutto, stirring occasionally, until crisp (about 4 minutes). Set aside.
In a small bowl, whisk the vinegar, curry powder, syrup, mustard, 3/4 tsp salt. Slowly whisk in 3 spoonfuls of olive oil.
In a large bowl, toss the croutons with 1/4 cup of the vinaigrette to soften them slightly. Add the watercress and toss again, add the egg, prosciutto and tarragon, and the rest of the vinaigrette (to taste).
YUM!
Victoria's Kitchen http://kitchenbyvictoria.com/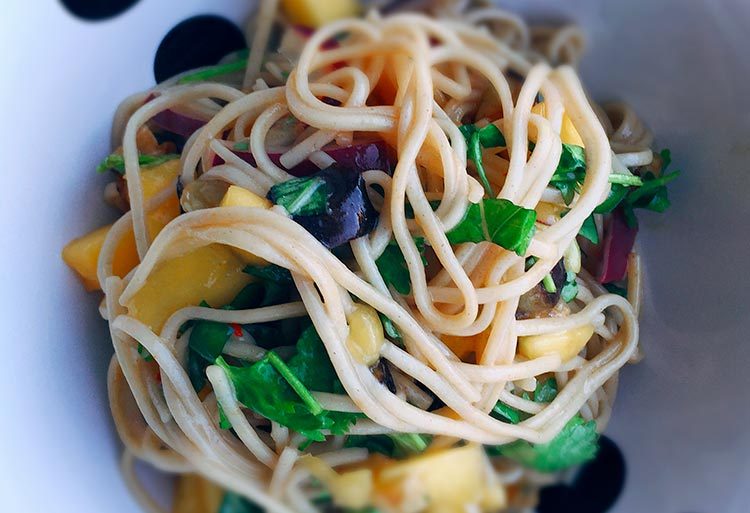 This recipe is just magic. Think- picnics. It's fresh and juicy from the mango, but salty and savory from the aubergine. Ottolenghi is such a genius.
Soba noodles are also way healthier than regular noodles.
Win win win.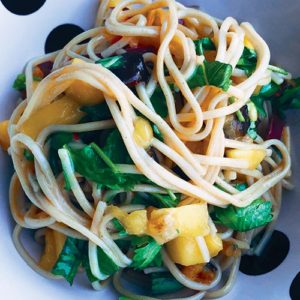 Ottolenghi Soba Noodles with Aubergine & Mango Recipe
2016-08-28 12:11:59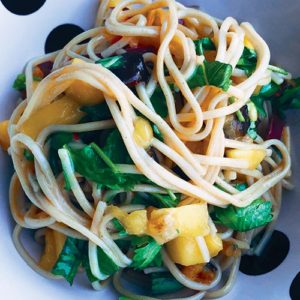 Ingredients
1/2 cup / 120 ml brown rice vinegar
scant 1/3 cup / 1.5 oz / 40 g fine-grain natural cane sugar or brown sugar
1/2 teaspoon fine grain sea salt
2 garlic cloves, peeled and crushed
1/4 teaspoon red pepper flakes or 1/2 fresh red chile, minced
1 teaspoon toasted sesame oil
grated zest and juice of one lime
1/3 cup / 80 ml sunflower oil or olive oil
1 medium eggplant/aubergine 3/4 lb / 12 oz, cut into 1/2-inch / 1cm chunks
8 ounces / 225g dried soba noodles
1 large ripe mango, cut into small chunks
1/2 medium red onion, very thinly sliced
a handful of basil leaves, slivered
a handful of fresh cilantro / coriander, chopped
Instructions
Bring a large pot of water to a boil.
In the meantime, make the dressing by combining the vinegar, sugar, and salt in a small saucepan over medium heat. Cook, stirring, for up to 1 minute, or until the sugar dissolves. Remove from heat and add the garlic, red pepper flakes or chile, and sesame oil. Allow to cool, then add the lime zest and juice.
Heat the sunflower oil in a large skillet and shallow fry the eggplant/aubergine in a few batches (you want it to cook in a single layer), until deeply golden. Transfer to a large plate lined with paper towels and sprinkle with a generous pinch of salt.
Cook the soba noodles in a large pot of boiling salted water, per package instructions, or until just tender. Drain and rinse under cold running water. Shake off as much of the excess water as possible, then leave to dry in the colander or on a tea towel. If you're not using the noodles soon, toss with a tiny splash of olive oil to prevent the noodles from sticking to each other.
In a large mixing bowl toss the noodles the dressing, mango, aubergine, onions, and most of the herbs.
Dig in!!
Adapted from 101cookbooks
Victoria's Kitchen http://kitchenbyvictoria.com/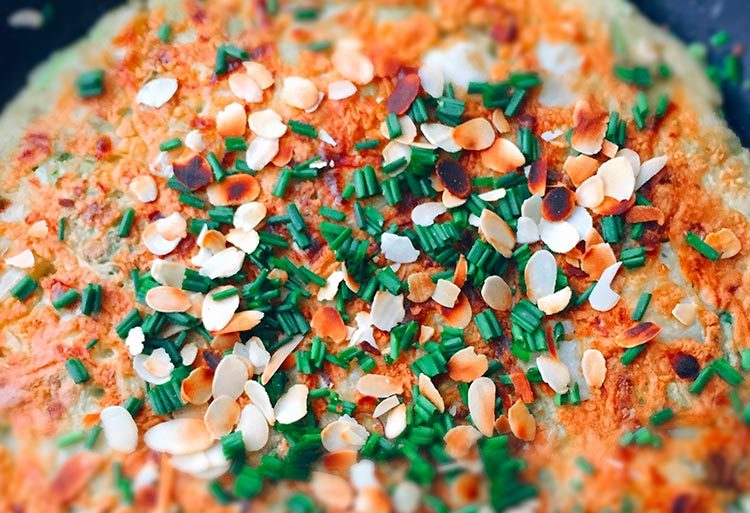 With such a short list of ingredients, and nothing too wild, you wouldn't think this could be as delicious as it is.
It's such a wonderfully easy weeknight meal, packed with protein from the eggs, and lots of nutrients from the leeks and cabbage.
Honestly, nothing naughty in it, and so so good.
Some people call it Japanese pizza, but I don't feel that really gives the right impression, and it's important that you have the right expectation when you try something new.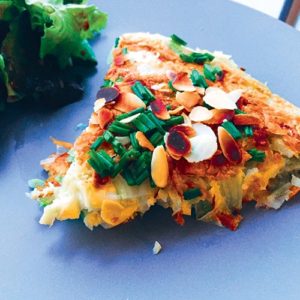 Okonomiyaki
2016-08-28 12:17:52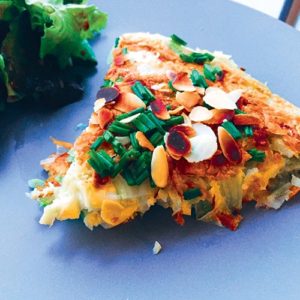 Serves 2
Ingredients
2 cups cabbage, finely shredded
1 cup leeks, well washed and chopped
2/3 cup flour
A few pinches of fine grain sea salt
2 eggs, beaten
A glug of olive oil
Garnish: toasted slivered almonds, chives/ herbs
Instructions
Combine the cabbage, leeks, flour, and salt in a bowl. Toss until everything is coated with a dusting of flour. Stir in the eggs and mix until everything is evenly coated.
Heat a large skillet over medium heat and add a generous splash of olive oil. Scoop the cabbage mixture into the pan, and using a metal spatula press it into a round pancake shape, flat as you can get it. Cook for 4-5 minutes, or until the bottom is golden. To flip the okonomiyaki, slide it out of the skillet onto a plate. Place another plate on top and flip both (together) over. If you need a bit more oil in your skillet, add it now, before sliding the okonomiyaki back into the skillet. Again press down a bit with a spatula and cook until golden on this side - another 3 -5 minutes.
When you are finished cooking, sprinkle with toasted almonds and chives, and slide it onto a cutting board to cut into wedges.
Enjoy STAT.
Adapted from 101cookbooks
Victoria's Kitchen http://kitchenbyvictoria.com/