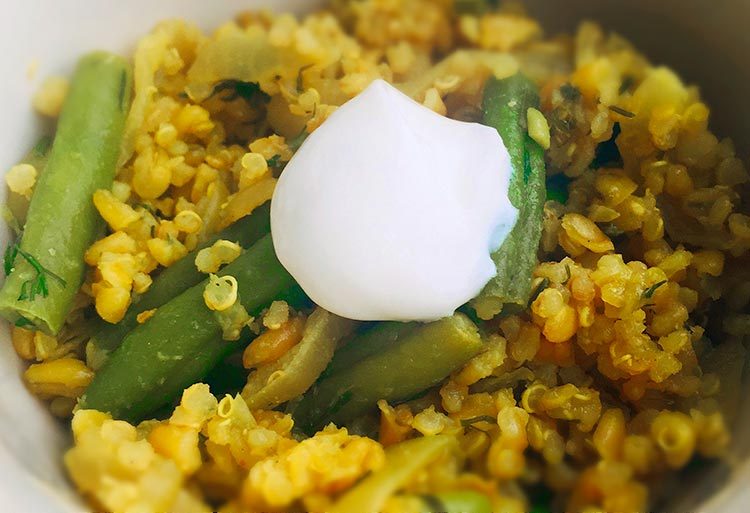 This is an easy side dish that you can easily adapt.
No quinoa & freekeh? Use rice or bulgar. You can use any grains as long as they have the same cooking time.
No turmeric? Use saffron.
No beans? Use any vegetables. This recipe even works with frozen veggie mixes, making it a true store cupboard meal.
The garlic yogurt is non replaceable. Don't skip it.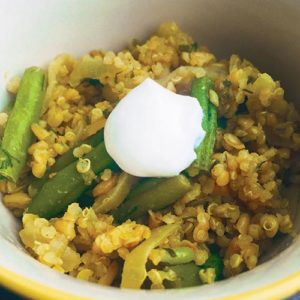 Quinoa & Freekeh Pilaf with Garlic Yogurt
2016-09-04 13:13:25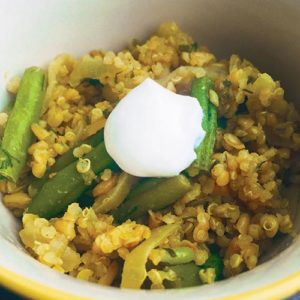 Ingredients
2 onions, thinly sliced
A spoonful of butter
200g mix of quinoa & freekeh (or just rice)
Large handful of dill (separate the stocks and fronds)
500ml vegetable stock
A large pinch of turmeric
Green beans, washed and chopped (or a mix of frozen peas and beans)
100g Greek yogurt
1 Spoonful of milk
½ Garlic clove, crushed
Instructions
Fry the onions in the butter until golden. Add the rice, green beans, and dill stalks and stir until everything is coated.
Pour in the stock, bring to the boil, then cover and simmer for 12 mins.
While it's cooking, mix the yogurt, milk and garlic together with a pinch of salt. Spoon yogurt on top of the rice, then sprinkle with remaining dill.
Add the dill fronds and cook 3-5 mins more until the liquid has been absorbed into the rice.
Adapted from BBC Good Food
Victoria's Kitchen http://kitchenbyvictoria.com/