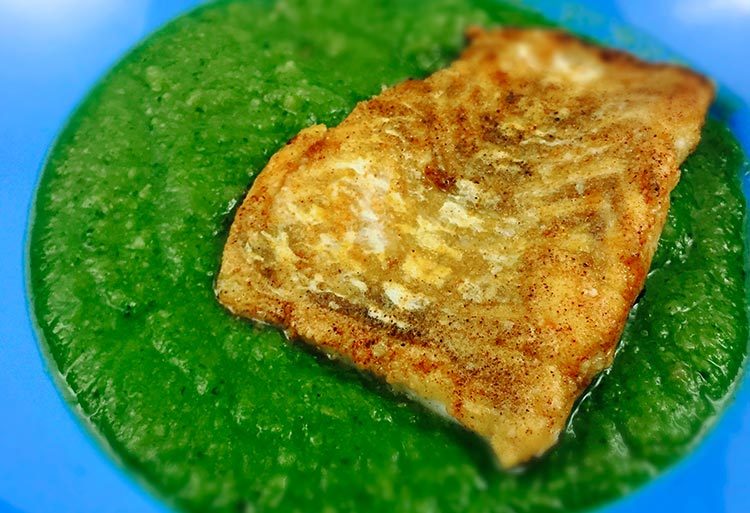 This is one of the best recipes I've ever made. The haddock is delicate, soft, and light, and the broccoli is flavorful and hearty underneath. It's smooth in texture but contains some soft chunks, and gives a bright green color that is just beautiful to look at.
I learned from my brother that cooking broccoli or other green vegetables with the top of the pot OFF, actually preserves the brightness of the color. I boiled this broccoli to death so there is no other excuse for why it looks so good!
Final note, is that for a dinner of about 4 people this would be absolutely perfect.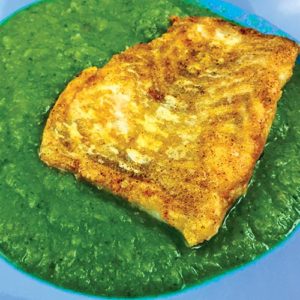 Spiced Haddock with Warm Broccoli Puree
2016-11-08 14:59:02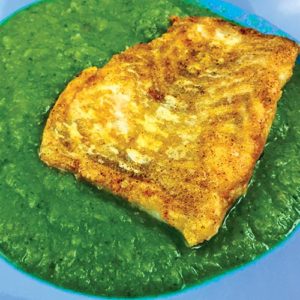 FOR THE BROCCOLI PUREE
1 head of broccoli, washed and chopped into bits (it doesn't really matter how big you just want them all roughly the same size, but... to be honest...whatever)
1 potato, peeled and chopped into squares
1 spoonful flavorful vegetable bouillon (I used one with a strong taste of fennel and it was fantastic)
Salt & Pepper
FOR THE SPICED HADDOCK
3 tablespoons white flour
1 teaspoon ground ginger
1 teaspoon paprika
1 teaspoon fine sea salt
2 haddock fillets (skin on if possible)
1 tablespoon sunflower or other light oil such as peanut
½ lemons (cut into wedges)
Instructions
First make the broccoli mash. Put on a pot of water to boil and chop your broccoli and potato. When the water is boiled put in a good handful of salt, the bouillon, the broccoli and the potato.
Let boil for a good ten minutes with the top off (turn on your fan because it will be steaming!) Remove from the heat, reserve 2 large mugs of cooking water, and drain the rest. Add the vegetables back into the ban with a bit of the reserved cooking water, and puree with a hand blender. You can't really go wrong here, it just depends on how thick you want it to be. Mine actually turned out more like soup (very watery), and I absolutely loved it. If you want it more like a thick puree add less water. Season to taste, let sit, and start the fish.
Mix the flour, paprika, ginger, and salt on a plate. Wash and dry the haddock fillets and pat them on both sides into the flour mixture until well coated. Heat a thick pan with the oil over medium high heat, and when the oil is hot, put both fillets in the pan, skin-side down, and cook for 2 minutes. Turn them over and cook for another 1½ minutes, or until the fish is just cooked through. If you have thicker fillets you may need to do 3 minutes followed by 2 minutes.
Remove from the heat and plate up with a wedge of lemon on the side of each plate.
Enjoy!!
Adapted from Simply Nigella
Victoria's Kitchen http://kitchenbyvictoria.com/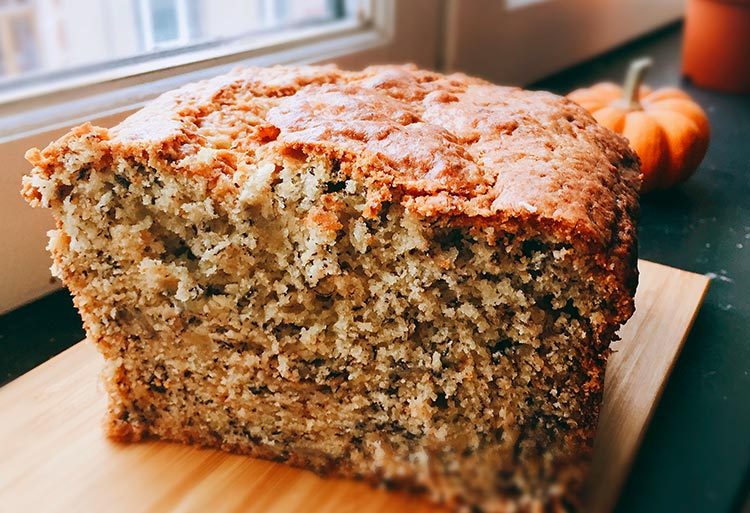 Oh myyyy. This is so so so good. Moist, banana-ey, a teensy bit salty.
You can add chocolate bits if you want, but I did it without.
It disappeared REALLY quickly.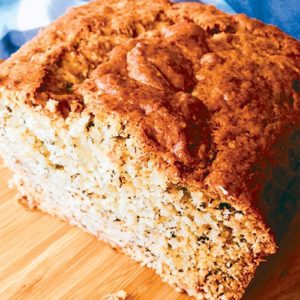 Banana Bread with Ricotta
2016-11-08 14:43:25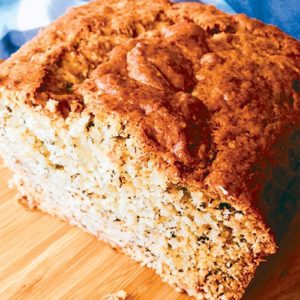 Ingredients
1/2 cup (1 stick) unsalted butter, melted
3 large ripe bananas, or 4 small ripe bananas
1 large egg
3/4 cup granulated sugar
3/4 cup whole milk ricotta
1 teaspoon vanilla extract
2 cups all-purpose flour
1 1/2 teaspoons baking powder
1 teaspoon baking soda
1/2 teaspoon kosher salt
Instructions
Heat oven to 350°F and arrange a rack on the bottom. Grease a 9 x 5-inch loaf pan.
Pour melted butter into a large bowl. Add bananas and mash into a pulp. Add egg and beat until smooth. Add sugar, ricotta, and vanilla and stir to incorporate.
In a separate bowl, mix all dry ingredients.
Add the dry ingredients to the wet, and stir just until all flour is incorporated, don't overmix.
Scrape batter into prepared pan and place on the bottom rack of the oven.
Bake until a toothpick inserted in the center comes out clean, 55-65 minutes. Remove to a cooling rack and let sit at least 20 minutes before removing from the pan.
Adapted from Hola Jalapeno
Victoria's Kitchen http://kitchenbyvictoria.com/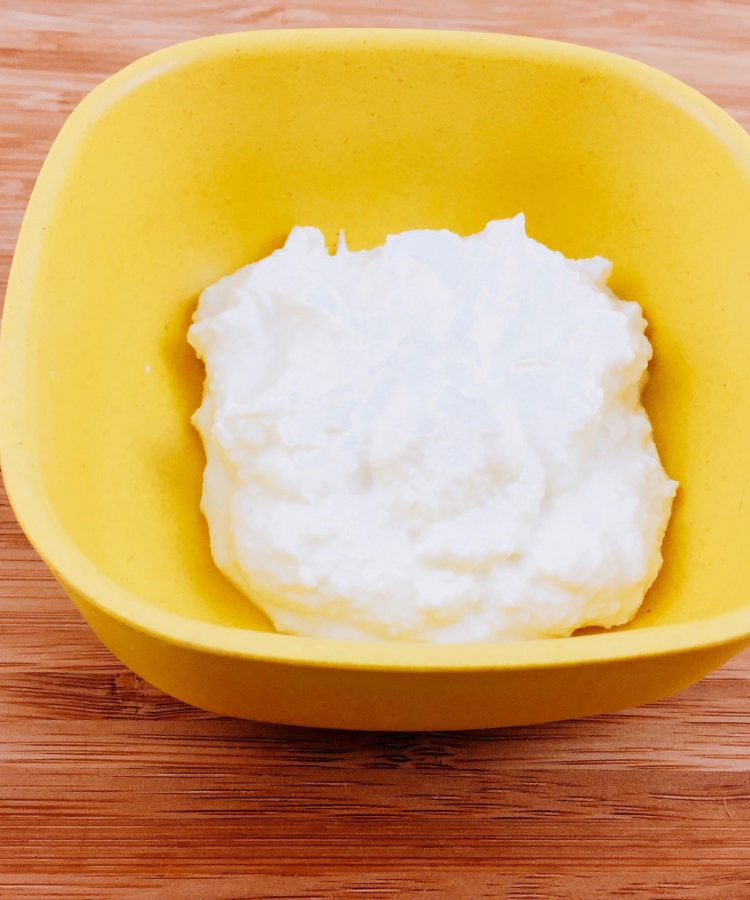 So as it turns out, ricotta is not that hard to make, and you get awesome results. total. crowd. pleaser.
I've been eyeing recipes for homemade ricotta for months, but have been unable to find cheesecloth here in Belgium. After a quest last weekend that included 14 different stores (grocery stores, speciality cheese shops, speciality Italian shops, craft shops, cooking stores, you name it, I was desperate…) I actually gave up entirely.
On my walk home I passed by a pharmacy and decided to pop in for some more cough syrup (only just now shaking the autumn cold after a few weeks!)
While standing at the counter I spotted something in the background… GAUZE. Absolutely. yes.
I purchased sterile medical gauze, the largest available. The kind you might be wrapping a wound in.
And tonight was the night, when we found out that medical gauze 100% effectively replaces cheesecloth. It's a new era, a revelation. Our lives will never be the same! Ricotta will be made every Sunday!
Just try it: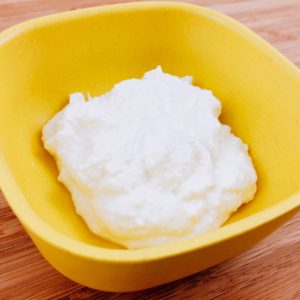 Homemade Ricotta
2016-11-04 15:31:01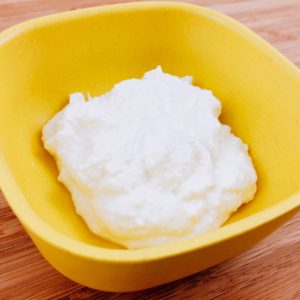 Ingredients
4 cups whole milk
1 1/2 cups heavy cream
2 tablespoons lemon juice
1 tablespoon apple cider vinegar
1 teaspoon sea salt
Instructions
In a non-reactive pot, combine the milk, cream, and salt, and bring it to a simmer. You don't want it to boil, so watch it closely.
While you are waiting, set up the cheesecloth/gauze station: Put a large strainer (preferably mesh but whatever), into an even larger bowl, and line the strainer with cheesecloth/gauze. You want a good amount in there. I used 6 sheets of gauze.
Take it off the heat, and gently stir in the lemon juice and vinegar. You really only need one gentle stir, any more might ruin it.
Leave it undisturbed for 8 minutes.
Pour it over the strainer slowly and carefully. Allow the ricotta to drain for 25-45 minutes, depending on how thick you'd like it to be (it will get even thicker in the fridge).
Once done, store it in an airtight container in the fridge for up to 1 week.
Adapted from The Sprouted Kitchen: Bowl + Spoon
Victoria's Kitchen http://kitchenbyvictoria.com/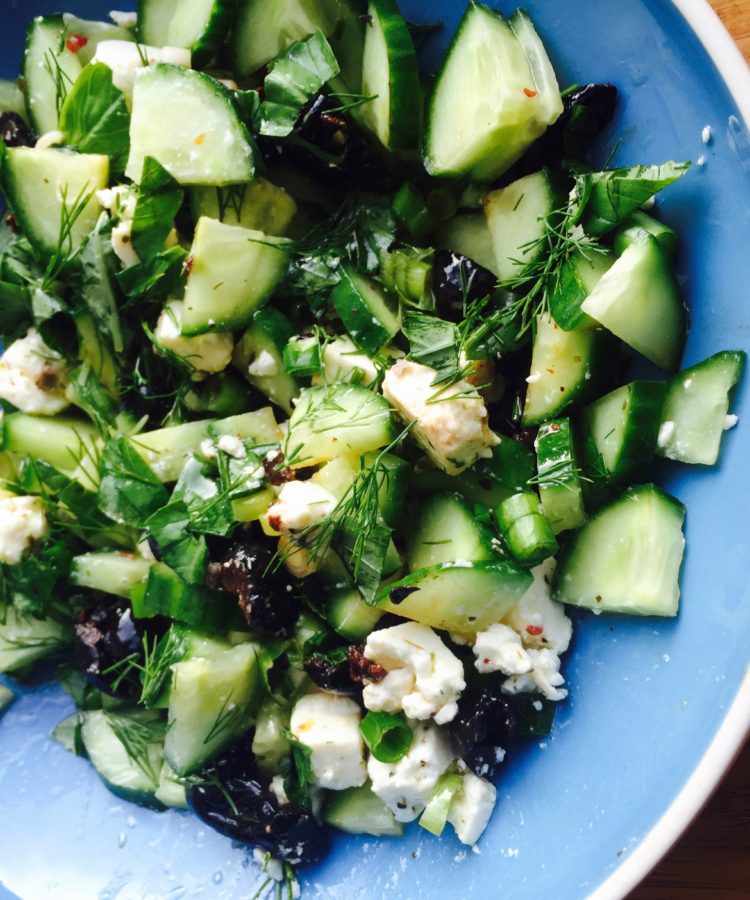 This salad was developed due to the fact that its contents resembled the contents of my fridge. We just got a new fridge (hallelujah!!), and I'm trying to clean it out as much as possible so that we really start with a clean slate.
Our old fridge was really a nightmare. The door didn't properly close because the lining was so old, so it was chilly in the flat and all the food inside was either frozen or wet.
Our landlord helpfully popped by to 'fix it'. After spending 1 hour jamming cotton balls into the lining with chopsticks, he realized he had actually made the situation worse by poking some holes in the lining. Enter… the hair dryer. He was quite confident that this would be the solution to all of our problems by melting the lining back into place. #fail.
Two weeks later, new fridge.
Anyways, I digress, back to the salad: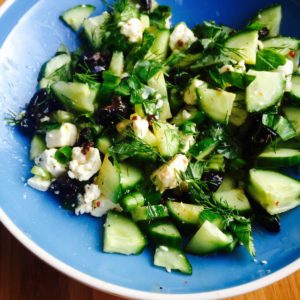 A Riff on Greek Salad
2016-11-04 15:58:53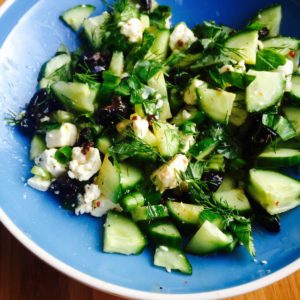 Ingredients
Half a cucumber
A large handful of feta cubes in olive oil (or regular feta, chopped into cubes)
Black oily olives, depicted
A handful of your favorite herbs, chopped finely (I used dill & basil)
2 spring onions, chopped finely
Juice of 1 lemon
A glug of extra virgin olive oil
Salt & Pepper to taste
Instructions
Chop all the ingredients and throw em all together!!
To clarify, I am aware that this is not a greek salad. It just FEELS like it could be.
Victoria's Kitchen http://kitchenbyvictoria.com/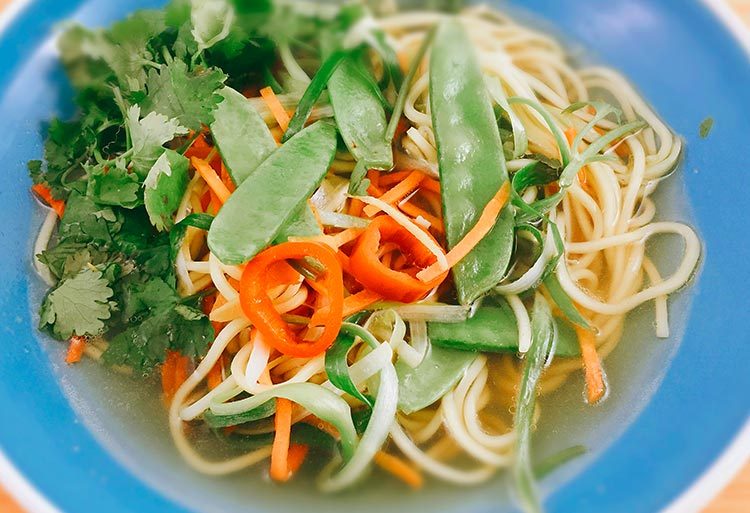 Sure, I'll come clean: It's Friday night, I'm super tired, and all I want to do is eat something that tastes kind of like Pho in my bed and then fall asleep immediately after.
So that's what's going to happen.
This soup is a little all over the place, but it's really yummy. I highly recommend going to Marks & Spencer and getting a pre-cut bag of noodle soup veggie mix (ginger, coriander, chile, grated carrots, snap peas, and spring onion). You can of course buy all of these ingredients separately but… It's Friday night and you're tired and that's not what you have in mind.
Second is to say this soup would be pretty easily adapted, if you want to add chicken or shrimp for example, don't let me stop you.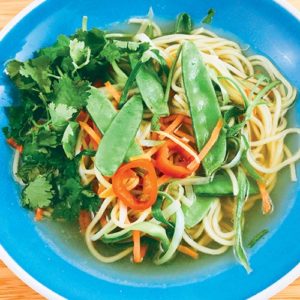 Quick, Comforting, Friday-night-in, Chinese inspired soup
2016-11-04 16:08:13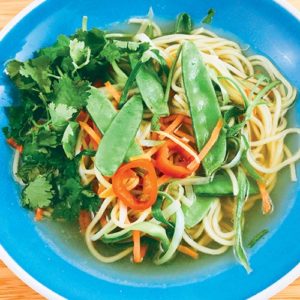 Ingredients
1 package of chinese egg noodles (or soba, or rice noodles, or vermicelli)
1 liter high quality chicken broth (or vegetable)
2 Star anise
A sprinkle of powdered ginger
Salt
1 package of freshly chopped chinese soup vegetables, OR all of the following
Carrots, grated
Spring onions, chopped finely
Sugar snap peas
Ginger, grated
Chiles (just a few slices, or to taste, as you wish)
To serve, a splash of soy sauce, toasted sesame oil, nori sprinkle or sriracha (pick your poison, or combine!)
Instructions
Get your broth on the stove, with the star anise, chile, and ginger in there and bring it to a light simmer.
Add in the vegetables that take longer to cook (snap peas and carrots) and let simmer for a few minutes.
Add in the noodles and the spring onions.
Pull off the heat after one minute (if you are using egg noodles they cook in 2 minutes total, be sure that if you change the type of noodles you adapt the cooking time.)
Season to taste using the fresh coriander, salt, a splash of soy sauce, toasted sesame oil, nori sprinkle or sriracha.
Yum!
Victoria's Kitchen http://kitchenbyvictoria.com/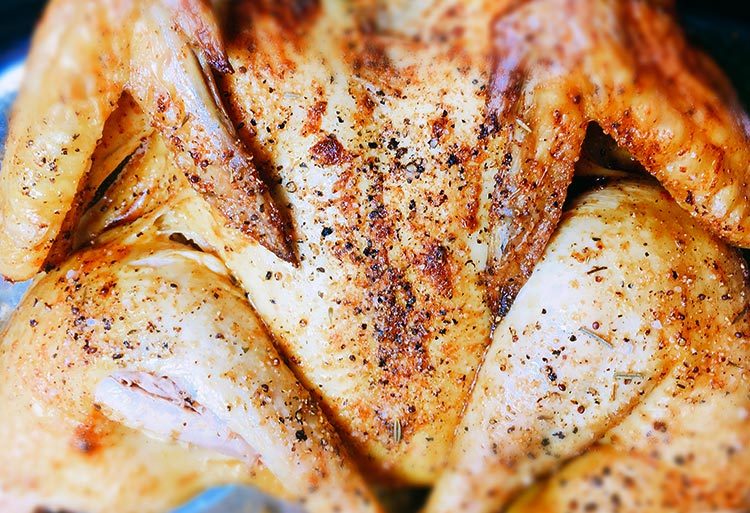 So for those of you that are sick of beer bum chicken, and looking for more creative ways to bake up a chicken… have you heard of spatchcocking? It's a method of preparing chicken whereby you remove the back bone, and flatten it completely, which allows it to cook in half the time, resulting in an incredibly juicy chicken with more coverage of crispy skin (win win win!)
In order to remove the backbone, you are best off with kitchen shears. I used regular scissors and I'm surprised my hand isn't bruised. OW.
If you feel my instructions are inadequate please youtube this process, there are lots of tutorials & videos about it.
This particular recipe came from a fabulous book called "The Hairy Bikers: Chicken & Egg", which focuses on two of my favorite things: chicken & eggs. It's a must buy.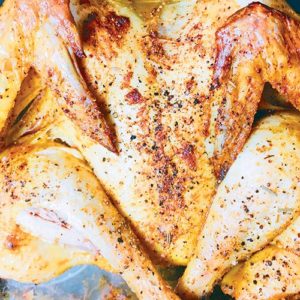 Spatchcocked Chicken
2016-11-04 15:52:07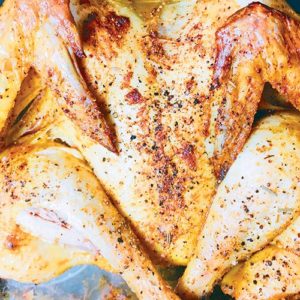 Serves 5
Ingredients
1 Chicken
1 teaspoon sea salt
1 teaspoon dried herbs (rosemary, thyme)
1 teaspoon sweet smoked paprika
A pinch of brown sugar
2 Tablespoons olive oil
Instructions
If you have the time, get the rub on the chicken the day before you plan to roast it. If not, at least a few hours in advance. Also remember to have your chicken out of the fridge at least 1 hour before you plan to cook it.
Mix together all of the dry ingredients. Rub olive oil all over the chicken, and then cover it with the spice mix. If you are leaving it overnight, cover it with plastic wrap and pop it back in the fridge.
When you are ready to cook, preheat the oven to 200c.
To spatchcock the chicken, turn it breast-side down with the legs towards you. Using your kitchen shears (or in a worst case scenario regular scissors), cut down one side of the chicken (start through it's neck, all the way through it's butt). Be sure your scissors are right along the backbone. Then do the same on the other side. Remove the backbone and use it for stock (non-negotiable!!!)
Flip the chicken back to breast side up and press down firmly on the breast bone to flatten it.
Slap it in a pyrex pan, cover it again with spice mix and oil if some dropped off during all of your man handling.
When the oven is hot, pop it in and cook it for 35-40 minutes, until the skin is crisp and the meat is cooked. I don't own a thermometer so it's usually 'guess and check' method, which you can probably tell from the picture.
Remove from the oven and if you have time cover it with foil for 10 minutes before serving.
You MUST serve with pan juices poured over the top.
Adapted from The Hairy Bikers
Victoria's Kitchen http://kitchenbyvictoria.com/