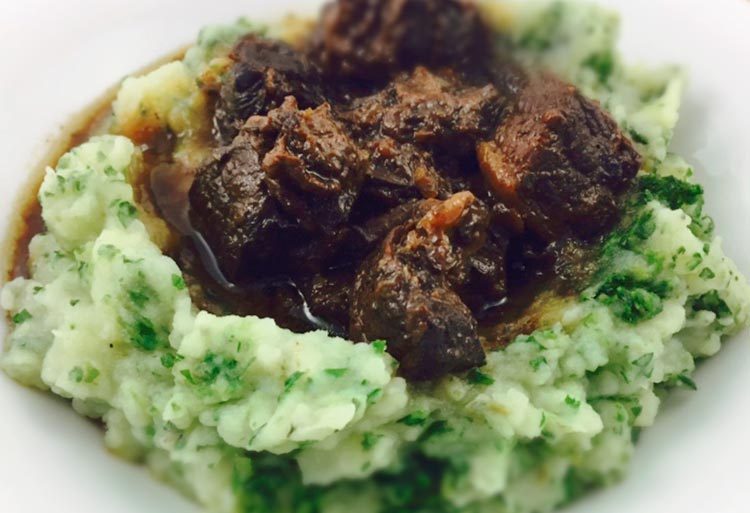 Doesn't get much easier than this. It can be done in the slow cooker (the ultimate easy), or in the oven for a few hours (easy but does require you to be home, so more of a weekend dish).
It's a British beef stew, which originates from Nigella in Simply Nigella, and slightly tweaked by me.
Honestly my biggest headache is going to the butcher and trying to translate what I need into French. It's the one place I can't seem to get my point across and I almost always walk out with something other than what I was looking for.
The original recipe calls for boneless beef shin. I gave the butcher a direct translation and he looked at me like I was the strangest customer he had ever served. If anyone can make a translation and send it to me I'll give you a million dollars.
Stay tuned after this, we are also not finished with the beef stew series, next up is a true Belgian beef stew- Carbonades a la Flamande with a recipe given to me by my dear friend Bas (but you need to wait until next week for it!)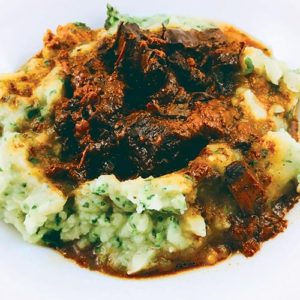 Beef Stew with Guinness & Molasses
2016-11-23 14:53:26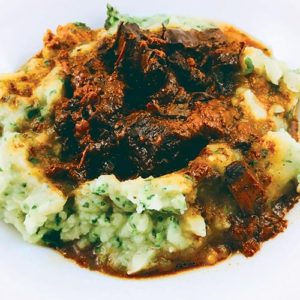 Serves 2
Ingredients
800g stew beef, without the bone, and chopped into cubes (ask the butcher for something that will become really soft after cooking for a long time) If you can find boneless beef shin, go for it
250g prunes
150ml Guinness beer
250ml stock (beef or vegetable, or chicken)
1/2 teaspoon fleur de sel
1/3 cup molasses (oil the measuring cup with a light vegetable oil before pouring in the molasses
2 short cinnamon sticks
3 bay leaves
Instructions
Put the beef and prunes together in your slow cooker.
In a bowl, mix the stock, Guinness, molasses, and salt. Pour over the beef and prunes in the slow cooker. Add the cinnamon and bay leaves, and turn it onto low for 8 hours.
That's it! You can eat this for several days after cooking, and it only gets better with age.
If you prefer to cook it in the oven, put it in a cast iron pan with a lid, into a pre-heated over at 150c, and cook for 2-3 hours. Add a bit of water if the sauce gets dry (you won't have this problem with the slow cooker).
You can serve this with whatever you want, crusty bread, rice, buttered noodles, or potatoes. Here in the picture it's made with mashed potato and spinach puree. Peel and chop 6 potatoes, put into a pan and just cover with water. Cook on high with the lid on until the potatoes are tender (timing depends entirely on the size of your cubes). When tender, reserve some of the cooking liquid, and blitz the potatoes with a hand blender. Add alternately splashes of milk and splashes of cooking water until you get the consistency you like, and then mix in a handful of frozen spinach. Stir until warmed through and combined.
Adapted from Nigella, Simply Nigella
Victoria's Kitchen http://kitchenbyvictoria.com/