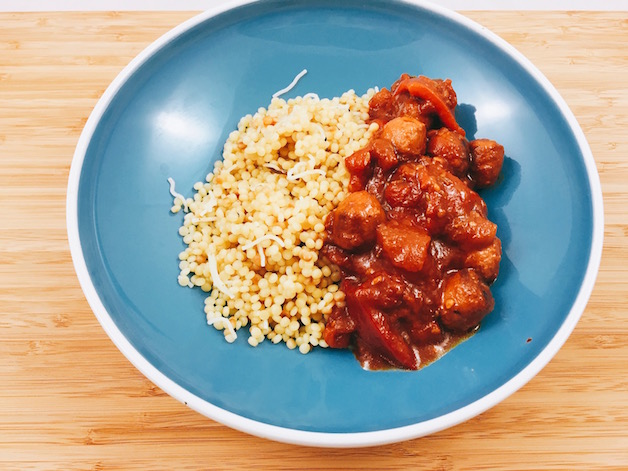 This was so yum and so easy.
It's a such an easy shortcut to make the meatballs out of sausages, and they turn out really juicy and delicious.
I put this on pearl couscous and vermicelli, but you can also eat it with some bread, or on rice or even pasta.
You can't lose with Nigella! The recipe is from her book Simply Nigella, given to me by my Bibs <3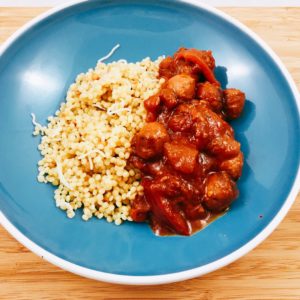 Merguez Meatballs with Pearl Couscous
2017-02-16 16:26:44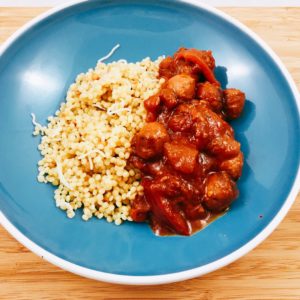 Serves 3
Ingredients
500g Merguez sausages
2 x 15ml tablespoons regular olive oil
1 x 400g can chopped tomatoes
1 x 290g jar chargrilled peppers in oil
2 teaspoons cumin seeds
1 teaspoon ground allspice
1 teaspoon ground cinnamon
2 teaspoons sea salt flakes
1 x 15ml tablespoon runny honey
1 cup of pearl couscous
A handful of vermicelli
2 ¼ cups water
Instructions
Squeeze the sausagemeat out of the casings and then form into small meatballs, using about 2 teaspoonfuls per ball. I get 34 out of this mixture, but I have to concentrate on not making the meatballs bigger as I go – they should each be about the size of a cherry tomato.
Heat the oil in a wide, heavy-based saucepan or casserole (with a lid), and fry the meatballs for about 3 minutes or so, then spoon out as much excess oil as you can and discard.
Add the chopped tomatoes, then drain the jar of peppers and snip or chop them into pieces, before adding to the pan as well.
Sprinkle the spices over the contents of the pan, add the salt and – oiling the tablespoon first – the honey, then bring up to a bubble before partially covering the pan with its lid and leaving to simmer for 10 minutes.
While the meatballs bubble away, toast the pearl couscous and vermicelli in olive oil for about 10 minutes, stirring when needed to avoid it burning. When golden brown, add the water, and bring to a boil.
Once boiling, cover the pot and turn it down to a simmer for 10 minutes, or until all the water is absorbed.
Adapted from Simply Nigella
Victoria's Kitchen http://kitchenbyvictoria.com/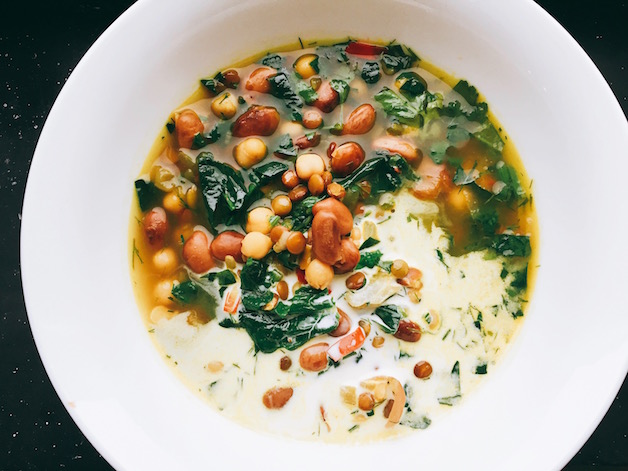 I remember making this soup about 6 years ago, and it completely blew me away.
The broth is hearty, and the contrast with the the tangy sour cream is too good to be true.
The combination of textures between the lentils, chickpeas, borlotti beans, and egg noodles is also so special.
I will confess that I forgot to add the noodles this time *sigh*. So they are not featured in the photo. If you want to refer to the original recipe visit 101cookbooks.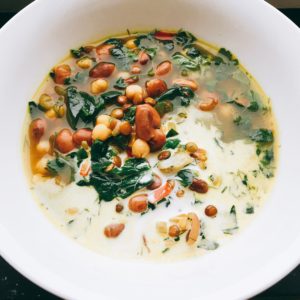 Three Bean & Egg Noodle Soup
2017-02-16 16:04:10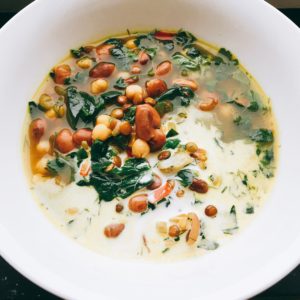 Serves 4
Ingredients
2 tablespoons olive oil
1 onion, thinly sliced
1 long red chili OR green serrano, finely chopped
½ teaspoon ground turmeric
1 teaspoon ground cumin
¼ teaspoon freshly ground black pepper
8 ½ cups / 2 liters good-tasting vegetable stock/broth
100g / 3.5 oz yellow split peas or brown lentils
1 ½ cups cooked chickpeas, rinsed if using canned
2 cups / 350g cooked borlotti beans
fine grain sea salt
120 g thin egg noodles, fresh or dried
3 ½ oz / 100g fresh spinach leaves, finely shredded
½ cup finely shredded cilantro leaves
2 tablespoons chopped fresh dill
Juice of one lime
Toppings
1 tablespoon olive oil
1 tablespoon unsalted butter
1 large onion, thinly sliced
100 ml sour cream or creme fraiche
Instructions
Heat the oil in a large, thick-bottomed soup pot over medium heat. Add the onion and the chile and cook until they soften, a few minutes. Add the spices and cook for another thirty seconds, just long enough for them to toast a bit, then stir in the stock. Bring to a boil and add the split peas/lentils to the pot. Cook until they are just tender, about 25 minutes. Stir in the cooked chickpeas and borlotti beans. Once the beans have heated throughout, season with salt to taste.
In the meantime, you can prepare the toppings. Heat the olive oil and butter in a large frying pan over medium heat along with a couple big pinches of salt. Cook the onion, stirring occasionally, until golden and caramelized, 8 - 10+ minutes. Set aside.
Just before you're ready to eat, add the noodles to the simmering soup and cook until al dente. Stir in the spinach, and cilantro and dill. Add a big squeeze of lime to the pot or serve wedges along with each bowl of soup. Taste and adjust the seasoning to your liking.
Serve right away, each bowl topped with a big spoonful of caramelized onions and some creme fraiche.
Adapted from 101cookbooks
Victoria's Kitchen http://kitchenbyvictoria.com/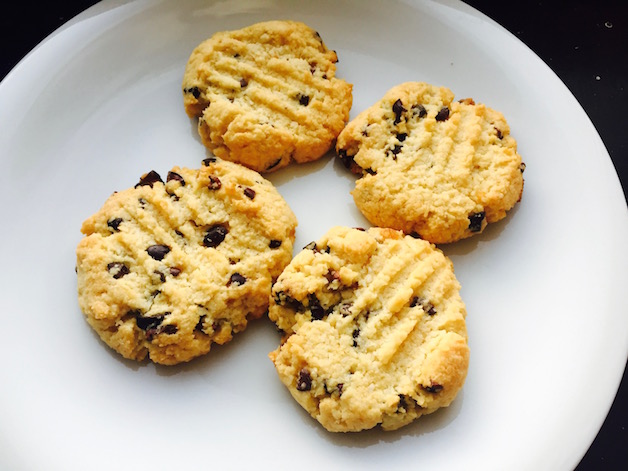 I've been working on the process of cleaning out the cabinets, in particular all the little half bags.
I googled coconut, almond meal, and cacao nibs, and this one popped up. It's originally from Sprouted Kitchen, but I got the Minimalist Kitchen.
They are super healthy- the only naughty bit is the brown sugar.
Don't overbake them. When they first come out they'll look soft, but as long as there is a touch of golden brown I promise they'll firm right up once they cool down.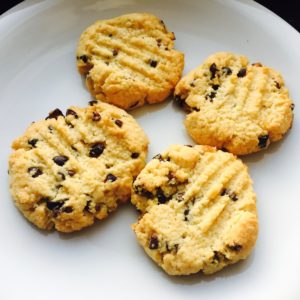 Healthy Coconut Almond Cookies with Cacao Nibs
2017-02-16 15:46:45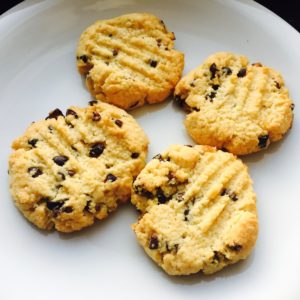 Ingredients
1 ¼ cups (137 g) almond meal
¼ cup (30 g) chopped dark chocolate or cacao nibs
½ cup (40 g) shredded unsweetened coconut
½ teaspoon baking powder
¼ teaspoon salt (Sara used sea salt)
1/3 cup (73 g) brown sugar (Sara used muscovado)
1 egg
3 tablespoons (45 g) coconut oil, melted
½ teaspoon vanilla extract
Instructions
In a large mixing bowl, stir together almond meal, dark chocolate chips, coconut, baking powder, salt and sugar.
In a separate bowl, beat egg until uniform in color and doubled in volume.
Whisk in the coconut oil and vanilla, then add to dry ingredients and mix until just combined.
Chill in the fridge for at least 30 minutes or even overnight.
Preheat oven to 375 degrees F (190 C).
Shape dough into 1-inch balls, place on baking sheet with 1-1/2 inch space in between each. Press down slightly to flatten a bit.
Bake until edges begin to brown, 7-10 minutes.
Remove from oven and let cool before serving.
Adapted from Minimalist Baker
Victoria's Kitchen http://kitchenbyvictoria.com/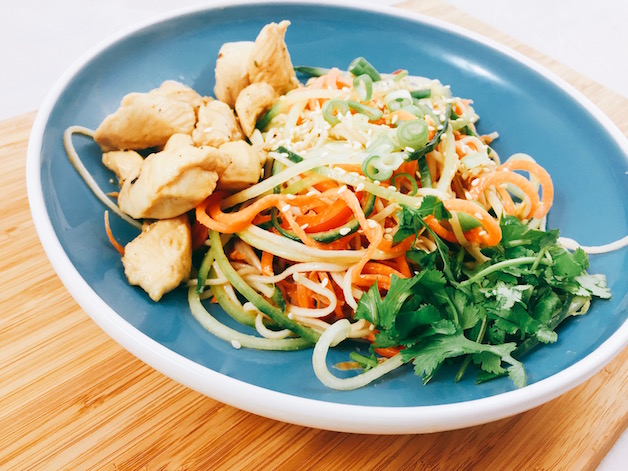 This is from the amazing Sprouted Kitchen Bowl & Spoon cookbook, given to me by some of my closest friends for my birthday last year.
The original recipe calls for tofu. I made it with chicken and I realized… it's better without any protein as a super fresh and crunchy soba noodle salad.
So feel free to add tofu or chicken if you wish, but this recipe is without.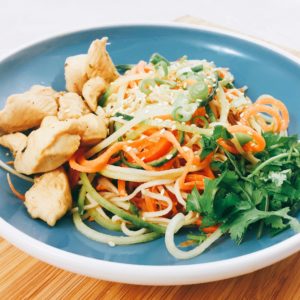 Soba Noodle Salad with Ribbon Veggies
2017-02-16 14:45:47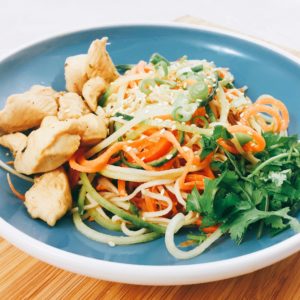 Serves 4
Ingredients
Freshly ground salt and pepper
3 ounces soba noodles
1 red bell pepper
3 carrots, peeled
1 English cucumber
1 bunch of cilantro, coarsely chopped
2 green onions, thinly sliced
2 tablespoons toasted sesame seeds, for garnish
1 large avocado
DRESSING
1 tablespoon yellow miso paste
1 (3-inch) piece of fresh ginger, peeled and grated
1 teaspoon honey
Zest and juice of 2 limes
1 tablespoon toasted sesame oil
1 teaspoon Sriracha sauce
Instructions
Cook the soba noodles until al dente, rinse with cold water, and drain. Seed and slice the bell pepper into thin strips. Use a julienne peeler to make long strips from the carrot and cucumber, keeping away from the inner seedy part of the cucumber. Put the noodles and prepared vegetables into a large mixing bowl.
For the dressing, whisk together the miso, ginger, honey, lime zest and juice, sesame oil, and Sriracha. This much can be done up to 2 days in advance and kept covered in the fridge.
When ready to serve, pour the dressing over the veggies and noodles, add the chopped cilantro and toss to coat. Top the bowl with the green onions, sesame seeds, and tofu. Serve each portion with a quarter of an avocado.
Adapted from https://www.amazon.com/Sprouted-Kitchen-Bowl-Spoon-Inspired/dp/1607746557/ref=pd_sbs_14_img_0?_encoding=UTF8&psc=1&refRID=AYEG1QE74YHHDGD72V55
Adapted from https://www.amazon.com/Sprouted-Kitchen-Bowl-Spoon-Inspired/dp/1607746557/ref=pd_sbs_14_img_0?_encoding=UTF8&psc=1&refRID=AYEG1QE74YHHDGD72V55
Victoria's Kitchen http://kitchenbyvictoria.com/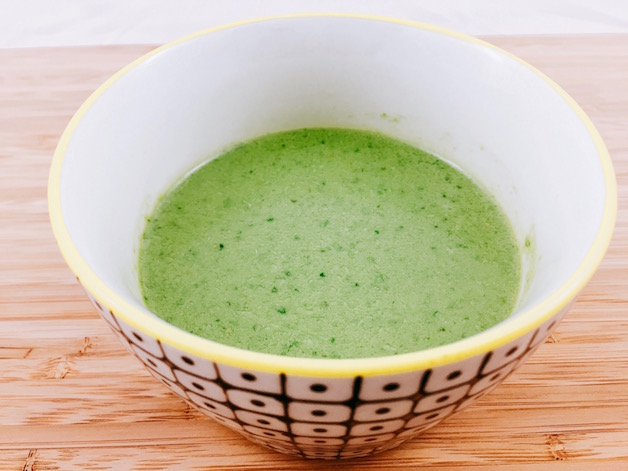 I'm not going to lie… this is spicy.
But it's perfect when you are starting to get sick.
Have a box of tissues close by, and get ready to blow your nose!
Packed with fresh herbs, chile, garlic and ginger-it's the punch of health to make you really feel alive (or breathe fire).
If you are sensitive to heat, just cut back on the ginger/garlic and/or chile, it's easily adaptable.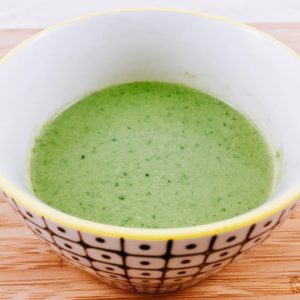 Heidi Swanson's Spicy Green Soup
2017-02-16 14:14:06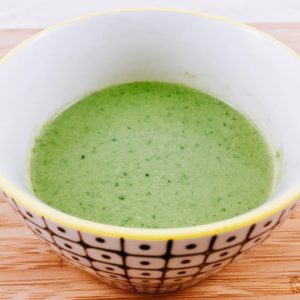 Serves 4
Ingredients
1 liter of water
2 cloves of garlic
¾ cup firmly packed basil leaves
1 ¼ cup firmly packed cilantro leaves and stems
¼ cup lightly packed mint leaves
1 thick 2-inch piece of ginger, peeled and grated
3 tablespoons extra virgin olive oil
2 small serrano chiles (stemmed and deseeded
1 teaspoon fine grain sea salt
Zest of 1 lemon
1 Tablespoon runny honey
Any of the following as to add on top: poached eggs, hot white beans, soba noodles, brown rice
As final garnish any of the following: chopped black olives, lemon wedges, or toasted almond slices.
Instructions
In a saucepan, bring water just to a simmer.
As the water heats, combine the garlic, basil, cilantro, mint, ginger, olive oil, chiles, almonds, salt, lemon zest, and honey in a food processor. Blend until smooth, thinning with a couple of tablespoons of cold water and scraping down the sides along the way, until the mixture becomes as smooth as possible.
Taste and adjust to your liking; the paste should be strong and spicy.
Just before serving, add the paste to the simmering water and stir well. Dial back the heat at this point; you don't want it to return to a simmer, but you do want it very hot.
Taste and adjust the seasoning—a bit more salt or a squeeze of lemon juice. (Editors' note: Don't skimp on the lemon!)
Ladle into bowls with your chosen accompaniment and enjoy on its own or topped with any of the suggested toppings.
Adapted from Food52
Victoria's Kitchen http://kitchenbyvictoria.com/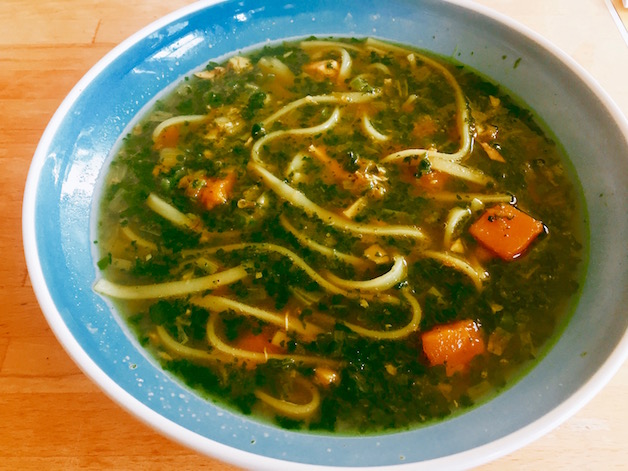 This is my new 'go-to' pantry meal. You can easily stock up on all of the ingredients in advance, and you'll be happy for it when you're hungry.
It's also extremely comforting. The broth is spiced and warm, and it's packed with spinach and pumpkin so it is actually incredibly healthy as well.
The higher quality chicken broth you use the better. If you have homemade broth- use it. Otherwise the highest quality bouillon will do.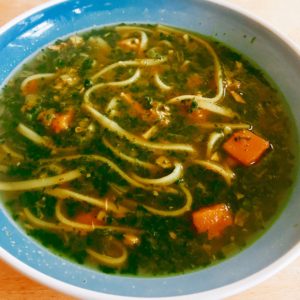 Slurpy Ginger Turmeric Noodle Bowl
2017-02-16 13:57:56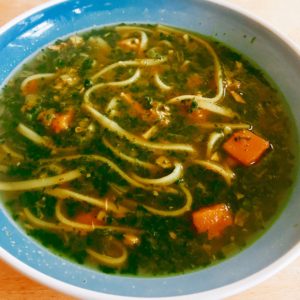 Serves 1
Ingredients
1 Onion
2 cloves of garlic, minced
Light oil such as rapeseed or peanut
1 teaspoon of turmeric
1 1-inch cube of ginger, peeled and grated (or more if you can handle it)
4 cups high quality chicken broth (make it yourself it's worth it)
1-2 stalks of lemongrass, crush the bulbous end with a knife
A small handful of frozen spinach
A small handful of frozen cubed pumpkin or squash
Shredded cooked chicken (if you want, without is also great)
Salt & pepper to taste
A handful of vietnamese or thai rice noodles (the kind you would use for Pho or Pad Thai work perfectly.
Instructions
Fry the onion and garlic in a glug of oil, until softened.
Add the ginger and turmeric, and stir around to coat.
Add the chicken broth and the lemongrass, and bring to a boil.
Once boiling, add the spinach and pumpkin, and let simmer until everything is warmed through and soft.
Throw in the rice noodles, and stir until they are cooked through (a few minutes). If you are using shredded chicken, add it now.
Once it's heated through, add salt and pepper to taste, and eat!
Victoria's Kitchen http://kitchenbyvictoria.com/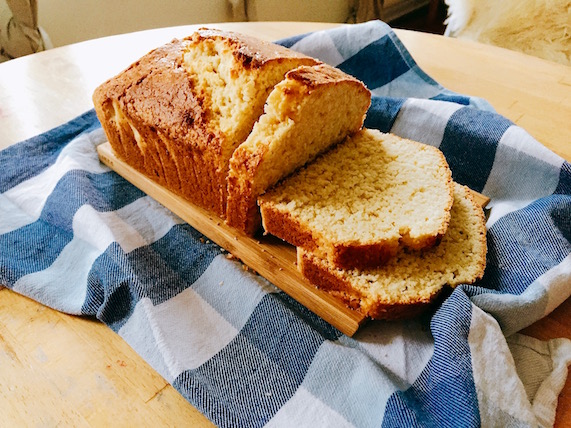 This recipe is absolutely perfect. Easy, delicious, good for an afternoon snack, or also for a dessert after dinner.
I can imagine it with a scoop of ice cream or sorbet, or with some raspberry coulis.
It's moist, and light, and unbelievably easy to prepare!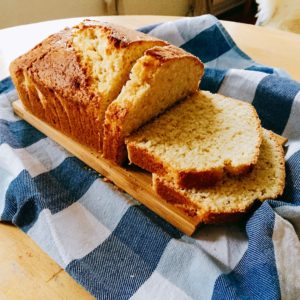 Coconut Pound Cake
2017-02-16 13:38:16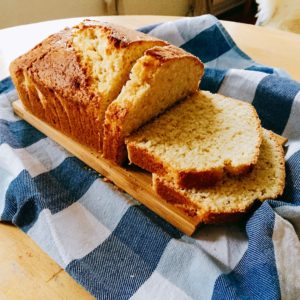 Ingredients
2 eggs
1 ¼ cups milk
1 teaspoon vanilla extract
2 ½ cups flour
2 teaspoons baking powder
Zest of 1 lime
¾ teaspoon kosher salt
1 cup sugar
1 ½ cups unsweetened, shredded coconut
6 tablespoons unsalted butter, melted
Instructions
Pre-heat the oven to 350° F.
In a small bowl, whisk together eggs, milk and vanilla.
In a medium bowl, whisk together 2 1/2 cups flour, baking powder, lime zest, and salt. Add sugar and coconut, and stir to mix. Make a well in the center, and pour in egg mixture. Gradually mix with dry ingredients until just combined. Add melted butter, and stir until smooth. Do not over-mix.
Line an 8 1/2- by 4-inch loaf pan with parchment paper. Pour batter into pan, making sure it isn't filled more than 3/4 full. Bake until a toothpick inserted into center comes out clean, 1 to 1 1/4 hours, but start checking after 45 minutes.
Cool in pan 5 minutes, remove bread from pan, and finish cooling on a rack.
Adapted from Food52
Victoria's Kitchen http://kitchenbyvictoria.com/