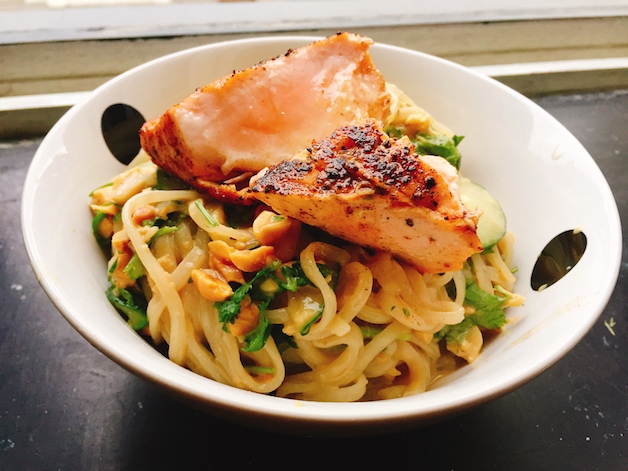 This was so fresh and light! We loved it. You see it here topped with salmon, Felix made the salmon, and I made the noodles- great teamwork. The recipe for the salmon is elsewhere (in Felix's head), but as you can see in the photo it was perfectly cooked.
If you are going to make the noodles in advance (for lunch the next day for example), I'd recommend keeping the dressing, the noodles, and the toppings separate until you are ready to eat, combining just when you are ready to sit down to keep everything fresh. If you do that you'll need to coat the noodles with sesame oil in the meantime to prevent them from sticking.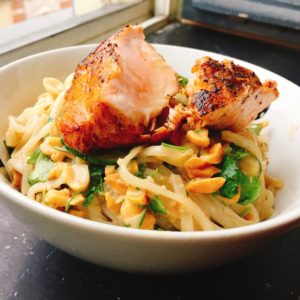 Peanut Rice Noodles with Cucumber & Herbs
2017-04-30 04:52:51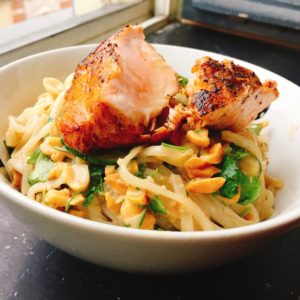 Serves 2
Ingredients
A large handful of dried rice noodles (about half a package)
2 tablespoons toasted sesame oil, plus a splash to loosen noodles
2 tablespoons tahini
1 tablespoon chunky or smooth peanut butter (i used chunky)
3 1/2 tablespoons soy sauce
2 tablespoons Chinese rice vinegar
1 tablespoon granulated or brown sugar
1 tablespoon finely grated ginger
2 teaspoons minced garlic (from 1 medium-large clove)
1/2 cucumber, very thinly sliced
1/2 cup roasted salted peanuts, roughly chopped
A handful of chopped fresh herbs, such as mint and cilantro, for garnish
Instructions
Cook noodles according to package directions and rinse with cold water to cool. Drain well. Drizzle with a tiny splash of toasted sesame oil to keep them from sticking until dressed.
Meanwhile, whisk sesame paste and peanut butter in the bottom of a small bowl, then whisk in soy sauce, rice vinegar, remaining 2 tablespoons sesame oil, sugar, and ginger to taste until smooth. Adjust flavors to taste.
Toss sauce with cold noodles. Add in the cucumbers, peanuts, and the herbs. Stir and serve.
Adapted from Smitten Kitchen
Victoria's Kitchen http://kitchenbyvictoria.com/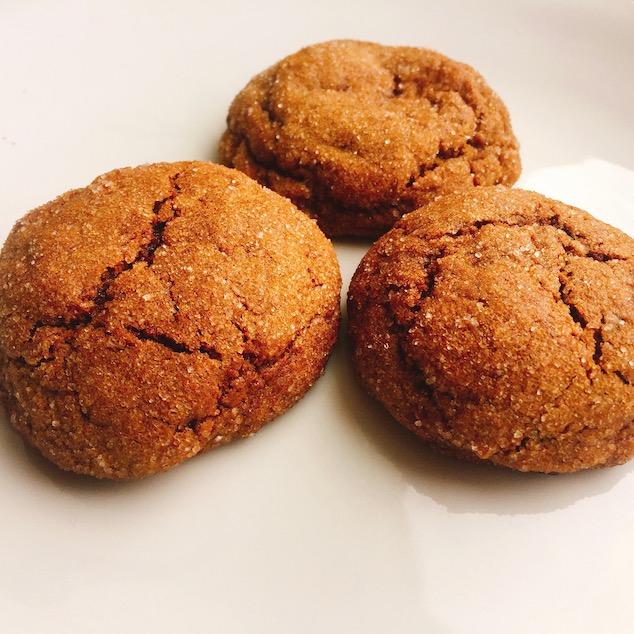 These were SO GOOD, try them immediately. Not too sweet, not too sharp from the ginger, just right. We did debate whether or not the sugar coating is required… and I firmly believe that it is. You need good quality molasses, that's important.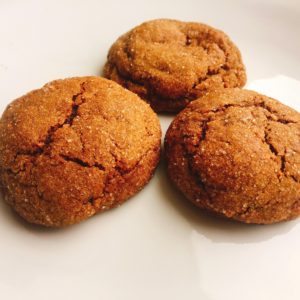 Chewy Molasses Cookies
2017-04-26 00:10:11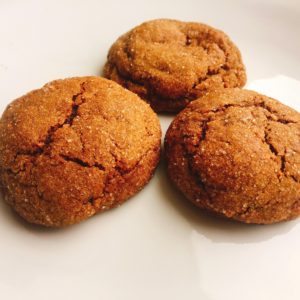 Ingredients
2 cups all-purpose flour
2 teaspoons baking soda
1 1/2 teaspoons ground cinnamon
1 teaspoon ground ginger
3/4 teaspoons ground cardamom
1/2 teaspoons kosher salt
1 large egg
1/2 cup (1 stick) unsalted butter, melted
1/3 cup granulated sugar
1/3 cup mild-flavored (light) or robust-flavored (dark) molasses
1/4 cup (packed) dark brown sugar
Coarse sanding or raw sugar (for rolling)
Instructions
Place racks in lower and upper thirds of oven; preheat to 375°F. Whisk flour, baking soda, cinnamon, ginger, cardamom, and salt in a small bowl. Whisk egg, butter, granulated sugar, molasses, and brown sugar in a medium bowl. Mix in dry ingredients just to combine.
Place sanding sugar in a shallow bowl. Scoop out dough by the tablespoonful and roll into balls (if dough is sticky, chill 20 minutes). Roll in sugar and place on 2 parchment-lined baking sheets, spacing 2" apart.
Bake cookies, rotating baking sheets halfway through, until cookies are puffed, cracked, and just set around edges (over-baked cookies won't be chewy), 8–10 minutes. Transfer to wire racks and let cool.
MAKE AHEAD: Cookie dough can be made and rolled into balls 2 weeks ahead. Freeze on a baking sheet; transfer to resealable plastic bags. Let sit at room temperature 30 minutes before rolling in sugar.
Adapted from Epicurious
Victoria's Kitchen http://kitchenbyvictoria.com/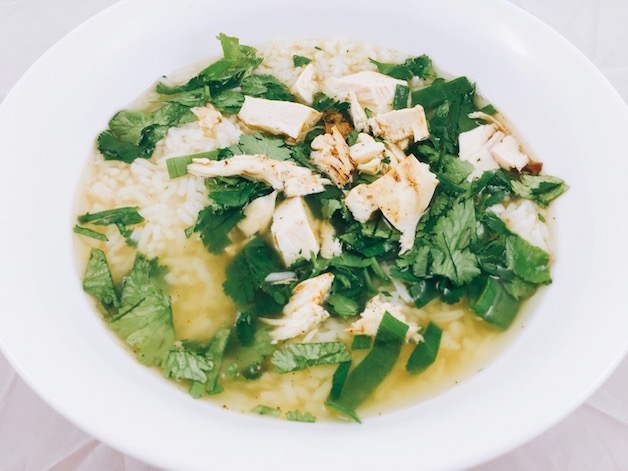 This recipe reminds me so much of a recipe my mother makes- we always called it scallion chicken.
This is basically the soup version of that. A chinese spiced ginger and scallion broth with shredded chicken, fresh coriander, and served on a bed of rice. YUM.
If possible, use homemade chicken stock and the chicken leftover from your last roast. I roasted a chicken last Sunday with the sole purpose of making this dish afterwards and oh dear was it worth it.
If not possible, not to worry, the directions below explain how you can use bouillon & poach your own chicken in the broth.
The recipe itself is largely based on one from the Hairy Bikers: Chicken & Egg cookbook, given to me by my lovely Bibbsles!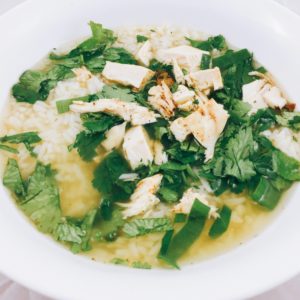 Hainanese Chicken Soup
2017-03-26 14:39:38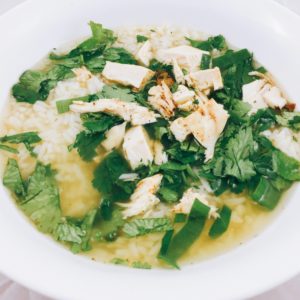 FOR THE BROTH
1.2 liters chicken stock
A long thumb sized piece of ginger
1 bunch spring onions (that's right, an entire bunch)
3 garlic cloves, sliced
3 star anise
a few peppercorns (I used mixed and not just black, but as you prefer)
4 skinless chicken breasts (optional, if you don't have already cooked, leftover chicken)
FOR THE RICE
a tablespoon of butter
2 garlic cloves, crushed
a smaller chunk of ginger, peeled and grated
300g jasmine rice
TOPPINGS
Sriracha chile sauce
A handful of cooked, shredded chicken
Fresh coriander, washed and chopped
Soy sauce
Instructions
First make the broth. Thinly slice the ginger (no need to peel it). Slice the spring onions, and set 2 aside for use as a topping at the end.
Pour the stock into a saucepan and add the ginger, sliced spring onions, garlic, star anise, peppercorns, and a half teaspoon of salt. Bring to the boil and simmer for 5 minutes.
*If you are poaching your own chicken, add them at this point and let them simmer gently for 7-8 minutes. Turn off the heat and leave the chicken to stand for 5 minutes. Remove the chicken from the pan and set it aside to cool before shredding with your fingers*
If you are not cooking new chicken, just let that broth bubble away while you make your rice.
To make the rice, heat the butter in a saucepan with a lid, and add the garlic and ginger. Cook for 3-4 minutes until the garlic has softened but don't let it brown at all. Add the rice, and stir until all the grains are glossy.
Measure out 500ml of the stock and pour it over the rice. Season with salt, bring it to a boil, then turn the heat down and cover the pan leaving it to summer for 10 minutes. Remove the pan from the heat and let it sit to absorb any excess water for another 10 minutes.
To serve, warm the remaining chicken stock (strain it if you need to- sometimes all the chunks sink to the bottom and it's not necessary). Put a ladleful of rice in each bowl, and cover with shredded chicken. Pour a ladleful of stock on top, and then garnish with spring onions, coriander, and let people top with sriracha and soy if they wish.
Victoria's Kitchen http://kitchenbyvictoria.com/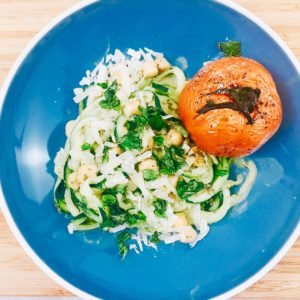 Zoodles with Roasted Whole Tomatoes & Pesto
2017-03-02 15:33:27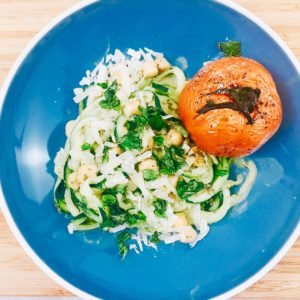 Ingredients
5 large zucchini
Sea salt
1 jar of high quality pesto
1 pound vine-ripened tomatoes, stems attached
2 tablespoons extra virgin olive oil, as needed
2 cloves garlic, minced
1 1/2 cups cooked chickpeas, rinsed and drained
Freshly ground pepper
1/3 cup toasted pine nuts
1 cup basil, julienned
3/4 cup shaved Parmesan Pinch of red pepper flakes Fresh lemon zest, for garnish
Instructions
Preheat the oven to 425 degrees F.
Using a spiraliser, slice the zucchini into noodles. Lay the zucchini "noodles" on a dish towel and sprinkle them with sea salt; let them sweat for about 20 minutes, then blot and gently squeeze out the excess water with the dish towel.
Keeping stems attached, rub the tomatoes with a thin coat of oil and a sprinkle of salt and pepper. Roast them on a rimmed baking sheet for 10 to 12 minutes until they just begin to collapse.
In your largest frying pan over medium heat, warm the olive oil. Add the garlic and saute for 1 minute until fragrant. Add the white beans, a hearty pinch of salt and pepper, and saute just to warm through. Add the zucchini and gently saute for 5 to 6 minutes until warmed (too long and they'll get soggy). Gently toss them in 1/3 cup of the pesto (add more to taste) and half of the pine nuts, basil, and Parmesan.
Serve each bowl with a generous garnish of Parmesan, a pinch of red pepper flakes and a fresh grate of lemon zest. Serve the tomatoes alongside the noodles.
Victoria's Kitchen http://kitchenbyvictoria.com/
Obviously, this would be more delicious with homemade pesto. No one is contesting that. But the reality is not everyone has that much time on their hands, and this version is easy and just as healthy.
All you need is a spiraliser to make the zucchini into noodle shape. Alternatively you can always pop to Marks & Spencer where they sell pre-spiralised zucchinis.
This recipe is based on one from the Sprouted Kitchen, but now that I didn't make my own pesto, it doesn't bear enough resemblance to say it's the same recipe!