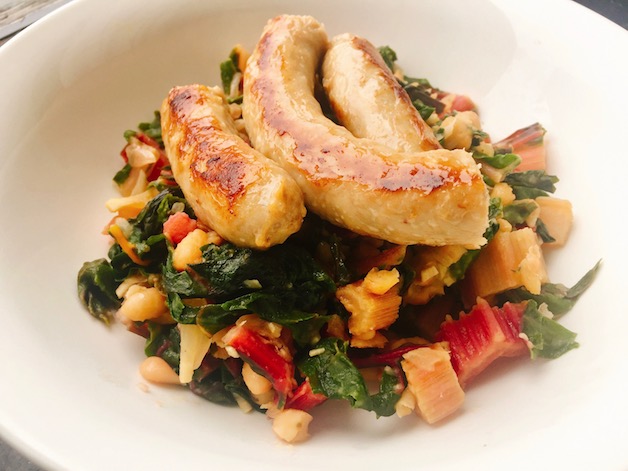 This was thrown together at the last minute on a Saturday night, and turned out to be a huge hit.
It's really easy, and carb free. If you are looking to make it even more healthy you can obviously also skip the sausage, but it's pretty tasty on top so I recommend keeping it.
It was inspired by something my mama often makes, with greens and white beans (I know that there are other recipes on this blog of similar variations!).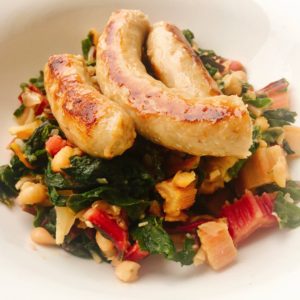 Swiss Chard & White Beans with Sausage
2017-06-25 00:45:57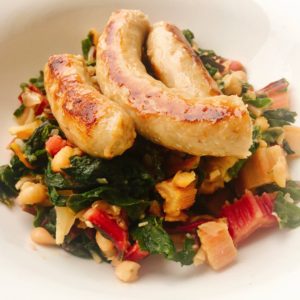 Serves 2
Ingredients
1/2 a large onion (or a whole small onion), peeled and minced
A heap of garlic, as much as you can handle (we used 5 cloves)
1 bunch swiss chard (or other leafy greens), washed and chopped into small pieces
1 can cannellini beans (or other white beans), drained and rinsed thoroughly
A giant pinch of salt & freshly ground pepper
Sausage of your choosing. I would suggest an Italian sausage with fennel seeds.
Instructions
Sautee the onion and garlic in a heap of oil, with a small pinch of salt.
After a few minutes (before the garlic browns), throw in the swiss chard and cook until it's wilted.
Add in the beans, and cook for about 6 more minutes, stirring occasionally to avoid them sticking to the pan. You want them to be kind of mushy in the end, not fully intact. This gives the whole mixture a much creamier feel. Taste it, adding salt, pepper, and extra olive oil until you are happy with the taste.
Throw the sausage on a smaller frying pan, and cook until browned and cooked through.
Serve the chard and beans mixture with the sausages on top.
Victoria's Kitchen http://kitchenbyvictoria.com/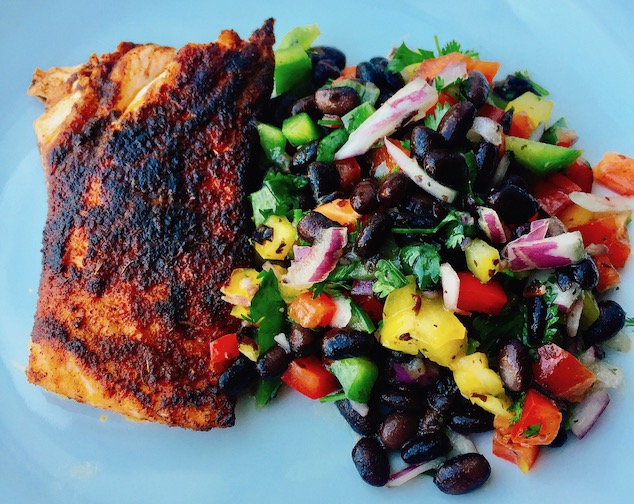 I'll be honest, I cheated here with a blackening seasoning mix. If you want to make your own feel free to Google it, but if you are looking for a quick after work meal just buy a pre-made seasoning mix and use that.
The recipe for the black bean salad can be found here.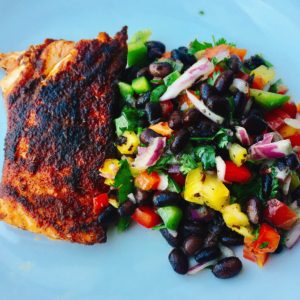 Blackened Salmon & Black Bean Salad
2017-06-24 13:02:27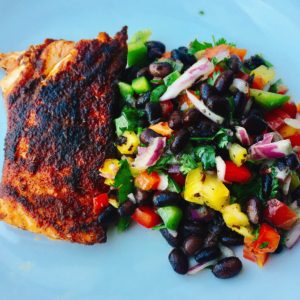 Serves 2
Ingredients
2 salmon filets
2 tbsp butter, melted
A few teaspoons of blackening season mix
Instructions
Wash and dry salmon. Set on a plate, and pour half the butter over the filets.
Add the seasoning mix and spread evenly with your fingers.
Heat the pan, and cook 2-5 minutes until blackened on the one side. As it's cooking, repeat the butter & seasoning exercise on the unseasoned side. Cook for another few minutes, until the fish is blackened, and flakes.
Victoria's Kitchen http://kitchenbyvictoria.com/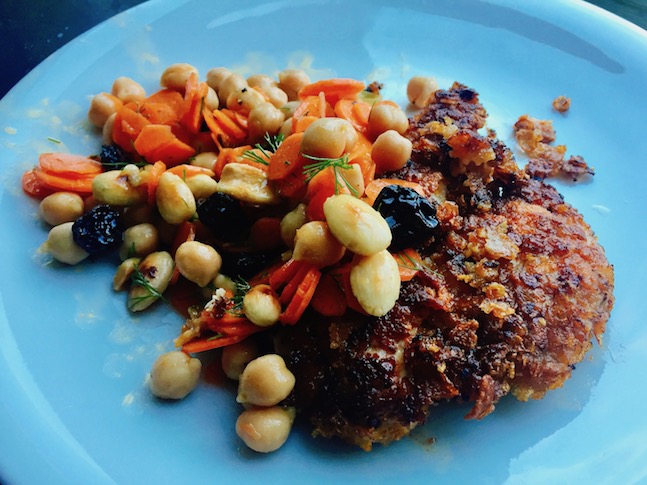 I know. Cornflakes on chicken seems really counterintuitive. Just go with it. This is from Nigella so you can have a little faith.
It's crispy on the outside, tender and juicy on the inside.
We paired it with a moroccan carrot salad that was quite tasty, but if you want to go easy you can also just put it on top of salad and it would be a great and simple combination with the chicken.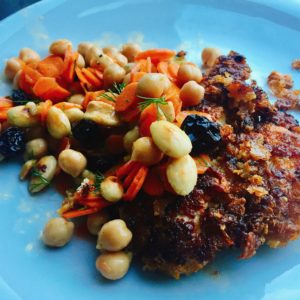 Cornflake Crusted Chicken & Moroccan Carrot Salad
2017-06-24 12:52:49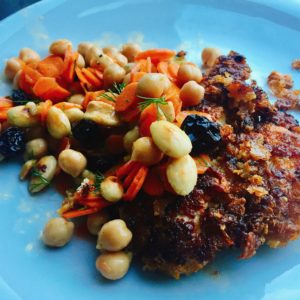 FOR THE CHICKEN
2 chicken escalopes or breast filles (200-300g total)
1/4 cup dijon or l'ancienne mustard
1 clove garlic, peeled and pressed
1/2 tsp ground cinnamon
1 egg
3 cups cornflakes
1 1/2 tsp paprika or pimento picante (depending on how much you like spicy)
vegetable oil
FOR THE CARROT SALAD
4 carrots
1 can chickpeas
A handful of prunes, chopped
A handful of almonds, chopped
A handful of dill, chopped
Ground coriander to taste
Ground cumin to taste
Salt & Pepper to taste
FOR THE CHICKEN
Keep out of the fridge before you cook so that it's not cold when you'll be frying. If you are using breasts instead of escalopes, slice them thinly.
In a shallow dish, mix the mustard and the garlic. Add the cinnamon and the egg and whisk to combine. Put the escalopes in, turn them, and leave them while you make the cornflake mixture.
In a separate bowl, put the cornflakes in and crush them by hand. Add the paprika and mix in.
Dredge the chicken from the egg mixture into the cornflake mixture, and let dry on a wire rack for 5-10 minutes.
Head the oil in a heavy frying pan, and when hot fry 3 mins on the first side, then turn them over and cook for another 3 minutes. Check that they are cooked through, if so, remove from the heat and serve.
FOR THE SALAD
Mix all ingredients together in a bowl. Readjust the seasonings to taste.
Victoria's Kitchen http://kitchenbyvictoria.com/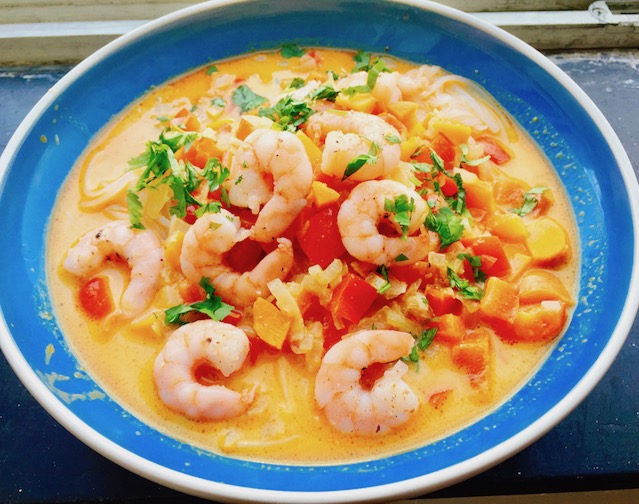 This is a comforting slurpy noodle bowl that you can tailor to your spicy tolerance.
Take care not to under salt, it needs to be just the right amount salty and spicy.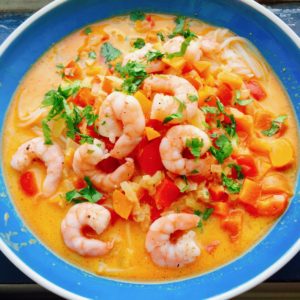 Shrimp Curry Noodle Bowl
2017-06-24 12:30:53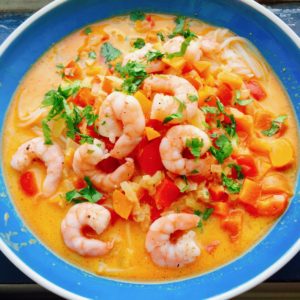 Serves 2
Ingredients
8 ounces uncooked rice noodles
1 pound jumbo shrimp, peeled and de-veined
Salt & Pepper to taste
2 tablespoons coconut oil, divided (or any mild-flavored cooking oil)
1 small white onion, peeled and thinly-sliced
1 large red bell pepper, cored and diced
1 large carrot, peeled and diced
4 cloves garlic, peeled and minced
3 tablespoons Thai red curry paste
2 (15-ounce) cans coconut milk
2 cups chicken or vegetable or seafood stock
1/2 teaspoon ground ginger
optional: 1-2 red Thai chiles, thinly-sliced
toppings: chopped fresh cilantro, thinly-sliced red onions
Instructions
Cook rice noodles according to package instructions. Drain and rinse with cold water, and set aside.
Meanwhile, lay out the raw shrimp on a plate and pat dry with a paper towel. Season the shrimp generously on both sides with a pinch of salt and pepper.
Heat 1 tablespoon oil in a large stockpot over medium-high heat. Add shrimp and cook for 1-2 minutes per side, until the shrimp are pink and opaque and cooked through. Remove from pan with a slotted spoon and set aside.
Add the remaining 1 tablespoon oil to the stockpot. Add sliced onion, bell pepper and carrot, and sauté, stirring occasionally, for 6-8 minutes or until the onion is soft and translucent. Add garlic and sauté for 1-2 more minutes, stirring occasionally, until fragrant.
Add in the coconut milk, stock and ginger (and chiles, if using), and stir to combine. Continue cooking until the mixture reaches a simmer. Reduce heat to medium, and continue simmering for 5-10 more minutes.
Stir in the noodles. Taste, and season with extra salt and pepper and curry paste to taste. (Add a few generous pinches of salt and pepper, especially if the stock you use is not very salty.
Serve warm, topped with a few pieces of the cooked shrimp, and your desired toppings.
Adapted from Gimme Some Oven
Victoria's Kitchen http://kitchenbyvictoria.com/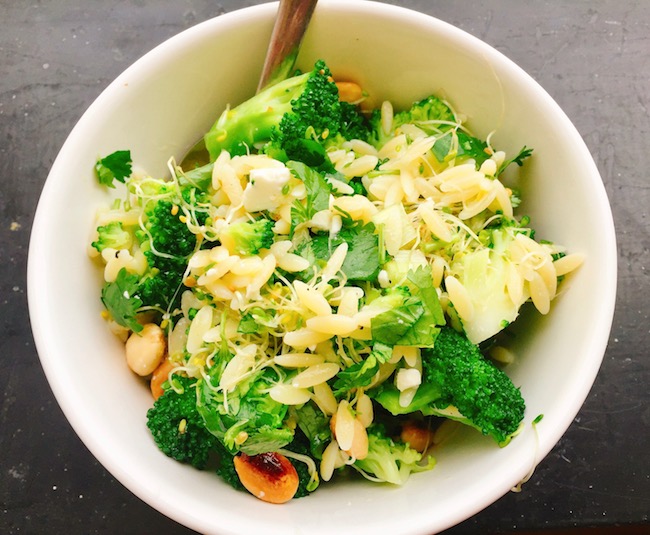 This is perfect for a hot summer day. It's very flexible (feel free to experiment with different ingredient mixes), but I recommend making this original one first.
If you are taking it to a picnic, just dress it right before you get to the picnic, it shouldn't be sitting around too long in advance.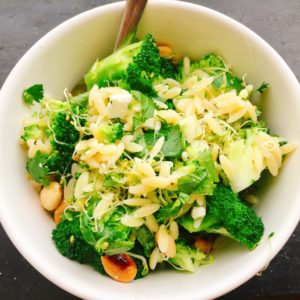 Summer Green Orzo Salad
2017-06-24 12:18:19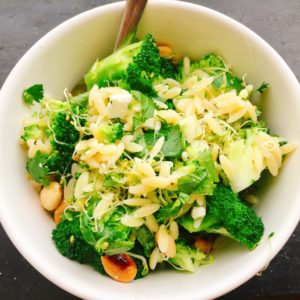 Serves 2
Ingredients
1 cup dried orzo
1/2 a medium head of broccoli or broccolini, cut into small pieces
small handful of cilantro, chopped
1 small clove of garlic, pressed
2 tablespoons fresh lemon juice
1/4 cup extra virgin olive oil
Salt & Pepper to taste
a small handful of sprouts
1/3 cup almonds, toasted
1/2 small cucumber, cut into 1/4-inch pieces
1 medium avocado, sliced into small pieces
1/4 cup feta, crumbled
Instructions
Bring a large pot of water to a boil. Salt generously and boil the orzo per package instructions. Avoid over-boiling, you want your orzo to be cooked through, but maintain structure. About 30 seconds before the orzo is finished cooking stir the broccoli into the orzo pot. Cook for the final 30 seconds, drain and run under a bit of cold water. Just long enough to stop the cooking.
In the meantime, whisk together the garlic, lemon juice, olive oil, salt and pepper into the dressing. Set aside.
When you are ready to serve the salad toss the orzo, broccoli, and cilantro with about half the dressing. Add more dressing if needed, and toss well. Now add the sprouts, almonds, cucumber, avocado, and feta. Gently toss a couple of times to distribute those ingredients throughout the salad and serve.
Adapted from 101cookbooks
Victoria's Kitchen http://kitchenbyvictoria.com/