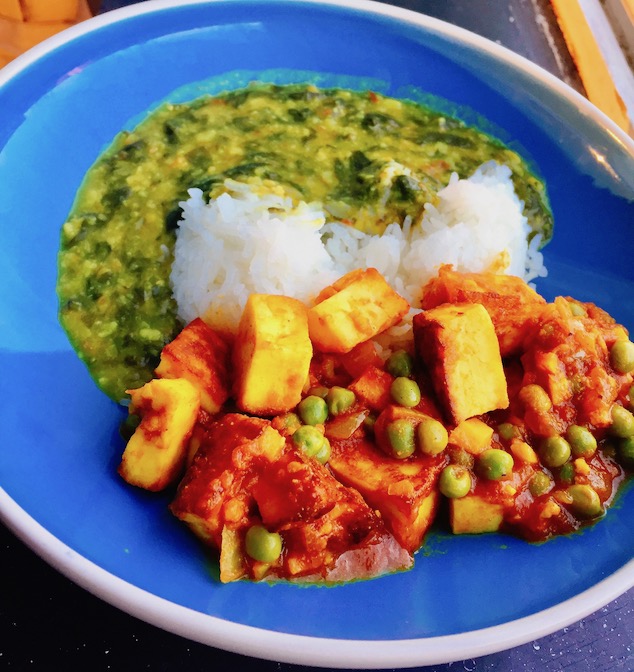 As I mentioned in the last post, I apologise for the visual repetition, I cooked these two dishes together on the same night.
This recipe is the green daal pictured in the back of the photo.
Its from the blog 101cookbooks by Heidi Swanson, and it's been one of my standby recipes for years. It's so easy to make, all you need is time (it takes about 2 hours in total, but really only 15 minutes of effort within that). Perfect for a dinner party because you can get it all on the stove, and let it bubble away while you pick up your mess.
The recipe calls for white daal (urid daal), but to be honest I've made it with every kind of lentils over the years, and it's always delicious.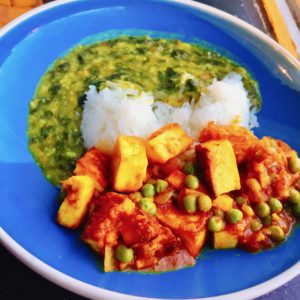 Palaak Daal
2017-07-15 03:47:28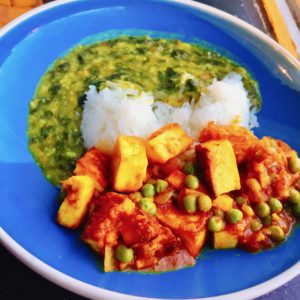 Ingredients
1 cup / 185 g white urid or urad daal, (or any other lentils or mung beans) picked over and rinsed
6 cups / 1.5 liters water, plus more if necessary
1/2 pound spinach, washed and finely chopped
1 tablespoon ginger, peeled and finely chopped
1/2 teaspoon turmeric
2 medium green chile peppers, minced
2 tomatoes, chopped
1/2 teaspoon salt
2 tablespoons butter
1/2 teaspoon cumin seeds
1 teaspoon pure red chile powder
more salt to taste
juice of 1/2 a lemon
1/4 cup cilantro, chopped
Instructions
In a large pot over medium-high heat combine the daal and water. Bring to a boil, then add the spinach, ginger, turmeric, 3/4 of the green chiles, and all of the tomatoes. Reduce the heat, and simmer for 1 1/2 to 2 hours or until the lentils are extremely soft. You may need to add a bit more water during the cooking process to keep the lentils soupy. After an hour and a half, stir in the salt.
In a separate pan, heat the butter and cumin and fry until the cumin seeds start to pop. Now add the red chile powder and fry for another 30 seconds. Add this butter mixture to the lentils and allow to cook for another five minutes. Taste, and season with more salt if needed. I also enjoyed a touch of lemon juice added at this point. Serve topped with the cilantro and the remaining green chiles.
Adapted from 101cookbooks
Victoria's Kitchen http://kitchenbyvictoria.com/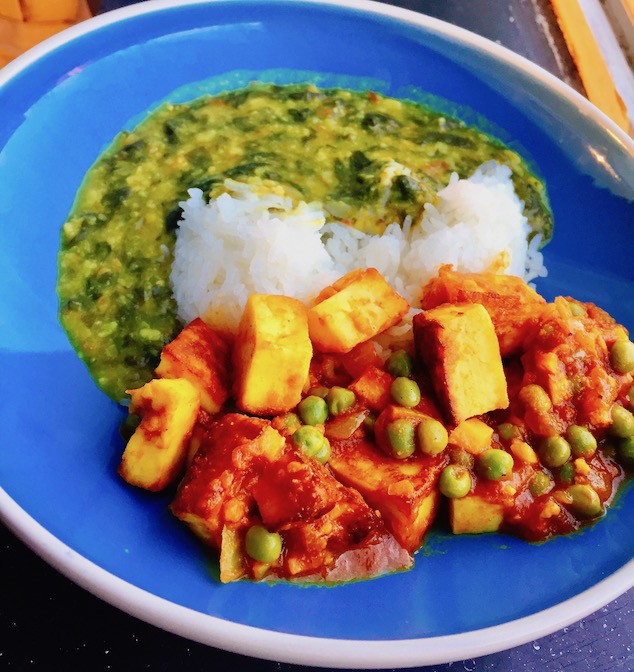 This recipe is from the genius Maunika Gowardhan, who is a really wonderful Indian chef. Her recipes are easy to follow, quick to make, and healthy.
I think Indian is one of the cuisines in the world where meat is really necessary. The vegetarian options are so countless.
The photo you see here is the same as the next post (Palaak Daal)- because I cooked them together, and I only took one picture #fail. So sorry for the visual repetition.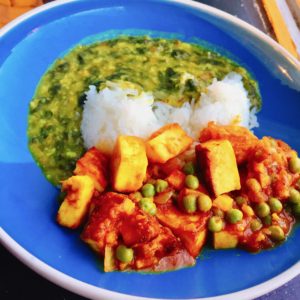 Punjabi Matar Paneer
2017-07-15 03:40:00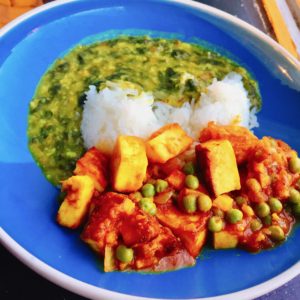 Serves 4
Ingredients
Vegetable oil
500g paneer
To make the curry;
2 tbsp vegetable oil
250gms white onion finely chopped
2" ginger roughly chopped
2 cloves garlic roughly chopped
1 heaped tsp cumin seeds
1 heaped tsp coriander seeds
1 tsp turmeric
1 tsp mild chilli powder
400g tinned tomatoes blended to a puree
Pinch of sugar
Salt to taste
200ml water
200g frozen green peas
½ tsp garam masala powder
Handful of coriander for garnish
Instructions
Blend the ginger and garlic with a splash of water to a smooth paste and set aside.
Dab any excess moisture from the paneer on kitchen paper and cut into bite size cubes.
Heat vegetable oil for shallow frying in a pan over a medium heat. Add the paneer cubes in batches and fry. Make sure they get an even colour and go a light brown (this should take around 2-3 minutes) Drain over kitchen paper and add to a bowl of warm water. Let it soak while you make the gravy.
Heat oil in a heavy bottom sauce pan over a medium heat. Add the onions and fry for 12-14 minutes. Stir well as they begin to change colour turn the heat low and add the ginger and garlic paste. Fry well for 2 minutes stirring continuously.
Add the cumin and coriander along with the turmeric and chilli powder. Fry for a minute and add a splash of water making sure it doesn't stick to the bottom of the pan and continue cooking the raw flavour of the spices for a further minute. Tip in the blended tomatoes simmer the curry over a low heat for 8-10 minutes with lid on. Stir a couple of times through the cooking process. Add 200mls water along with the sugar and salt. Continue to simmer for 5 minutes with the lid on.
Add frozen green peas along with the garam masala. Drain the water from the paneer and add the cubes to the curry. Stir well making sure to coat all the pieces with the sauce. Simmer for 2 minutes and turn the heat off. Garnish with coriander and serve with rice.
Victoria's Kitchen http://kitchenbyvictoria.com/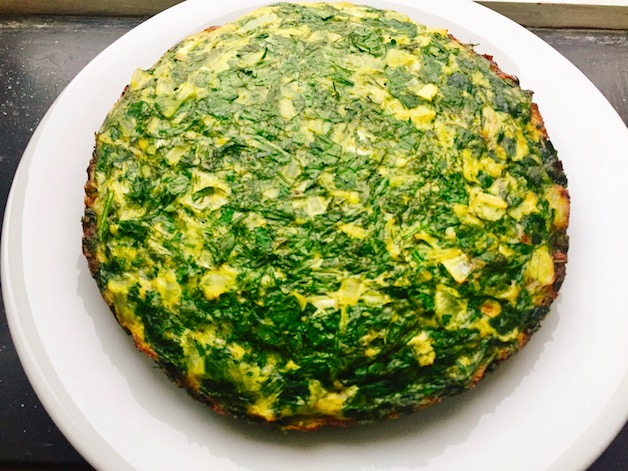 This is so herby and fresh, but filling. Great combined with a salad for a low (or rather NO) carb dinner!
The original recipe comes from Bon Appetit (link in recipe card), and there is a video on the website that you can watch if you like to watch recipe videos.
This dish is traditionally eaten on the Persian New Year, which you can read more about here. Apparently the new year is all about celebrating fresh herbs. Cheers to that, I love herbs!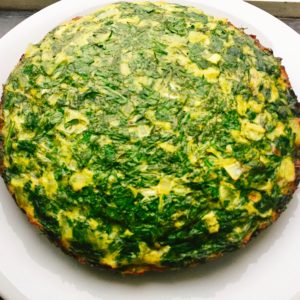 Kuku Sabzi (Persian Herb & Leek Frittata)
2017-07-15 03:21:02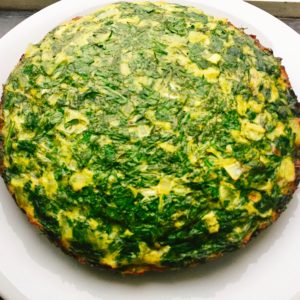 Serves 2
Ingredients
5 tablespoons vegetable oil, divided
1 medium onion, finely chopped
1 medium leek, white and pale-green parts only, finely chopped
5 large eggs
1½ teaspoons kosher salt
1 teaspoon baking powder
1 teaspoon freshly ground black pepper
½ teaspoon ground turmeric
1½ cups finely chopped cilantro
1½ cups finely chopped dill
1½ cups finely chopped parsley
Instructions
Heat 2 Tbsp. oil in a 10" skillet over medium. Cook onion and leek, stirring occasionally, until very soft but not brown, 10–12 minutes. Transfer to a plate and let cool. Wipe out skillet; set aside.
Whisk eggs, salt, baking powder, pepper, and turmeric in a large bowl. Using a rubber spatula, mix in onion mixture, cilantro, dill, and parsley. (Egg mixture should look thick and very green.)
Heat broiler. Heat remaining 3 Tbsp. oil in reserved skillet over medium. Pour in egg mixture; spread evenly across pan with spatula. Cover and cook frittata until bottom is just set, 8–10 minutes. Uncover and broil, watching carefully, until top is set, about 1 minute. Let cool slightly, then slide out onto a platter.
Adapted from Bon Appétit
Victoria's Kitchen http://kitchenbyvictoria.com/