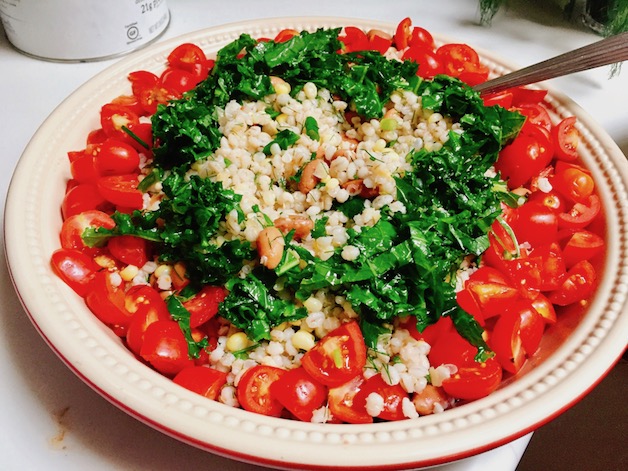 This was one of the best meals of the year. This salad with fresh corn together with a pulled brisket (recipe coming shortly). A perfect fresh summer meal.
Don't do this with canned corn it just won't be as delicious.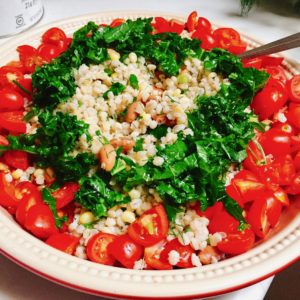 Grilled Corn & Barley Salad with Tomato Vinaigrette
2017-11-13 15:43:24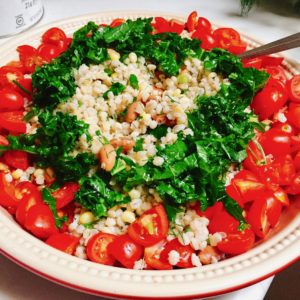 Ingredients
1/2 cup dried pearl barley
3 ears of corn (shucked)
1 pint grape or cherry tomatoes
1 cup cooked cannellini beans
1 ripe tomato
1 1/2 teaspoons apple cider vinegar
1 large garlic clove
1/4 cup basil cut into ribbons
1 bunch of chives, thinly sliced
¼ - ½ cup(s) olive oil
Instructions
Boil barley according to package directions, using a large stock pot.
Brush corn with olive oil and grill on all sides until charred gill marks appear.
Meanwhile, halve all of the tomatoes and rinse and drain beans.
Cut kernels off the corn. As you cut, collect any of the "milk" that comes from the cutting process, then use the back of the knife to scrape the remaining "milk" from the cleaned cob.
Next, cut the large tomato in half and grate with a box grater over a dish or wide bowl, discarding the skins, but collecting the juice and pulp. Paste the garlic clove by mincing the garlic, and then adding some salt and rubbing the mixture between your cutting board and the side of your chef's knife. Add that paste into the tomato mixture. Add a pinch of salt, crushed red pepper to taste, vinegar, and corn milk. Always crush dried herbs in the palm of your hand before adding to release the oils…releasing oils = releasing flavor! Whisk in olive oil slowly. Your goal here is to create an emulsion. This should yield at least a ½ c. of vinaigrette.
If you plan on making ahead, make ¼ c. of extra vinaigrette to freshen before serving. Reserve your vinaigrette. Combine barley, tomatoes, corn, beans and fresh herbs in a large bowl and dress with your tomato vinaigrette. Toss to combine. Finish with a drizzle of your best olive oil.
Adapted from Food52
Victoria's Kitchen http://kitchenbyvictoria.com/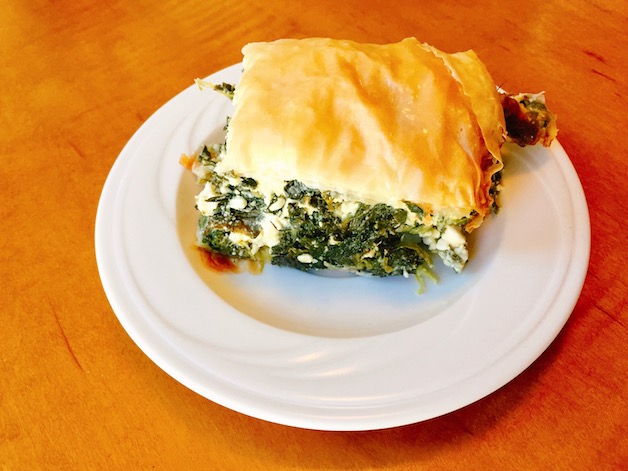 We actually made this in the summer, as an easy recipe to make for a big hungry group. All the time is in the prep, which you can do several hours in advance, leaving you the rest of your day to sit back and enjoy with nothing to do except pop it in the oven.
The key to it's simplicity is frozen spinach, rather than wrestling with fresh. However, the flip side is that you need to squeeze it thoroughly (through cheesecloth) in order to remove all the moisture.
The texture of your pie depends on it.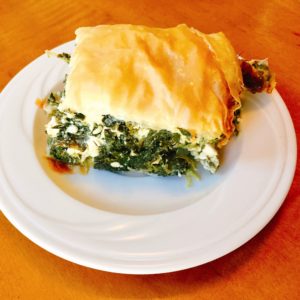 Spanakopita (Greek Spinach Pie)
2017-11-13 15:28:57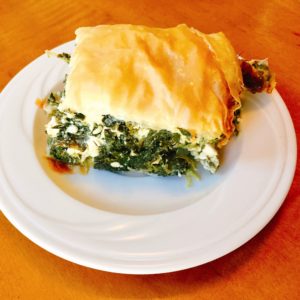 Serves 8
For the filling
4 pounds frozen chopped spinach
4 tablespoons (1/2 stick) butter
5 scallions, chopped
1/2 bunch dill, chopped
1 teaspoon salt
1 teaspoon freshly ground pepper
5 eggs, beaten
1 pound cottage cheese
1 1/2 pounds feta cheese, broken up into small pieces
1/2 cup extra-virgin olive oil
For the dough
1 packet phyllo dough
1 cup clarified butter
Instructions
Preheat oven to 375° F.
Thoroughly drain the spinach of all water by squeezing it in a cheesecloth.
Over medium heat, melt butter with scallions and cook until scallions are soft and translucent, about 3 to 5 minutes
Transfer to a large bowl and add dill, salt, pepper, eggs, cottage cheese, feta cheese, spinach, and olive oil. Fold ingredients together until fully combined, careful to not break up feta. Do not overmix.
Now prepare the phyllo. Lightly butter a 9-inch by 13-inch baking dish. Prepare phyllo by removing from package and unfurling it. You should have around 25 to 30 sheets. As you work, cover the dough with a damp tea towel or moistened paper towel on top to prevent it from drying out. Carefully peel off one sheet of phyllo and lay it on the bottom of pan. Sheets of phyllo should not be pulled tight. Instead, lay it in a crumbled fashion to create a textured layer. With pastry brush, generously spread with clarified butter until the sheet is moistened.
Continue until you have used half of your total filo dough (about 10 to 15 sheets). Spread filling over the sheets of phyllo in an even layer, to the ends of the dish. Begin the process of covering with phyllo and brushing with butter until two to three sheets of phyllo remain. Pull the final sheets tightly over the top of the dish to create a smooth top. Brush top layer with clarified butter.
Bake at for 1 hour and 15 minutes, until the top is a deep golden brown.
Check after 1 hour for browning. Serve at room temperature
Adapted from Food52
Victoria's Kitchen http://kitchenbyvictoria.com/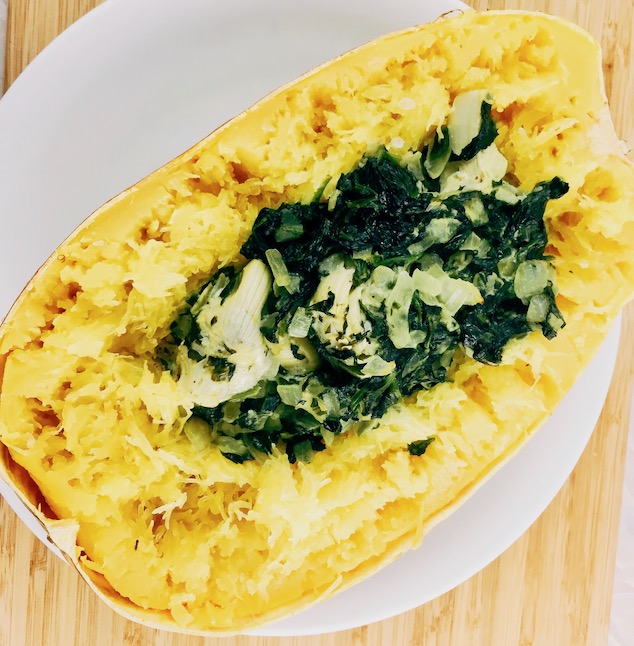 So this one Sunday evening I had the good fortune of running into my friend Vivs in the grocery store. I was determined to make chicken pot pies, I had spent all morning researching recipes for the week, and I had my grocery list prepared.
Suddenly Vivs rocked my world, alerting me to the fact that the store had spaghetti squash in stock!! The list went straight into the pocket and I started from scratch.
After some advice from Vivs (who made the squash a few days ago), and a quick google, I came up with this. Felix is thoroughly impressed and we've decided it's going to be a repeated meal in the Breckhoven household!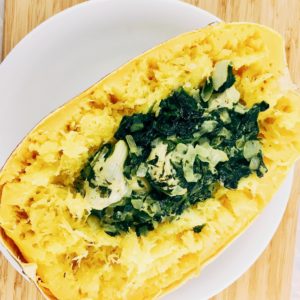 Spaghetti Squash Boats- Spinach & Artichoke
2017-11-05 12:17:28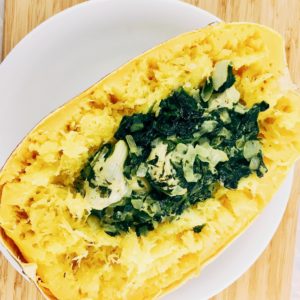 Serves 4
Ingredients
1 spaghetti squash, cut in half lengthwise (You need a sharp knife, please don't cut yourself. I actually broke a knife in this step... sorry Felix!)
1 500g bag of spinach
1/3 cup sour cream
1 small jar of artichoke hearts
2 small onions
4 cloves of garlic
a handful of salt & a glug of oil
Instructions
Preheat oven to 400f/200c.
Cover your baking tray in aluminium foil, and place the two halves of spaghetti squash face down on the tray.
Bake for 45 minutes, or until fork tender.
While the squash is cooking, make your filling. Chop the two onions and the garlic, and sautée in olive oil or another vegetable oil, with a pinch of salt, until soft. Wash and chop up the spinach, and add it to the pan in batches until wilted. Keep salting to taste as you go along.
Once cooked, add in the chopped artichokes and the sour cream, and stir until fully combined. Set aside OFF the heat.
When the timer for the squash goes off, remove from the oven, pour off the water, and flip the squashes.
Fluff the squash flesh with a fork, make a well in the middle, and add the filling (including the juices in the pan). Drizzle with olive oil or add some small chunks of butter around the outsides of the squash, and sprinkle with more salt. Return to the oven closer to the top, and cook for another 10 minutes. Finish under the broiler for a few minutes.
YUM. Thanks vivs for your inspiration!
Victoria's Kitchen http://kitchenbyvictoria.com/