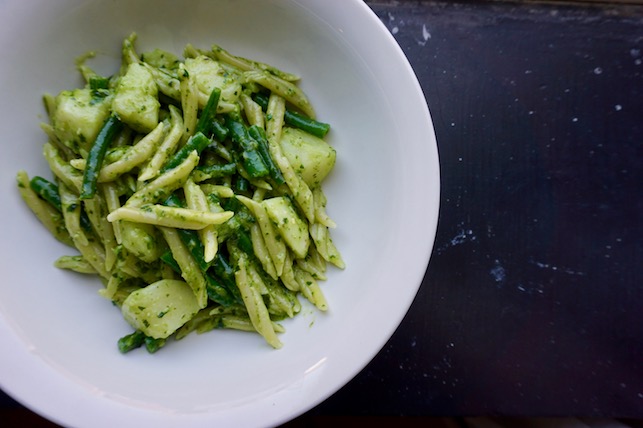 Felix and I went to the Cinque Terre in January, and we couldn't get enough of this. Ate it every day, and brought back loads of trofie only to find that we could buy it here. Do yourself a favour and make this tonight.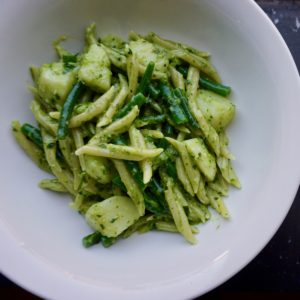 Trofie al pesto
2018-06-27 00:11:11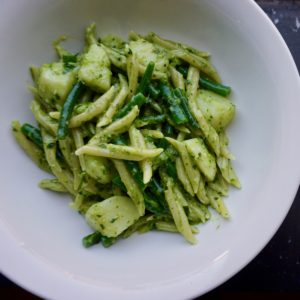 Ingredients
4-5 small potatoes (peeled and cut into small chunks)
1 box of trofie pasta (or any other pasta if you can't find it)
200 grams green beans (trimmed and cut in thirds)
100 grams fresh basil leaves
100 grams grated parmesan cheese
2 cloves garlic
100 ml regular olive oil
100 ml extra virgin olive oil
juice from half a lemon
About a teaspoon of salt (but taste as you go along to be sure your parmesan doesn't make it too salty)
30 grams or a small handful of pine nuts
Instructions
Bring a large pot to boil, and put in the potato chunks.
Put the potato chunks into a large saucepan together with plenty of salt.
Cook the potatoes until tender, about 10-15 minutes, then add the pasta and the green beans. Check the packet cooking instructions.
While this is cooking, blitz the ingredients for the pesto with a hand blender.
Before you drain the saucepan, remove and reserve about ½ cup of the cooking liquid in case you need it to loosen up the pasta (I didn't use it but I always like to know I have it just in case!)
Pour the drained potatoes, beans and pasta back into the dry pan, and add the pesto.
Give it a good stir and if needed add a bit of cooking water. Garnish with a bit of basil and serve immediately.
Victoria's Kitchen http://kitchenbyvictoria.com/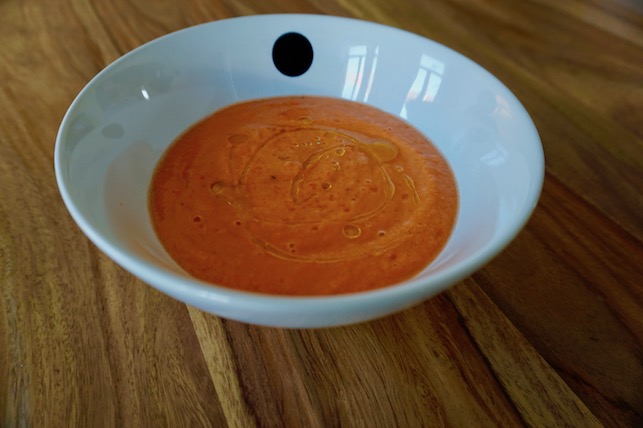 My good friend Stefan introduced me to this one, it's a great recipe from Food52, and perfect for a starter on a hot summer day. It's so light and fluffy and fresh.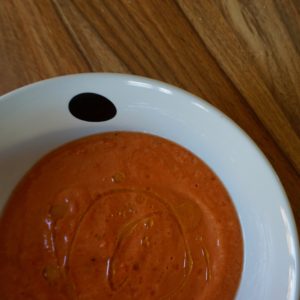 Salmorejo
2018-06-26 23:57:00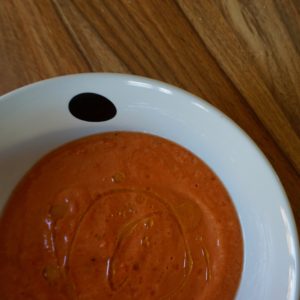 Ingredients
8-10 ripe tomatoes
2 cloves garlic
½ cup extra virgin olive oil
1/8 cup apple cider vinegar
1-2 teaspoons salt
¼ loaf white bread
Instructions
Quarter the tomatoes and blend with a hand blender until tomatoes are smooth.
Cut the bread into small chunks, add it to the blended tomatoes and stir, so that bread is completely saturated. Let it sit to soak up the tomatoes for a few minutes. Chop garlic and add to the bowl.
Blend again and slowly pour in extra virgin olive. Add salt and vinegar, and continue blending. Taste and finish off with more salt or olive oil until you like the taste and consistency.
Chill until you are ready to eat, and serve with toppings of your choice (a bit of jamon, a bit of chopped boiled egg, or like us, just olive oil!).
Adapted from Food52
Victoria's Kitchen http://kitchenbyvictoria.com/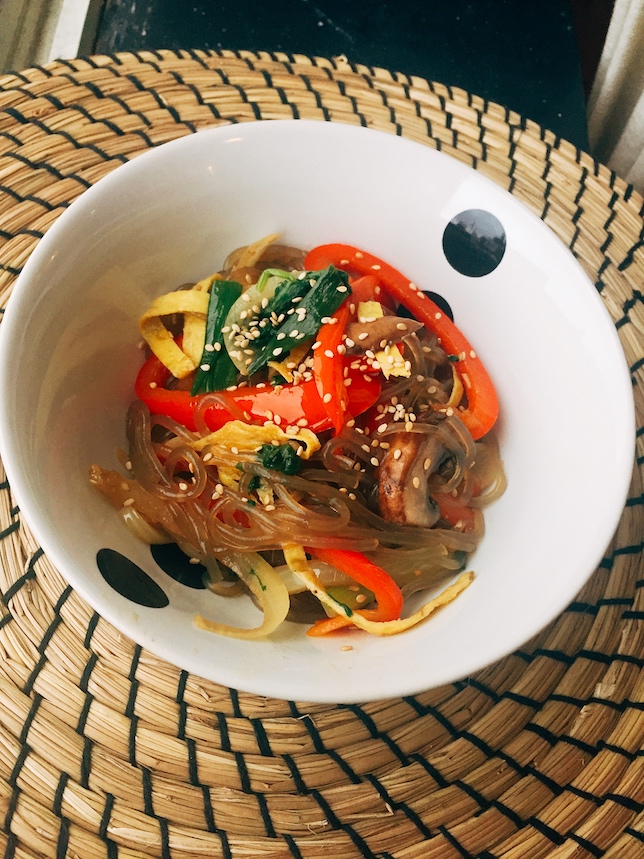 This is so healthy and satisfying. The noodles are chewy sweet potato noodles, which you can find at asian stores. Normally this should be made with beef or tofu, but I think the version with just vegetables is equally delicious, and a bit easier. The concept is that you cook each ingredient separately so that each one maintains its taste and the sum of the parts is positively delicious!
My Korean cooking inspiration is Maangchi, who has wonderful videos and writes great recipes, go check her out!!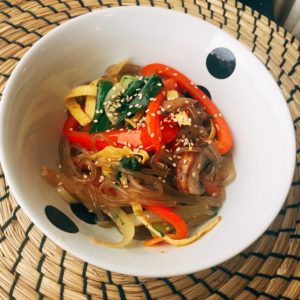 Korean Vermicelli with Vegetables (Japchae)
2018-06-24 06:18:44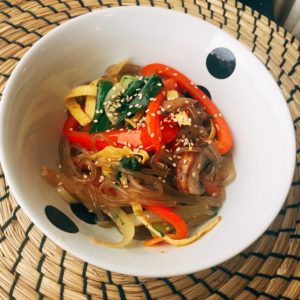 Serves 2
Ingredients
2 garlic cloves, minced
1 tablespoon brown sugar
Soy sauce
Sesame oil
Sesame seeds (toasted)
1 large egg
3 large handfuls spinach, washed and drained
Half a bag of dangmyeon (Korean sweet potato starch noodles)
3 green onions, cut into 2 inch long pieces
1 medium onion, sliced thinly
A large handful of white or brown mushrooms, sliced
2 medium carrots, cut into matchsticks
1 red bell pepper, cut into strips
Salt & pepper
Vegetable oil (peanut oil)
Instructions
First, soak your noodles in cold water.
To prepare the spinach, put a pot of water on to boil.
In the meantime, make the egg: beat an egg with a pinch of salt. Add vegetable oil to the pan, and use a paper towel to wipe off any excess- you want only a thin layer. Pour the egg into the pan and tilt it so that it spreads out as evenly as possible. Turn off the heat and let it sit for a minute, then carefully use your fingers to flip it over and let it sit on the pan for 1 more minute. Let it cool and slice it into thin strips.
The water for the spinach should be boiling by now. Add the spinach and let cook for 1 minute, then take it out with a slotted spoon or strainer. Rinse the spinach in cold water to stop it from cooking. Squeeze it with your hands (or ideally cheesecloth) to remove any excess water. Cut it a few times and put it into a large bowl. Mix with 1 teaspoon soy sauce and 1 teaspoon sesame oil.
Put another pot of water on to cook the noodles.
As you wait for it to boil, chop all your veggies as outlined above.
Once ready, heat your skillet up over medium high heat, and add a glug of vegetable oil.
Stir-fry the onion and scallion with a pinch of salt for about 3-5 minutes. Remove from the heat and transfer to the bowl with the spinach.
Start again with a glug of oil in the pan, and cook the mushrooms with a pinch of salt. Stir fry for 3-5 minutes and transfer to the large bowl.
When your noodle water is boiling, cook your noodles as per package instructions (8 minutes or until chewy but cooked). Remove from the water, strain with water, and cut them a few times with scissors. Put the noodles into the bowl, add in 2 teaspoons sesame oil, 1 teaspoon soy sauce, and 1 teaspoon brown sugar. Mix with a spoon or your hands.
Heat up the skillet with oil again and cook the carrots for a few minutes before adding in the red pepper. Cook for another 3 minutes and then transfer to the noodle bowl.
Now you have all of your ingredients cooked separately and in the bow. Add 1 minced garlic clove (if you can handle it raw!), 1 tablespoon soy sauce, 1 tablespoon brown sugar, ½ teaspoon ground black pepper, and 2 teaspoons of sesame oil to the mixing bowl full of ingredients.
Mix all together by hand.
Top with the sliced egg and sesame seeds and serve.
Victoria's Kitchen http://kitchenbyvictoria.com/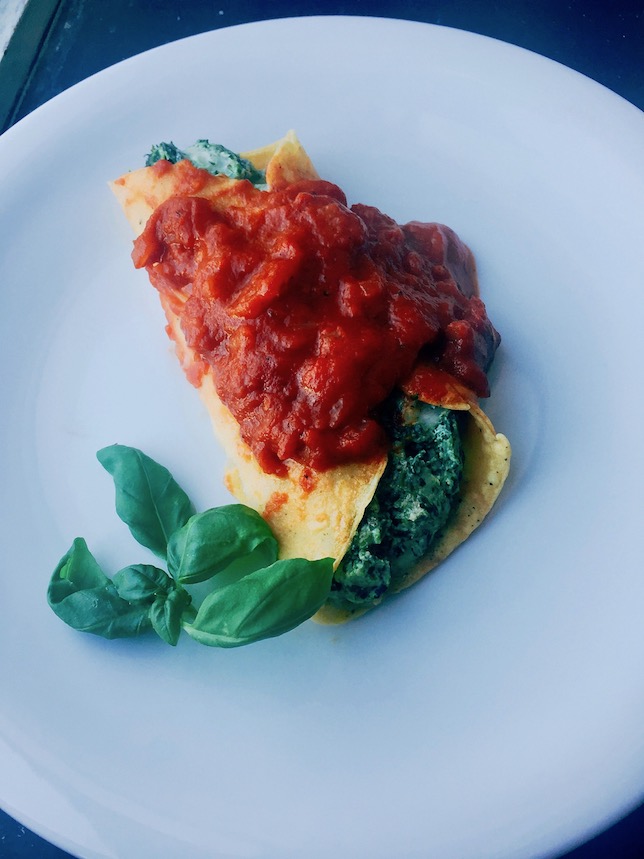 In retrospect, this wasn't a weeknight meal. This wasn't a 30-minutes to the table smash. but it was a big hit! So perfect for a Monday night when you have a bit of extra time. The main sell here is that it feels like a decadent pasta dish, but in reality it's made from chickpea flour, and packed with spinach, so nothing to be ashamed of!!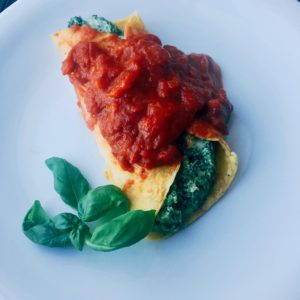 Chickpea Crespelle with Ricotta, Spinach & Marinara sauce
2018-06-18 14:30:37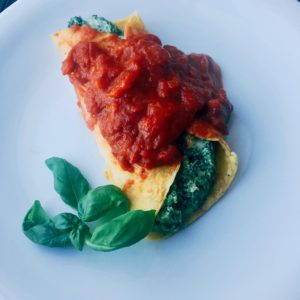 Serves 4
Ingredients
For the crespelle: (MAKES APPROX 6)
• 160 g / 1 cup chickpea flour (aka gram flour)
• 240 ml / 1 cup water
• A pinch of salt and pepper
• 1 spoonful herbes de provence
For the filling
• 1 package 400 grams frozen spinach, defrosted and squeezed through a cheese cloth to get out excess water
• 250g ricotta cheese
• Salt and freshly ground black pepper
• 1 large egg
• 1 cup finely shredded mozzarella cheese
• 1/4 cup grated parmesan cheese
For the sauce
• 3 tablespoons olive oil
• 1 small yellow onion, finely chopped
• 6 cloves garlic, finely chopped
• 1 can diced or whole tomatoes
• 1 small box (500g) tomato passata
• 1 teaspoon dried thyme or oregano
• 1/4 teaspoon crushed red pepper (optional)
• Salt and freshly ground black pepper to taste
• 1/4 cup fresh herbs like parsley or basil
Instructions
Make the crespelle batter: In a medium bowl, mix together the ingredients, and leave to sit for 20 minutes.
In the meantime, get the sauce on the stove: chop the onion and the garlic, sautee with olive oil for 5 minutes, sprinkle in the herbs and then the tomato passata and diced tomatoes. Let it bubble away on a low heat while you keep working.
Prepare the filling next: Combine all filling ingredients in a large bowl and stir well. Getting all of the water out of the spinach is critical to be sure your crespelle aren't soggy.
Once that's done, head back to your crespelle batter. Put a small frying pan over medium high heat, and pour a small amount of oil in the pan. You'll want to run over it with a paper towel to remove excess oil- you really want a thin film. Pour a small amount of batter into the pan and let it cook. After a few minutes, start to pull it away from the sides of the pan- when it starts to come loose you'll be ready to flip. I flip carefully with my fingers. It's easier than with a spatula!
Keep making all of the crepes, until your batter is done.
Fill each crepe with the filling, and roll up into the pan. Cover with tomato sauce, add a bit of grated cheese on top, and pop it into a 180c oven for about 30 minutes.
Remove, and enjoy!
Victoria's Kitchen http://kitchenbyvictoria.com/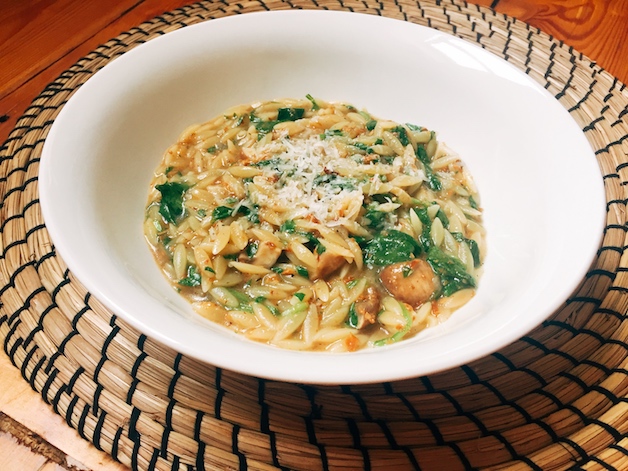 This is greek pasta cooked in a risotto style- constantly stirred adding bits of broth. The trick to getting it extra mushroomy is to blend dried mushrooms with their soaking liquid and alternative this with broth.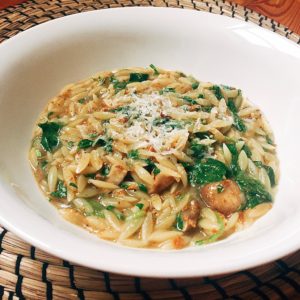 Hearty Mushroom & Spinach Orzotto
2018-06-11 11:49:28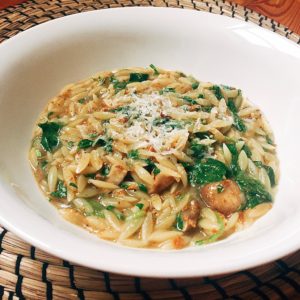 Serves 2
Ingredients
1 shallot
1 clove garlic
Olive oil
1/3 cup white wine or sherry
200 grams orzo (greek pasta)
1 teaspoon herbes de provence
1 teaspoon dried thyme (or fresh if you have it)
2 large handfuls of white, brown or mixed mushrooms
2-3 cups vegetable or chicken broth
15g dried mushrooms (I used chanterelles, porcini would also be delicious)
3 large handfuls of spinach, washed and chopped
Salt & pepper
Grated parmesan, for topping
Instructions
First, put the dried mushrooms in a bowl and cover with boiling water. Let sit.
Chop the garlic and the onions, and sauté it in olive oil, salt and pepper for about 3 minutes. Once soft, add the orzo and toss it to ensure it's coated in the olive oil. Let it toast a bit for a few minutes, then add the dried herbs.
Toss again, then add the chopped mushrooms, and the sherry. Coat all of the pasta and let the sherry bubble away until it starts to evaporate.
Add in a cup of broth at a time, and keep stirring (risotto style).
In parallel, blend the dried mushrooms with their liquid in a blender, and start to alternate this mixture with the broth. Taste the pasta as you go along to test for doneness, and adjust the salt and pepper as you go.
Once done, add in the spinach, stir until wilted, and pull off the heat. Top with grated parmesan and serve hot!
Victoria's Kitchen http://kitchenbyvictoria.com/