Andalusian Cabbage Stew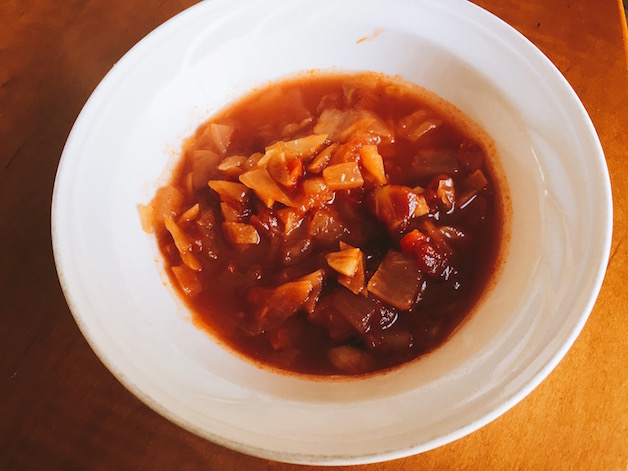 I love cabbage. And I love tomatoes. This soup is an excellent one to have on hand over the holidays, when you have people visiting, getting hungry at different times, and you need to have a healthy snack on hand at all times.
This soup is vegan, and packed with flavour. What makes it so unique is the splash of vinegar that gives it some punch.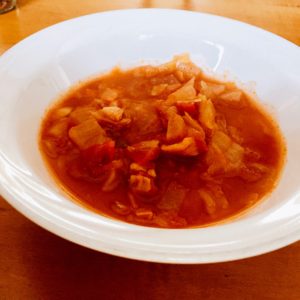 Andalusian Cabbage Stew
2017-01-07 18:06:45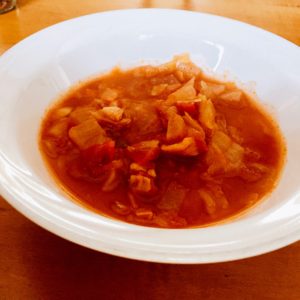 Ingredients
2 tablespoons extra virgin olive oil
1 onion, chopped
2 to 4 garlic cloves, to taste, minced
1 red bell pepper, diced
1 small cabbage (about 1 1/2 pounds), cored and shredded or diced (about 6 cups)
1 small dried red chili pepper
½ teaspoon sugar
1 28-ounce can chopped tomatoes, with juice
Salt
2 teaspoons paprika
1 tablespoon sherry vinegar
Freshly ground pepper
Instructions
Heat the olive oil over medium heat in a large, lidded skillet or Dutch oven. Add the onion. Cook, stirring often, until tender, about five minutes. Add the garlic and bell pepper. Cook, stirring, until the pepper has softened slightly and the pan is fragrant, about three minutes. Add the cabbage. Cook, stirring, until the cabbage has softened slightly and lost some of its volume, about five minutes. Add the chili pepper, sugar, tomatoes, salt and paprika. Raise the heat slightly, and cook, stirring often, until the tomatoes have cooked down slightly and the mixture smells fragrant, about 10 minutes. Turn the heat to low, cover and simmer 30 minutes, stirring often.
Add the vinegar and pepper, and taste and adjust salt. Simmer another 10 minutes. Serve with thick slices of country bread or with rice. This will taste even better if you refrigerate it overnight and serve it the next day.
Adapted from New York Times
Victoria's Kitchen http://kitchenbyvictoria.com/