Asian Napa Cabbage Salad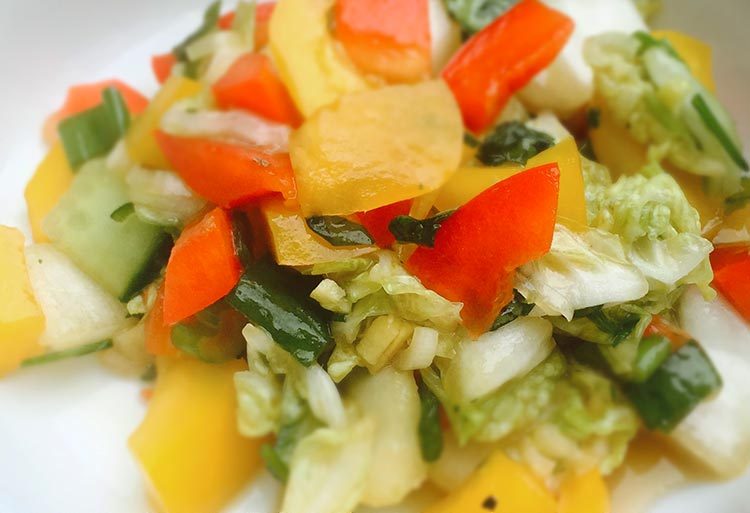 I'm going to be perfectly honest about the fact that I have no idea about the measurements for this recipe. I got so caught up on the moment, throwing around bottles of sesame oil and a sprinkle of this, sprinkle of that. I completely forgot to measure anything.
In any case you should make it to taste, so you should play with the amounts until you are happy with it.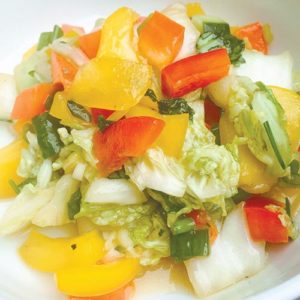 Asian Napa Cabbage Salad
2016-06-06 13:40:44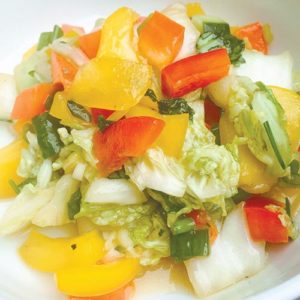 Serves 2
This is so loosely based on the original recipe I'm not sure it should even be linked, but the original is good too so go on and try to make that one too.
For the Salad
1/2 head Sliced Napa Cabbage, Or More To Taste
1 whole Red Bell Pepper, Sliced Thin
1 whole Orange Bell Pepper, Thinly Sliced
Chopped Cilantro, Up To 1 Bunch, To Taste
3 whole Scallions, Sliced
3 whole Cucumbers Peeled And Sliced
For the Dressing
1 whole Lime, Juiced
4 Spoonfuls Olive Oil
4 Spoonfuls Soy Sauce
2 Spoonfuls Sesame Oil
1 Spoonful Brown Sugar
2 Spoonfuls Fresh Ginger, chopped
1 Clove Garlic, chopped
Chopped Cilantro
Instructions
Chop up all your vegetables in the biggest salad bowl you can find.
Mix up all of the dressing ingredients in a mug or separate smaller bowl.
Pour the dressing on top and stir it up. Fiddle around with the dressing ingredients until you get it just right!
Adapted from Pioneer Woman Cooks
Victoria's Kitchen http://kitchenbyvictoria.com/