Beckwith Road Breakfast Strada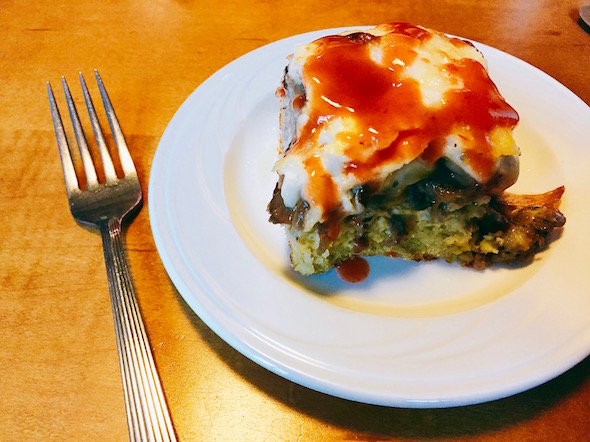 This is another Beckwith Rd. classic. Great for feeding a crowd, and even better for those of us that are not morning people (all the prep work is the night before).
When Felix was visiting last year he had it (and liked it!), and he recently compared it to a 'Quiche' type dish, which does make sense, it's got a quichey vibe.
I suppose it could very easily be downgraded in terms of size (this one serves 9), and it's very adaptable in terms of ingredients. If you don't find portobello mushrooms just use brown mushrooms.
The version in the picture has a massive amount of hot sauce on it because… let's be honest hot sauce is delicious and everyone should eat it for breakfast.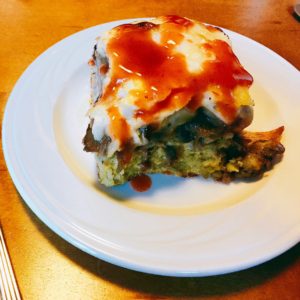 Beckwith Road Breakfast Strada
2016-12-28 16:13:27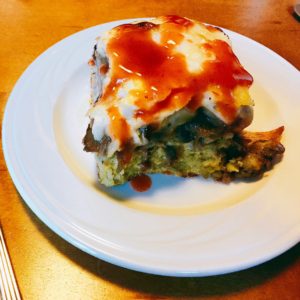 Serves 9
Ingredients
1 lb (500g) Italian sausage, casings removed
2 tsp olive oil
2 cups chopped portobello mushrooms, gills removed
1 cup thinly sliced red onions
¾ cup milk
21 eggs
Salt & Pepper
6 English muffins (ripped into pieces and toasted)
¾ cup grated fontina cheese
½ cup freshly grated parmesan
Instructions
Cook the sausage in a large skillet over medium-high heat until browned (about 5-10 minutes). Stir it throughout to crumble it. Remove from the skillet and drain. Set aside.
Wipe out the skillet, then heat the oil again over medium eat. Add the mushrooms and sauté until lightly browned, about 5 minutes. Remove from the skillet with a slotted spoon and set aside.
Heat the last teaspoon of oil in the skillet over medium heat, and add the onion, stirring until softened and caramelized, about 5-10 minutes.
Combine the milk, eggs, and salt & pepper in a large bowl, stirring well with a whisk.
Grease a 13 x 9 inch baking dish, and spread the English muffins at the bottom.
Top with the sausage, mushrooms, onion, and fontina cheese. Pour the egg mixture evenly over the top. Cover with plastic wrap and chill for 2 hours or overnight.
When ready to cook, preheat the oven to 325 degrees.
Uncover the baking dish, sprinkle the parmesan on top, and bake until set 40 minutes- 1 hour.
Victoria's Kitchen http://kitchenbyvictoria.com/