Beer-Can BBQ Chicken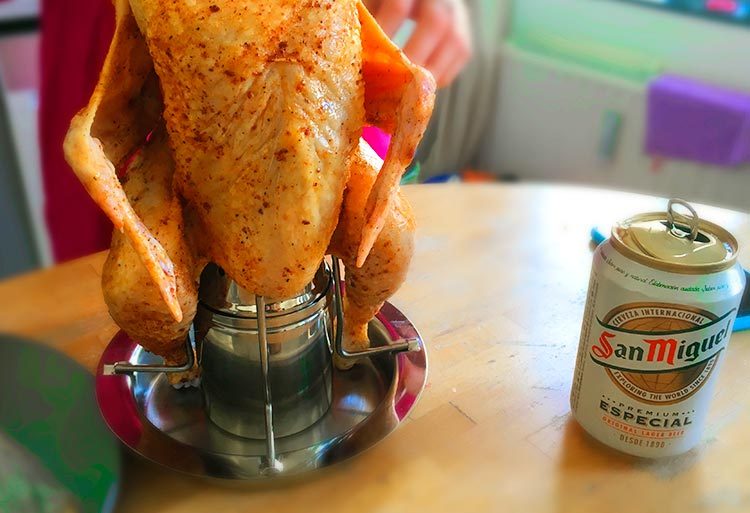 My ma used to make the most delicious chicken ever when we were growing up. The chicken stood upright in the oven, and we called it 'chicken on a stick'. It was so tender and juicy and flavourful.
While home this summer I got a bee in my bonnet about buying the apparatus to recreate this recipe. In my googling I discovered the amount of recipes for beer can chicken. Basically the whole world knew about this for a very long time. Everyone is doing it.
So I bought myself a really special apparatus that basically serves as an infuser- you can put beer in the capsule, or herbs, or cider, or whatever you like.
I return to Belgium to find out… it doesn't fit in my oven… it's too large. So this serves as a disclaimer for those of you looking to invest. Measure your oven, they are smaller than you think!
In any case, you actually don't need an apparatus for this- you can absolutely put the chicken right down on the can itself, he'll sit there happily.
This was so delicious that I didn't manage to get any pictures after it was cooked, because the entire chicken was devoured very quickly by 3 people.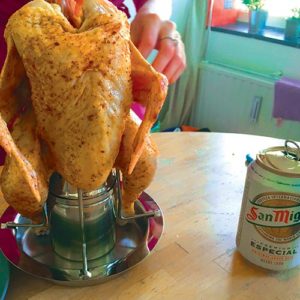 Beer-Can BBQ Chicken
2016-09-04 13:10:09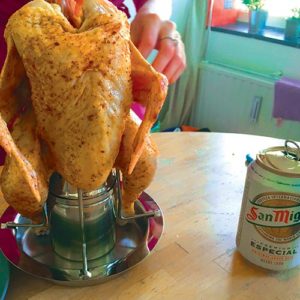 Ingredients
1 organic chicken
Olive oil
½ can of beer
For the rub
A Good grind of black pepper
2 tbsp Sea salt
1 tsp Garlic powder
1 tbsp Brown sugar
1 tbsp Paprika
2 tsp English mustard powder
1 tsp Cayenne
2 tsp Thyme
Instructions
To make the rub, mix all the ingredients together. Drizzle the chicken with the oil, sprinkle over the rub and massage it into the skin. I recommend doing this as early as you can. If you have time in the morning before dinner, do it then to let the rub and oil really infuse into the chicken.
When you are ready to cook, open a can of beer and drink half (or pour it into a different glass).
Pop the can into the chicken's bum, legs down, so that it looks like it is sitting upright.
Stand the chicken and can upright in a Pyrex tray, or on a baking sheet.
Cook for 1 hr 20 mins at 200C/180C fan.
Remove the chicken from the oven, cover lightly with foil and leave to rest for 20 mins before serving.
Victoria's Kitchen http://kitchenbyvictoria.com/