Borscht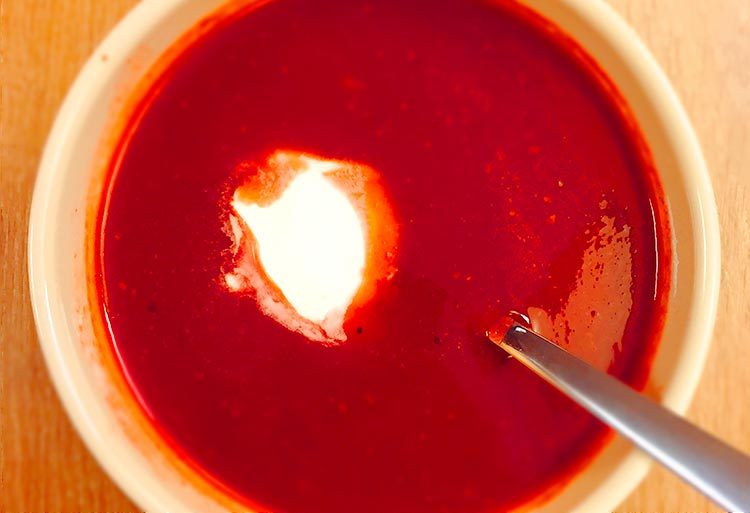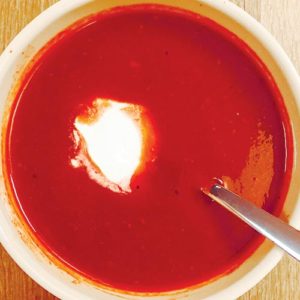 Borscht
2016-06-02 14:08:18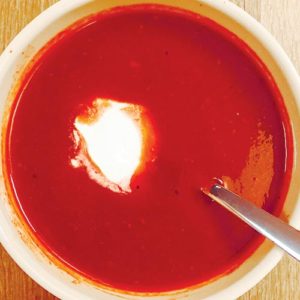 Serves 4
Ingredients
4 Beets, peeled and sliced thinly
2 Potatoes, peeled and sliced thinly
Bouillon
1-2 spoonfuls ground caraway seed
Salt & Pepper
Fresh chopped dill
Sour cream
Instructions
Slice the beets and potatoes as thinly as you can. If you have a mandolin, use it. The thinner the better, I'm talking potato chip thin…
Put the slices into a pot on the stove and cover with water. Bring to the boil and simmer until tender. If you've sliced them with a mandolin this shouldn't be long at all. If you failed and they are thicker it could be up to 10 minutes.
Once tender, pull off the heat and puree with a hand blender until it's as smooth as possible. Add bouillon, caraway seed, salt and pepper.
Return to the flame, turn it down to low, and continue to play with the spices until it feels right.
Serve with a dollop of sour cream & some chopped fresh dill (not pictured here sadly). I should rename this blog 'The Forgetful Cook'.
Victoria's Kitchen http://kitchenbyvictoria.com/
The important part here is that you want twice as many beets as potatoes (weight wise), so don't look so much at the quantity, but rather at the size.
This is my version of borscht, it's not like the Russians do it but it's still very beautiful magenta.
These beets will stain your clothes. Do yourself a favor and wear some clothes you hate while you are cooking.