Broccoli Rabe, White Beans, & Potatoes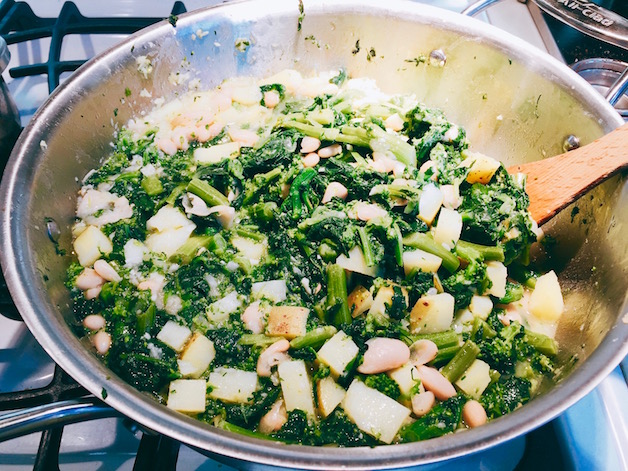 This is a recipe invented by my mother (the best cook in the world), and the method is often applied to other types of vegetables and other dishes on Beckwith Rd (parboiling and then sautéing in high quality olive oil with loads of salt and garlic).
This goes with just about any meat or fish main course, or it can stand alone as a delicious vegan main.
You could throw it onto pasta with a handful of freshly grated parmesan and it would be absolutely fantastic.
Or if you aren't vegan if you want to jazz it up a bit add some sausage. And then throw that on pasta.
I recommend adding vegetable broth, but it depends entirely on your preferences and how liquid you want the final dish to be. Just keep tasting as you go along and decide how you want it.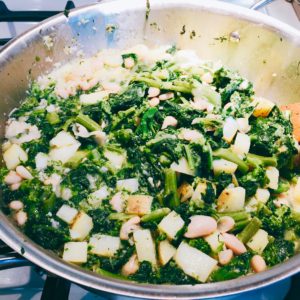 Broccoli Rabe, White Beans, & Potatoes
2017-01-07 17:39:55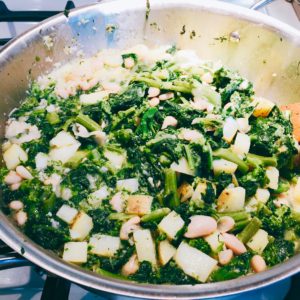 Serves 8
Ingredients
2 medium Potatoes
1 bunch of Broccoli Rabe
6-10 cloves of Garlic
1 small can of White Beans (cannellini, navy beans, whatever you prefer)
1 cup Vegetable Broth (or more or less depending on how 'soupy' you want it to be)
Salt & Pepper
A very large glug of high quality extra virgin olive oil
Instructions
Wash the broccoli rabe, pick off any yellow leaves, and trim the ends. Separate the leaves from the stems, and cut the stems in half.
Wash the potatoes (peel them if you like but you don't have to). Cut off any green spots, and chop into tiny cubes.
Bring two pots of salted water to boil.
In the first pot, parboil the broccoli rabe, adding first the thicker stems, then the thinner stems after a few minutes, and finally the leaves for a minute or two. You want everything to be very soft. Drain, and set aside.
In the second pot, parboil the potato cubes.
Drain and rinse the white beans.
Once all of your ingredients prepped, and you are ready to compile, chop up the garlic, and sauté it in a low pan with the olive oil, over medium heat.
Once the garlic is soft (but not brown), add in the potatoes, and stir until thoroughly mixed and the sides of the potatoes are coated with oil. Add the broccoli rabe, and the vegetable broth. Stir to combine, and add in the white beans.
Let the whole thing simmer slowly on the stove for 10 minutes or so, just to let the flavours meld. If you want it to be soupier add more broth, if it needs to dry up a bit let the liquid boil off.
Salt generously to taste, and add plenty of freshly ground pepper.
Victoria's Kitchen http://kitchenbyvictoria.com/