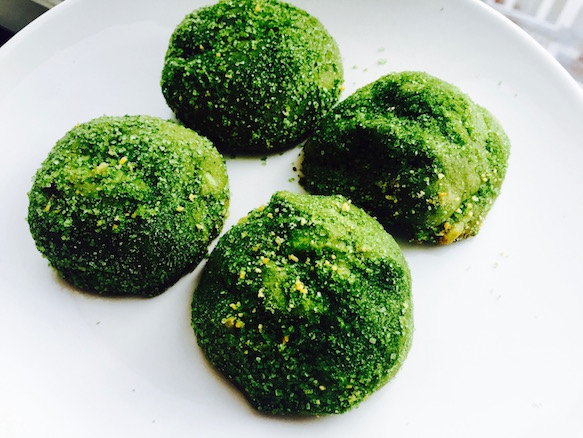 Don't be turned off by the green- they look a little extreme but if you are a Japanese Matcha lover, you can't miss these.
Felix hates them but my colleagues tell me they are delicious so we can only deduce that Felix is not a credible judge in this matter.
Try them!
Just keep in mind that the dough needs to sit one day in advance (or at least a few hours), but that actually makes them perfect for a dinner because you can make the dough in advance and then bake them up when you are ready to eat.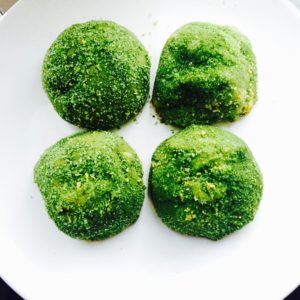 Matcha Snickerdoodles
2016-12-17 16:47:57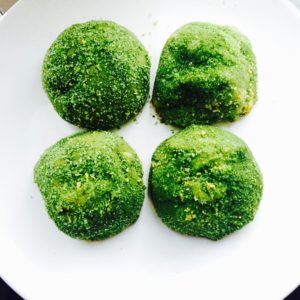 Ingredients
2 cups flour
¾ teaspoon baking soda
½ teaspoon kosher salt
2 tablespoons plus 1 ½ teaspoons matcha (divided)
1 cup plus 2 tablespoons unsalted butter (room temperature)
½ cup packed light brown sugar
1 ½ tablespoons honey or agave
1 large egg
1 large egg yolk
zest of 1 lemon
3 oz white chocolate chopped
½ cup white sugar
Instructions
Whisk together the flour, baking soda, salt, and 2 tablespoons of matcha in a bowl and set aside.
In a different bowl, using an electric mixer on medium-high speed, beat the butter, brown sugar, and honey until light and fluffy, about 4 minutes.
Add the egg, egg yolk, and lemon zest, and mix until very pale, about 4 minutes.
Reduce mixer speed to low and, with motor running, add the flour mixture; mix until no dry spots remain. Using a wooden spoon or rubber spatula, mix in the white chocolate.
Wrap the dough in plastic and chill at least 2 hours and up to 5 days.
When you are ready to cook, preheat the oven to 350° F,
Whisk the 1/2 cup granulated sugar and remaining 1 1/2 teaspoons matcha in a small bowl; set aside.
Scoop the dough by the scant tablespoonful onto 2 parchment-lined baking sheets, spacing each about 1 inch apart.
Bake the cookies, rotating the baking sheet halfway through, until bottoms and edges are barely golden and cooked (top will no longer look wet), 8 to 10 minutes.
Immediately -- but gently -- toss cookies in the reserved matcha sugar and place on wire racks; let cool. Store cookies airtight at room temperature for up to 2 days.
Adapted from Food52
Victoria's Kitchen http://kitchenbyvictoria.com/