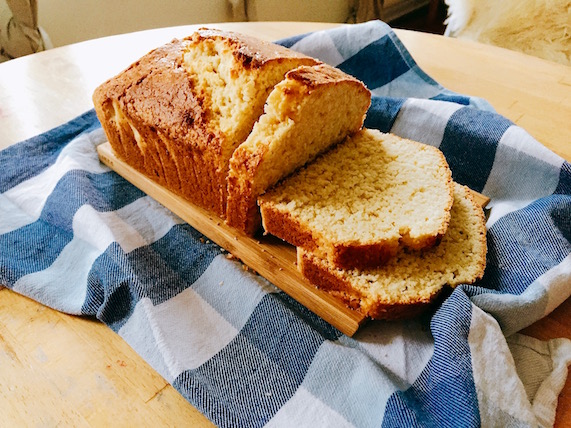 This recipe is absolutely perfect. Easy, delicious, good for an afternoon snack, or also for a dessert after dinner.
I can imagine it with a scoop of ice cream or sorbet, or with some raspberry coulis.
It's moist, and light, and unbelievably easy to prepare!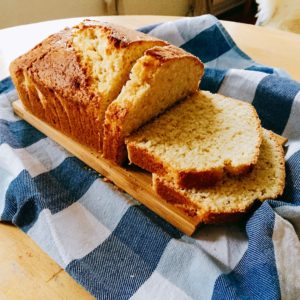 Coconut Pound Cake
2017-02-16 13:38:16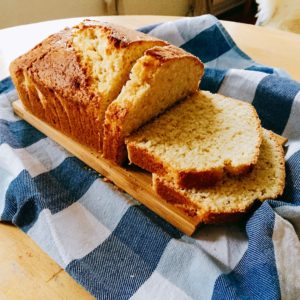 Ingredients
2 eggs
1 ¼ cups milk
1 teaspoon vanilla extract
2 ½ cups flour
2 teaspoons baking powder
Zest of 1 lime
¾ teaspoon kosher salt
1 cup sugar
1 ½ cups unsweetened, shredded coconut
6 tablespoons unsalted butter, melted
Instructions
Pre-heat the oven to 350° F.
In a small bowl, whisk together eggs, milk and vanilla.
In a medium bowl, whisk together 2 1/2 cups flour, baking powder, lime zest, and salt. Add sugar and coconut, and stir to mix. Make a well in the center, and pour in egg mixture. Gradually mix with dry ingredients until just combined. Add melted butter, and stir until smooth. Do not over-mix.
Line an 8 1/2- by 4-inch loaf pan with parchment paper. Pour batter into pan, making sure it isn't filled more than 3/4 full. Bake until a toothpick inserted into center comes out clean, 1 to 1 1/4 hours, but start checking after 45 minutes.
Cool in pan 5 minutes, remove bread from pan, and finish cooling on a rack.
Adapted from Food52
Victoria's Kitchen http://kitchenbyvictoria.com/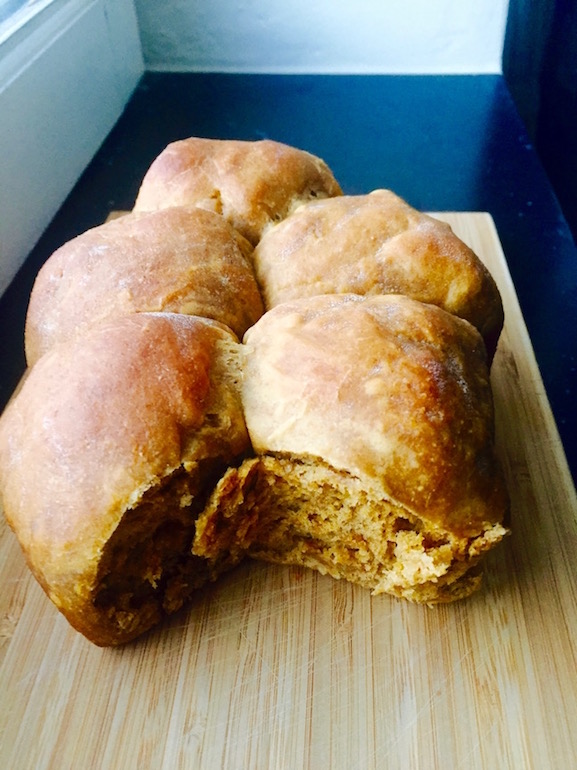 These are perfect for a side dish to a thick black bean stew. That's how I made them most recently, but unfortunately the soup went too fast for a photo, and is hence not featured on the blog.
I invited some of my closest friends over for a dinner, to tell some of them about the recent engagement (squee!!!), and I was so excited and in the zone that I actually forgot the yeast… had to unroll ALL of the dough balls, add it back in… and reroll them all. Catastrophic situation.
Anyways, surprisingly, this still worked, so I can't imagine how delicious these rolls would be if you just followed the instructions.
One note, is that they are delicious fresh out of the oven. They are NOT delicious (barely edible in fact), the next day. So only make them for a crowd, otherwise you'll eat the whole thing out of guilt and feel terrible.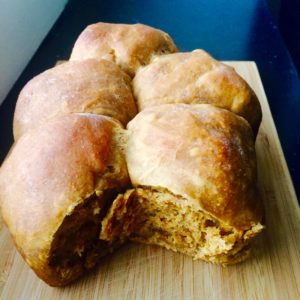 Cornmeal Molasses Rolls
2017-01-28 05:35:04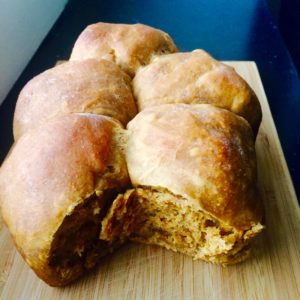 Ingredients
2 ¼ teaspoons instant or active dry yeast (1 package or 1/4 ounce)
¼ cup lukewarm water
1 cup boiling water
½ cup medium-ground cornmeal
¼ cup molasses
3 tablespoons unsalted butter
1 teaspoon kosher salt
1 egg
3- 3½ cups all-purpose flour
Instructions
Grease a 9-inch round pan and set aside.
In a small bowl, combine the yeast and the lukewarm water. Set aside for 5 minutes to proof (the yeast should look puffy on the surface after that time).
Pour the boiling water into a large bowl and slowly pour in the cornmeal, whisking as you pour to make sure there are no lumps.
Add the molasses, butter, and salt to the cornmeal mixture. Stir until the butter is melted.
Add the egg and whisk thoroughly.
Add the flour and the yeast mixture. Stir with a wooden spoon until the dough comes together. Turn the dough out onto a lightly floured surface and knead for a few minutes. The dough will be on the stickier side, but it shouldn't completely stick to your hands: You should be able to knead it. If it's much too wet, add up to 1/2 cup more flour (just a bit at a time) until it's sticky but you can knead it.
Divide the dough into 16 equal pieces. I recommend using a digital scale for accuracy. Weigh the dough on a piece of wax paper, then divide by 16. Pinch off pieces and weigh each one to make sure they are the proper weight. This will ensure your rolls look beautiful and uniform but it's not mandatory!
With floured hands, roll each piece of dough into a ball and place it in the prepared pan.
Cover the pan loosely with plastic wrap or a damp tea towel and let rise in a warm place for 45 minutes.
Just before the end of the rise, preheat the oven to 375° F.
When the rolls have risen, bake them for about 30 minutes. They should be golden and sound hollow when you tap on the surface.
Remove the rolls from the oven. Brush lightly with melted butter if you'd like them to look nice and shiny.
Victoria's Kitchen http://kitchenbyvictoria.com/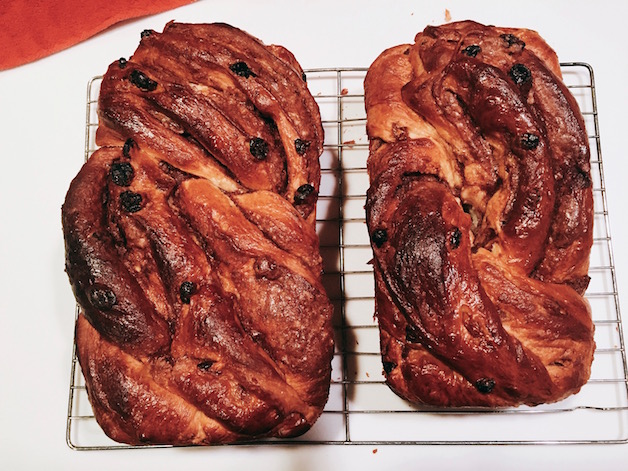 I received this cookbook for Christmas, and boy was this a great recipe to start with. The recipe makes 2 loaves, which disappeared in 24 hours at our house.
You can eat it as is, but I highly recommend toasting slices and giving them a thick slather of butter. Just do it, don't ask questions.
It is light and fluffy (thanks in part to the dry milk powder), and has just the right amount of sweetness from the filling.
It looks like a hassle, and I won't lie to you, it is. But it's worth it.
Lastly, it's not recommended to do this without a kitchen aid because the dough is very sticky which makes the kneading literally painful. Just find a friend who owns a mixer and go to their house to make it.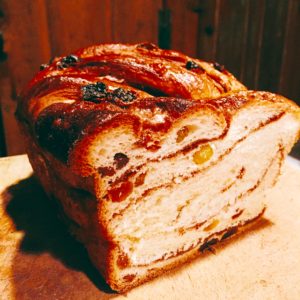 Cinnamon Swirl Bread
2017-01-07 18:03:07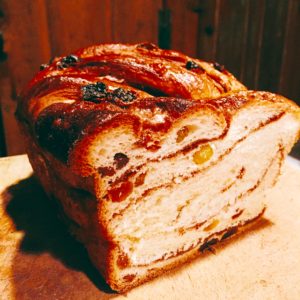 Bread
8 tablespoons unsalted butter, cut into tiny cubes
3 ¼ cups bread flour
¾ cup nonfat dry milk powder
1 tablespoon instant or rapid rise yeast
1 ½ cups water, room temperature
½ cup sugar
1 egg, room temperature
1 ½ teaspoons salt
1 ½ cups raisins (golden are nice, but any will work)
Filling
1 cup powdered sugar
1 tablespoons ground cinnamon
1 teaspoon vanilla extract
½ teaspoon salt
1 egg, beaten with 1 tablespoon room temperature water and a pinch of salt
PART 1
Toss butter cubes with a bit of flour, just to prevent them from sticking together. Set aside to soften.
Whisk the remaining flour, milk, powder, and yeast together in the bowl of your Kitchen Aid.
Whisk water, sugar, and egg in a separate bowl, until sugar is dissolved.
Using dough hook on low speed, slowly add the water mixture to the dry mixture and continue to mix until a cohesive dough forms and there is no dry flour left (about 2 minutes). Cover bowl with plastic wrap and let sit for 20 minutes.
Add salt to dough and knead on medium-low speed until dough is smooth and elastic, about 8 minutes. With mixer running, add butter cubes a few at a time, and knead for about 4 minutes or until the butter is fully incorporated. Continue to knead until dough is smooth and elastic, another 4 minutes. Reduce speed to low, slowly add raisins and mix for a minute or until incorporated.
Transfer dough to lightly greased large bowl. Using greased bowl scraper or your fingers, fold dough over itself by gently lifting and folding edge of dough towards middle. Turn in a circle as you make a total of 8 folds around the outside of the dough. Cover dough with plastic and let rise for 45 minutes. Repeat folding, cover again, and let rise until doubled in size, about 1 hour.
PART II
Press down on dough gently to deflate it. Transfer it to a lightly floured counter, divide in half, and cover one half loosely with greased plastic wrap. Working with the other piece, press and roll it into an 11 x 6 inch rectangle, with the short size parallel to your body.
Stretch and fold dough lengthwise into thirds, so it becomes an 11 x 3 inch rectangle. Roll dough away from you into a firm ball. Cover with the greased plastic wrap and repeat with the second dough lump.
Make the filling by whisking together al of the filling ingredients in a small bowl.
Take the first dough ball you made, coat lightly with flour, and place on a lightly floured counter. With the seam facing down, flatten with a rolling pin, into 18 x 7 inch rectangle, again with the short edge parallel to your body.
Mist the top of the dough with a water spritzer. Sprinkle half of the filling mixture, leaving a small border around the edges. Mist filling with water spritzer until surface is speckled. Roll dough away from you into a firm cylinder, as tightly as you can. Pinch the seam and ends closed. Cover loosely with greased plastic and let rest as you repeat the process with the second dough ball.
PART III
Grease two 8.5 by 4.5 inch loaf pans with butter. Using a sharp knife, cut one cylinder in half lengthwise. Turn the cut sides face up (so you can see the stripes with the filling facing you). Gently stretch into 14 inch lengths, pinch together the tops, and twist around one another (start by placing the left side over the right). You want the cut sides to always face up, and they should be tightly twisted. Pinch bottom end together, and place into greased loaf pan.
Repeat with other loaf.
Cover with greased plastic and let rise until dough is 1 inch above the rim of the baking pan, about 1.5-2 hours.
Adjust oven rack to middle position, and heat oven to 350f/176c. Gently brush loaves with egg mixture, and bake until crust is browned (roughly 25 minutes) rotating the pans halfway through baking.
Reduce oven temperature to 325f/162c, cover loaves with aluminum foil, and continue to bake until loaves register 200f/93c (about 15-25 minutes).
Remove from oven, let rest for 5 minutes before removing from pans, and let rest for 3 hours on a wire rack before serving.
Adapted from Bread Illustrated
Victoria's Kitchen http://kitchenbyvictoria.com/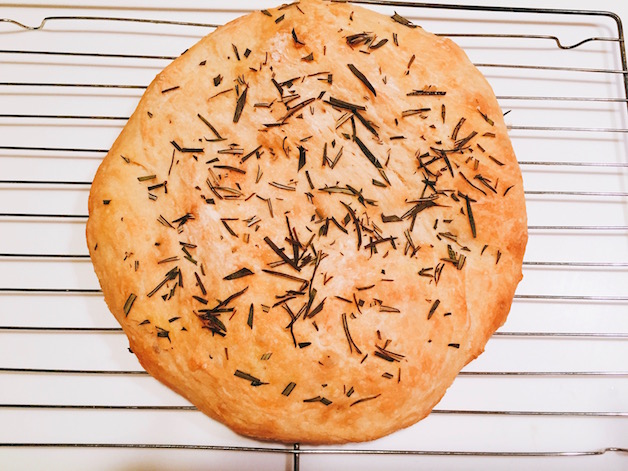 I originally made this for my beautiful friend Claudia who has just had two handsome twins. I did, however, leave it in the car and forget to bring it to her sigh.
Anyways, Claude- this one was for you!!
It's yummy, salty, oily, everything a focaccia should be. We ended up freezing these, and that works just fine in case you can't eat both loaves right away.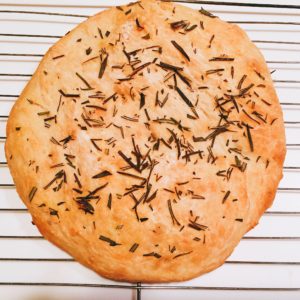 Rosemary Focaccia
2017-01-07 17:50:37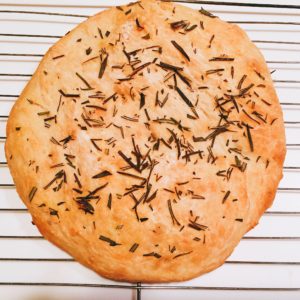 Base dough
½ cup flour
½ cup room temperature water
¼ teaspoon instant yeast
Second dough
2 ½ cups flour
1 ¼ cups water, room temperature
1 teaspoon instant yeast
1.5 teaspoons salt
¼ cup extra virgin olive oil
3 tablespoons chopped fresh rosemary
Instructions
First make the base dough. Stir together all ingredients in a large bowl with a wooden spoon, until combined. Cover tighly with plastic wrap, and let sit at least 6 hours, and up to 24. The dough should rise and begin to collapse.
Once you've got your base dough, mix it together with the second dough. Stir the flour, water, and yeast into the base dough until well combined. Cover tightly with plastic and let rest 15 minutes.
Stir 1.5 teaspoons of salt into dough with wooden spoon until fully combined, about 1 minute. Cover bowl with plastic and let rest 30 minutes.
Using a greased rubber scraper, fold dough over itself towards the middle. Repeat 7 more times, turning the bowl in a circle as you do, until you have folded it over all the way around. Cover with plastic and let rest 30 minutes.
Repeat the folding circle, and let rest again for 30 minutes.
Repeat the folding circle a third time, cover, and let rest until almost doubled in size, about an hour.
Adjust the oven rack to upper middle position, and place a baking stone on the rack. Heat the oven to 500f. Coat two 9-inch round cake pans with 2 tablespoons of oil each, and sprinkle each with a large pinch of salt.
Transfer dough to a lightly floured counter, and dust the top with flour as well. Divide dough in half, and cover the part you aren't working with in greased plastic. Take the other dough ball, and shape into a 5 inch round by tucking the edges under itself.
Place seam side up in a prepared pan, coat the bottom and sides with oil, and flip it over. Cover loosely with greased plastic and let rest 5 minutes while you repeat with the second ball.
Moving back to your first dough ball, gently press it out into the edges of the pan, being careful not to rip the dough. Using a fork, poke the surface of the dough plenty of times, poping any air bubbles. Sprinkle with rosemary, cover with plastic, and let rest another 10 minutes.
Repeat with the second ball.
When ready, place pans on baking stone, and reduce oven temperature to 450f. Bake until tops are golden, 25-30 minutes.
Let loaves cool for 5 minutes before removing from the pans onto a wire rack. Let cool for 30 minutes thereafter before serving.
Feel free to dip the bread in any olive oil left over in the pan- you won't regret it !
Victoria's Kitchen http://kitchenbyvictoria.com/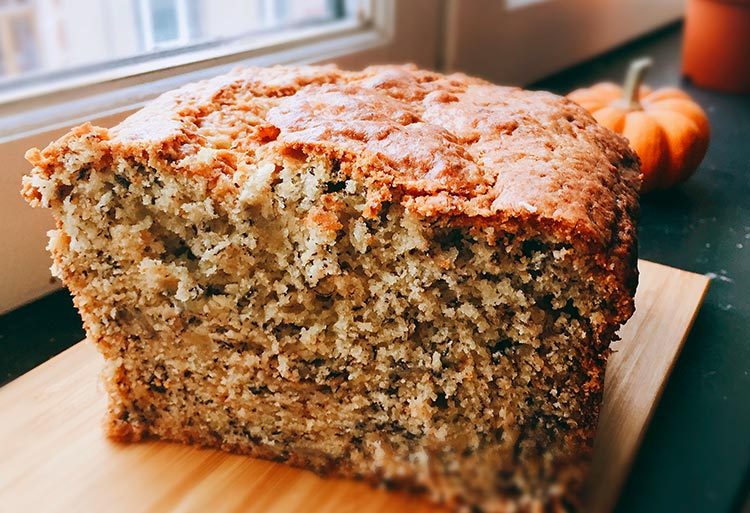 Oh myyyy. This is so so so good. Moist, banana-ey, a teensy bit salty.
You can add chocolate bits if you want, but I did it without.
It disappeared REALLY quickly.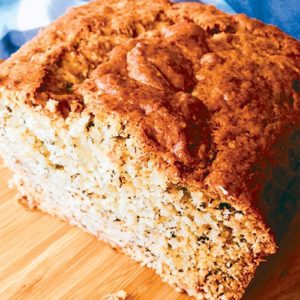 Banana Bread with Ricotta
2016-11-08 14:43:25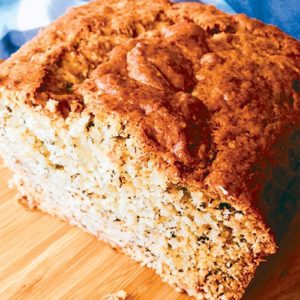 Ingredients
1/2 cup (1 stick) unsalted butter, melted
3 large ripe bananas, or 4 small ripe bananas
1 large egg
3/4 cup granulated sugar
3/4 cup whole milk ricotta
1 teaspoon vanilla extract
2 cups all-purpose flour
1 1/2 teaspoons baking powder
1 teaspoon baking soda
1/2 teaspoon kosher salt
Instructions
Heat oven to 350°F and arrange a rack on the bottom. Grease a 9 x 5-inch loaf pan.
Pour melted butter into a large bowl. Add bananas and mash into a pulp. Add egg and beat until smooth. Add sugar, ricotta, and vanilla and stir to incorporate.
In a separate bowl, mix all dry ingredients.
Add the dry ingredients to the wet, and stir just until all flour is incorporated, don't overmix.
Scrape batter into prepared pan and place on the bottom rack of the oven.
Bake until a toothpick inserted in the center comes out clean, 55-65 minutes. Remove to a cooling rack and let sit at least 20 minutes before removing from the pan.
Adapted from Hola Jalapeno
Victoria's Kitchen http://kitchenbyvictoria.com/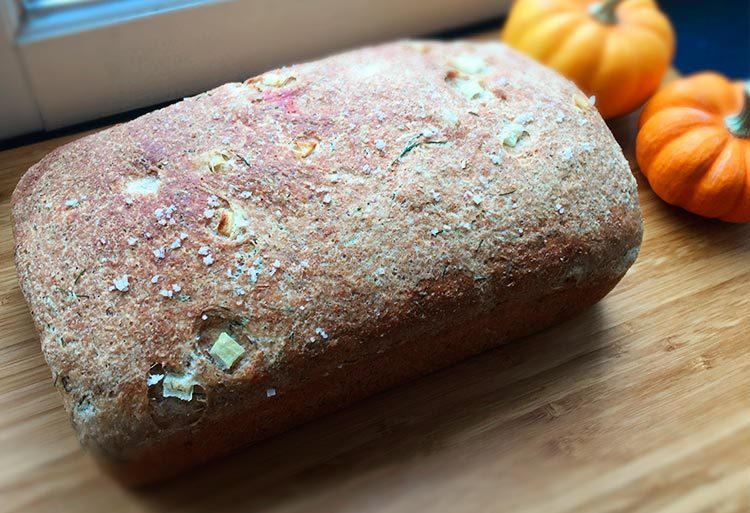 I'm onto phase 3 of my bread making journey. We've moved from no-knead bread, to knead bread, and now a bread cooked in a loaf pan.
This bread is great, but it's better if you have some attention to detail & patience (I have neither), and chop the onion quite finely.
It's pretty foolproof otherwise.
Enjoy!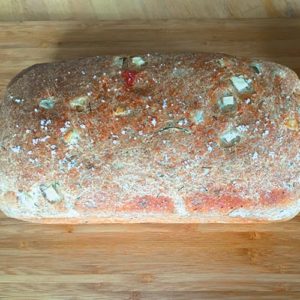 Dill & Onion Bread
2016-10-28 09:28:21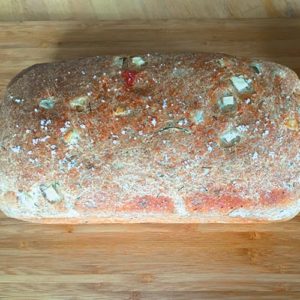 Ingredients
1 package (2 1/4 teaspoons) active dry yeast
1/2 cup warm water
3 cups bread flour
1/2 cup finely chopped onions
3 tablespoons chopped fresh dill, or 1 tablespoon dried dill or dill seeds
2 tablespoons sugar or honey
1 tablespoon wheat germ, toasted if you can find it, I used raw
1 teaspoon salt
1 cup large-curd cottage cheese
1 large egg
Optional, for top of bread
1 tablespoon melted butter
1/2 teaspoon coarse salt
Instructions
Combine yeast and water in a small bowl and let stand until the yeast is dissolved, about five minutes.
Combine flour, onions, dill, sugar or honey, wheat germ and salt in a large mixing bowl. Add the yeast along with the cottage cheese and egg. Mix by hand until the dough comes together. Knead for about 10 minutes by hand until the dough is smooth and elastic. Transfer to an oiled bowl and turn it over once to coat with oil. Cover loosely with plastic wrap and let rise in a warm place until doubled in volume, 1 to 1 1/2 hours.
Grease a 9×5-inch loaf pan. Gently press the dough down, form into a loaf and place seam side down in the pan. Cover with oiled plastic wrap and let rise in a warm place until doubled in volume, about 1 hour.
Meanwhile, preheat the oven to 350°f. Brush the top of loaf with the melted butter, and then sprinkle with the additional salt.
Bake until the crust is deep golden brown and the bottom of the loaf sounds hollow when tapped, about 35 to 40 minutes. Remove the loaf from the pan to a rack and let cool completely.
Adapted from Smitten Kitchen
Victoria's Kitchen http://kitchenbyvictoria.com/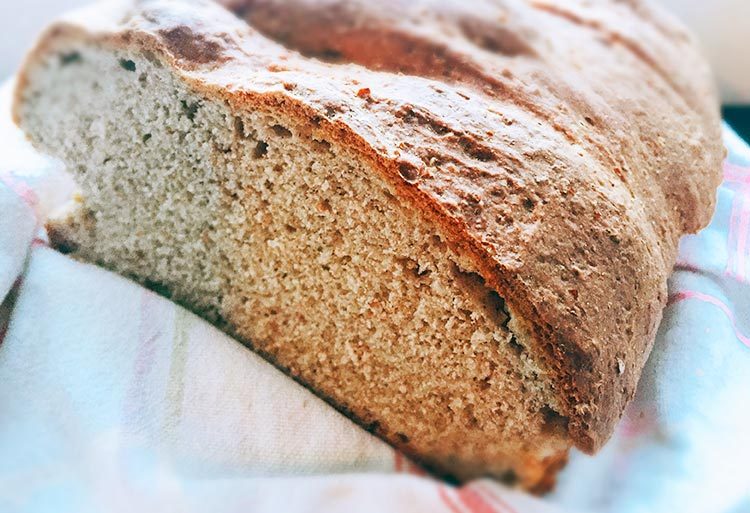 This is a recipe from Laurie Colwin's book Home Cooking. I've taken the recipe from Smitten Kitchen, which conveniently includes pictures. Deb is a bread pro, and let's be honest I need all the help I can get, visually… before embarking on bread related projects.
The beauty of this loaf is that it's pretty unbreakable. There is a lot of flexibility built into the recipe, and I'm interested to take the challenge of stretching the limits of what will impact the final product.
Anyways, here goes!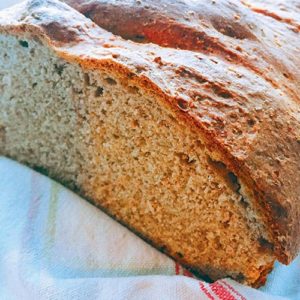 Bread Without a Timetable
2016-10-17 13:27:45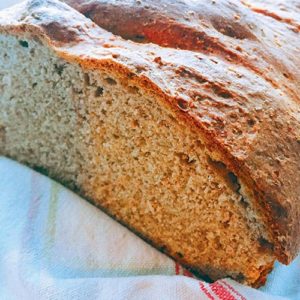 Ingredients
1 1/2 cups white flour
1 1/2 cups wheat flour
3/4 cups coarse ground whole wheat flour (I used buckwheat flour, you can also just use wheat flour)
Heaping teaspoon of salt
Half teaspoon of sugar
1/2 scant teaspoon of active dry yeast. (if you are leaving it overnight use 1/4 teaspoon)
1 1/2 cups of liquid (half milk, half water, more or less of one or the other, whatever you like).
Instructions
1. Into a large bread bowl, mix the white flour, wheat flour and coarse ground whole wheat flour , the salt, and the sugar.
2. In a separate bowl, mix the yeast with your liquid.
3. Pour the liquid into the flour and stir it up. The dough should be neither dry nor sticky, but should tend more toward to the stick than the dry. If too sticky, add a little more flour.
4. Knead the dough well, roll it in flour, put it in a warm bowl (although a cold bowl isn't the end of the world). Cover with plastic wrap leave it in a cool, draft-free place and go do something for a few hours, or longer (could be overnight).
5. Whenever you happen to get home, punch down the dough, knead it well and forget about it until convenient.
6. Sometime later (with a long first rise, a short second rise is fine, but a long one is fine, too) punch the dough down, give it a final kneading, shape into a baguette, slash the top with four diagonal cuts, brush wtih water and let proof for a few minutes (up to 30 minutes is fine). However, if you haven't the time, it can go straight into the oven.
7. You can preheat the oven or put it in a cold oven, it doesn't matters. Bake at 450° f for half an hour. Turn the oven to 425 ° and bake for another 5-20 minutes. (My oven is quite hot, so it came out after 5, but you may need to check yours regularly. Take it out when it sounds hollow when you tap it on the bottom, and the top is golden brown.)
Adapted from Smitten Kitchen
Victoria's Kitchen http://kitchenbyvictoria.com/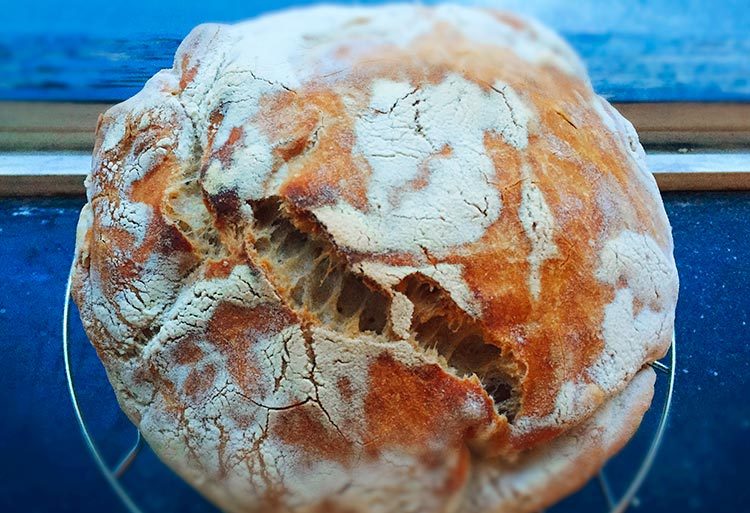 Disclaimer: Despite what the rest of the world says, including Mark Bittman who claims even a 6 year old could make this bread… It took me several tries to get this right.
I'm not ashamed to admit that I was not able to execute this 'fool-proof' recipe.
I can however tell you that once you DO get it right, it is so rewarding to make your own bread. I feel like this may be the dawn of a new era.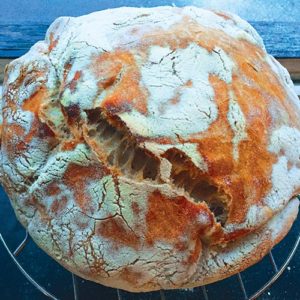 Mark Bittman's No-Knead Bread
2016-09-04 03:53:46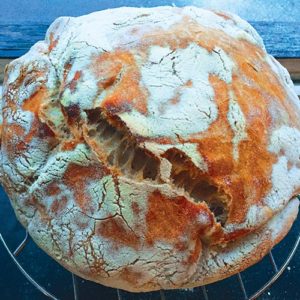 Ingredients
3 cups all-purpose or bread flour, more for dusting
¼ teaspoon instant yeast
1 ¼ teaspoons salt
Cornmeal or wheat bran as needed
Instructions
In a large bowl combine flour, yeast and salt. Add 1 1/2 cups water, and stir just until blended; the dough will be shaggy and sticky. Cover bowl with plastic wrap and let it rest 12-18 hours, at warm room temperature.
Dough is ready when its surface is dotted with bubbles. Lightly flour a work surface and place dough on it; sprinkle it with a little more flour and fold it over on itself once or twice. Cover loosely with plastic wrap and let rest about 15 minutes.
Using just enough flour to keep dough from sticking to work surface or to your fingers, gently and quickly shape dough into a ball. Generously coat a cotton towel (not terry cloth) with flour, wheat bran or cornmeal; put dough seam side down on towel and dust with more flour, bran or cornmeal. Cover with another cotton towel and let rise for about 2 hours. When it is ready, dough will be more than double in size and will not readily spring back when poked with a finger.
At least a half-hour before dough is ready, heat oven to 450 degrees. Put a 6- to 8-quart heavy covered pot (cast iron, enamel, Pyrex or ceramic) in oven as it heats. When dough is ready, carefully remove pot from oven. Slide your hand under towel and turn dough over into pot, seam side up; it may look like a mess, but it's fine.
Shake pan once or twice if dough is unevenly distributed; it will straighten out as it bakes. Cover with lid and bake 30 minutes, then remove lid and bake another 15 to 30 minutes, until loaf is beautifully browned. Cool on a rack.
Adapted from New York Times
Victoria's Kitchen http://kitchenbyvictoria.com/