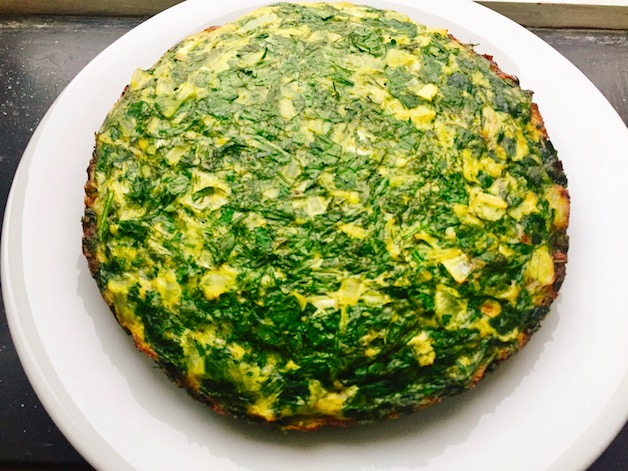 This is so herby and fresh, but filling. Great combined with a salad for a low (or rather NO) carb dinner!
The original recipe comes from Bon Appetit (link in recipe card), and there is a video on the website that you can watch if you like to watch recipe videos.
This dish is traditionally eaten on the Persian New Year, which you can read more about here. Apparently the new year is all about celebrating fresh herbs. Cheers to that, I love herbs!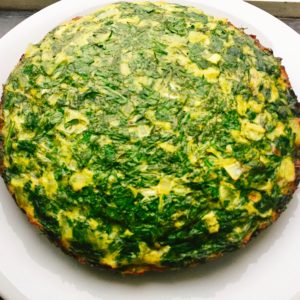 Kuku Sabzi (Persian Herb & Leek Frittata)
2017-07-15 03:21:02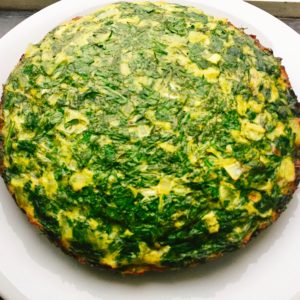 Serves 2
Ingredients
5 tablespoons vegetable oil, divided
1 medium onion, finely chopped
1 medium leek, white and pale-green parts only, finely chopped
5 large eggs
1½ teaspoons kosher salt
1 teaspoon baking powder
1 teaspoon freshly ground black pepper
½ teaspoon ground turmeric
1½ cups finely chopped cilantro
1½ cups finely chopped dill
1½ cups finely chopped parsley
Instructions
Heat 2 Tbsp. oil in a 10" skillet over medium. Cook onion and leek, stirring occasionally, until very soft but not brown, 10–12 minutes. Transfer to a plate and let cool. Wipe out skillet; set aside.
Whisk eggs, salt, baking powder, pepper, and turmeric in a large bowl. Using a rubber spatula, mix in onion mixture, cilantro, dill, and parsley. (Egg mixture should look thick and very green.)
Heat broiler. Heat remaining 3 Tbsp. oil in reserved skillet over medium. Pour in egg mixture; spread evenly across pan with spatula. Cover and cook frittata until bottom is just set, 8–10 minutes. Uncover and broil, watching carefully, until top is set, about 1 minute. Let cool slightly, then slide out onto a platter.
Adapted from Bon Appétit
Victoria's Kitchen http://kitchenbyvictoria.com/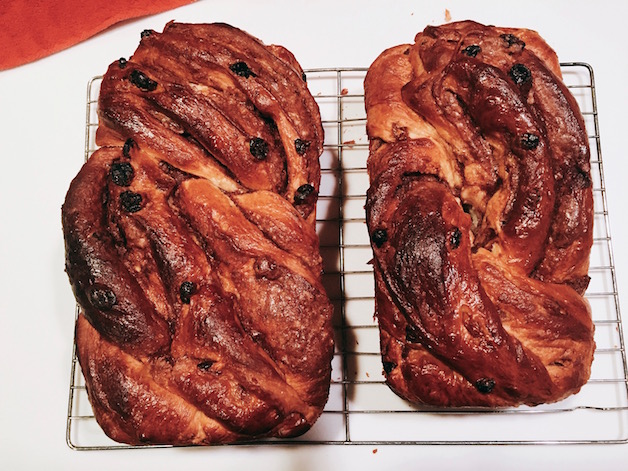 I received this cookbook for Christmas, and boy was this a great recipe to start with. The recipe makes 2 loaves, which disappeared in 24 hours at our house.
You can eat it as is, but I highly recommend toasting slices and giving them a thick slather of butter. Just do it, don't ask questions.
It is light and fluffy (thanks in part to the dry milk powder), and has just the right amount of sweetness from the filling.
It looks like a hassle, and I won't lie to you, it is. But it's worth it.
Lastly, it's not recommended to do this without a kitchen aid because the dough is very sticky which makes the kneading literally painful. Just find a friend who owns a mixer and go to their house to make it.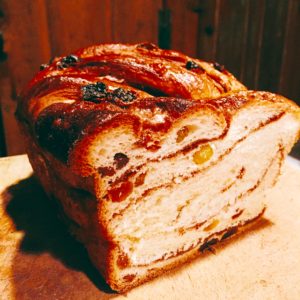 Cinnamon Swirl Bread
2017-01-07 18:03:07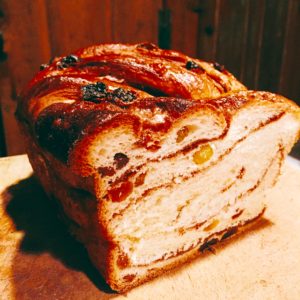 Bread
8 tablespoons unsalted butter, cut into tiny cubes
3 ¼ cups bread flour
¾ cup nonfat dry milk powder
1 tablespoon instant or rapid rise yeast
1 ½ cups water, room temperature
½ cup sugar
1 egg, room temperature
1 ½ teaspoons salt
1 ½ cups raisins (golden are nice, but any will work)
Filling
1 cup powdered sugar
1 tablespoons ground cinnamon
1 teaspoon vanilla extract
½ teaspoon salt
1 egg, beaten with 1 tablespoon room temperature water and a pinch of salt
PART 1
Toss butter cubes with a bit of flour, just to prevent them from sticking together. Set aside to soften.
Whisk the remaining flour, milk, powder, and yeast together in the bowl of your Kitchen Aid.
Whisk water, sugar, and egg in a separate bowl, until sugar is dissolved.
Using dough hook on low speed, slowly add the water mixture to the dry mixture and continue to mix until a cohesive dough forms and there is no dry flour left (about 2 minutes). Cover bowl with plastic wrap and let sit for 20 minutes.
Add salt to dough and knead on medium-low speed until dough is smooth and elastic, about 8 minutes. With mixer running, add butter cubes a few at a time, and knead for about 4 minutes or until the butter is fully incorporated. Continue to knead until dough is smooth and elastic, another 4 minutes. Reduce speed to low, slowly add raisins and mix for a minute or until incorporated.
Transfer dough to lightly greased large bowl. Using greased bowl scraper or your fingers, fold dough over itself by gently lifting and folding edge of dough towards middle. Turn in a circle as you make a total of 8 folds around the outside of the dough. Cover dough with plastic and let rise for 45 minutes. Repeat folding, cover again, and let rise until doubled in size, about 1 hour.
PART II
Press down on dough gently to deflate it. Transfer it to a lightly floured counter, divide in half, and cover one half loosely with greased plastic wrap. Working with the other piece, press and roll it into an 11 x 6 inch rectangle, with the short size parallel to your body.
Stretch and fold dough lengthwise into thirds, so it becomes an 11 x 3 inch rectangle. Roll dough away from you into a firm ball. Cover with the greased plastic wrap and repeat with the second dough lump.
Make the filling by whisking together al of the filling ingredients in a small bowl.
Take the first dough ball you made, coat lightly with flour, and place on a lightly floured counter. With the seam facing down, flatten with a rolling pin, into 18 x 7 inch rectangle, again with the short edge parallel to your body.
Mist the top of the dough with a water spritzer. Sprinkle half of the filling mixture, leaving a small border around the edges. Mist filling with water spritzer until surface is speckled. Roll dough away from you into a firm cylinder, as tightly as you can. Pinch the seam and ends closed. Cover loosely with greased plastic and let rest as you repeat the process with the second dough ball.
PART III
Grease two 8.5 by 4.5 inch loaf pans with butter. Using a sharp knife, cut one cylinder in half lengthwise. Turn the cut sides face up (so you can see the stripes with the filling facing you). Gently stretch into 14 inch lengths, pinch together the tops, and twist around one another (start by placing the left side over the right). You want the cut sides to always face up, and they should be tightly twisted. Pinch bottom end together, and place into greased loaf pan.
Repeat with other loaf.
Cover with greased plastic and let rise until dough is 1 inch above the rim of the baking pan, about 1.5-2 hours.
Adjust oven rack to middle position, and heat oven to 350f/176c. Gently brush loaves with egg mixture, and bake until crust is browned (roughly 25 minutes) rotating the pans halfway through baking.
Reduce oven temperature to 325f/162c, cover loaves with aluminum foil, and continue to bake until loaves register 200f/93c (about 15-25 minutes).
Remove from oven, let rest for 5 minutes before removing from pans, and let rest for 3 hours on a wire rack before serving.
Adapted from Bread Illustrated
Victoria's Kitchen http://kitchenbyvictoria.com/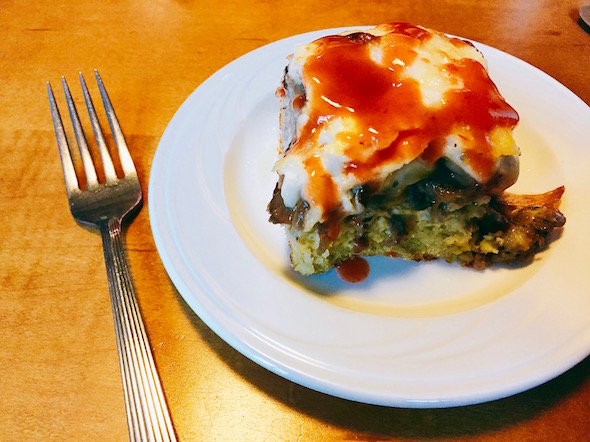 This is another Beckwith Rd. classic. Great for feeding a crowd, and even better for those of us that are not morning people (all the prep work is the night before).
When Felix was visiting last year he had it (and liked it!), and he recently compared it to a 'Quiche' type dish, which does make sense, it's got a quichey vibe.
I suppose it could very easily be downgraded in terms of size (this one serves 9), and it's very adaptable in terms of ingredients. If you don't find portobello mushrooms just use brown mushrooms.
The version in the picture has a massive amount of hot sauce on it because… let's be honest hot sauce is delicious and everyone should eat it for breakfast.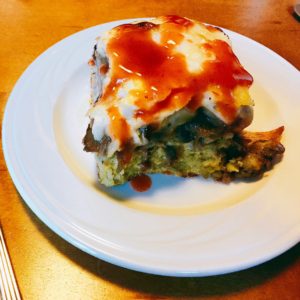 Beckwith Road Breakfast Strada
2016-12-28 16:13:27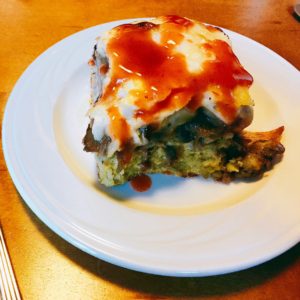 Serves 9
Ingredients
1 lb (500g) Italian sausage, casings removed
2 tsp olive oil
2 cups chopped portobello mushrooms, gills removed
1 cup thinly sliced red onions
¾ cup milk
21 eggs
Salt & Pepper
6 English muffins (ripped into pieces and toasted)
¾ cup grated fontina cheese
½ cup freshly grated parmesan
Instructions
Cook the sausage in a large skillet over medium-high heat until browned (about 5-10 minutes). Stir it throughout to crumble it. Remove from the skillet and drain. Set aside.
Wipe out the skillet, then heat the oil again over medium eat. Add the mushrooms and sauté until lightly browned, about 5 minutes. Remove from the skillet with a slotted spoon and set aside.
Heat the last teaspoon of oil in the skillet over medium heat, and add the onion, stirring until softened and caramelized, about 5-10 minutes.
Combine the milk, eggs, and salt & pepper in a large bowl, stirring well with a whisk.
Grease a 13 x 9 inch baking dish, and spread the English muffins at the bottom.
Top with the sausage, mushrooms, onion, and fontina cheese. Pour the egg mixture evenly over the top. Cover with plastic wrap and chill for 2 hours or overnight.
When ready to cook, preheat the oven to 325 degrees.
Uncover the baking dish, sprinkle the parmesan on top, and bake until set 40 minutes- 1 hour.
Victoria's Kitchen http://kitchenbyvictoria.com/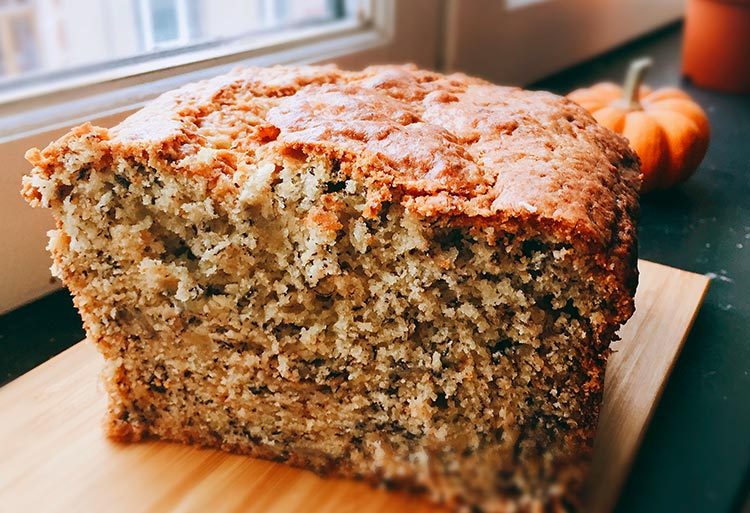 Oh myyyy. This is so so so good. Moist, banana-ey, a teensy bit salty.
You can add chocolate bits if you want, but I did it without.
It disappeared REALLY quickly.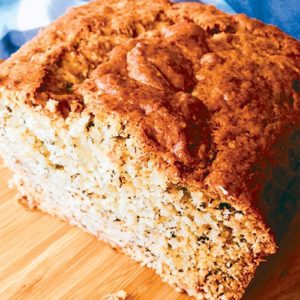 Banana Bread with Ricotta
2016-11-08 14:43:25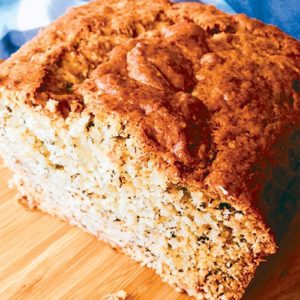 Ingredients
1/2 cup (1 stick) unsalted butter, melted
3 large ripe bananas, or 4 small ripe bananas
1 large egg
3/4 cup granulated sugar
3/4 cup whole milk ricotta
1 teaspoon vanilla extract
2 cups all-purpose flour
1 1/2 teaspoons baking powder
1 teaspoon baking soda
1/2 teaspoon kosher salt
Instructions
Heat oven to 350°F and arrange a rack on the bottom. Grease a 9 x 5-inch loaf pan.
Pour melted butter into a large bowl. Add bananas and mash into a pulp. Add egg and beat until smooth. Add sugar, ricotta, and vanilla and stir to incorporate.
In a separate bowl, mix all dry ingredients.
Add the dry ingredients to the wet, and stir just until all flour is incorporated, don't overmix.
Scrape batter into prepared pan and place on the bottom rack of the oven.
Bake until a toothpick inserted in the center comes out clean, 55-65 minutes. Remove to a cooling rack and let sit at least 20 minutes before removing from the pan.
Adapted from Hola Jalapeno
Victoria's Kitchen http://kitchenbyvictoria.com/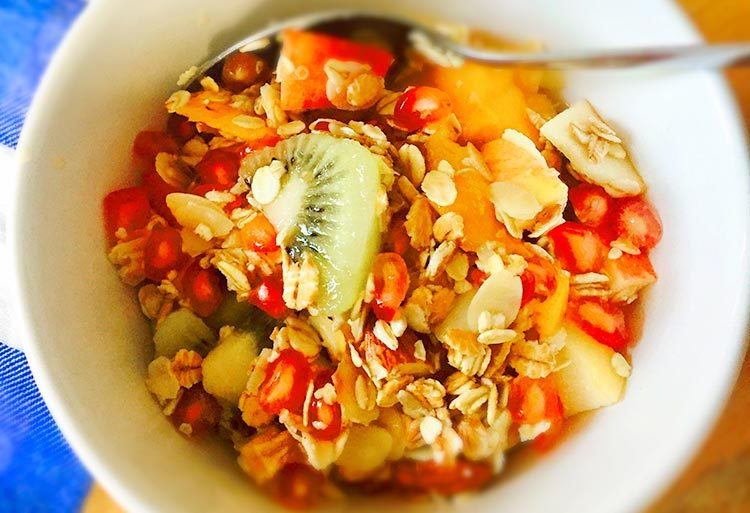 Everyone has granola with milk in the morning. BOOOOoooooRING.
Granola with apple juice is tangy, sweet, and refreshing. It transforms your regular granola or cereals into an entirely different meal.
Add a fruity assortment, and you're off to a good start.
This recipe was brought to us by my favorite German chef.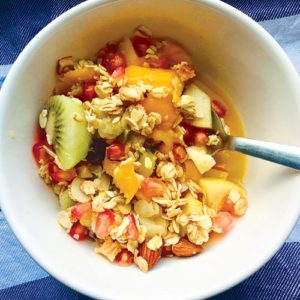 Breakfast Apple Juice Bowl
2016-10-17 13:48:04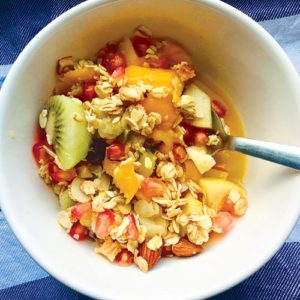 Ingredients
2 Kiwis
1 Mango
Seeds from 1/2 a pomegranate
A large shake of granola
A glug of apple juice (get the high quality stuff, cloudy apple juice is the absolute best)
A handful of almonds (slices or whole, we like the crunch of whole)
Instructions
Mix all ingredients except the apple juice.
Stir in the apple juice (the amount depends on how liquid-y you like this dish), prepare it in whatever ratio you like!
Victoria's Kitchen http://kitchenbyvictoria.com/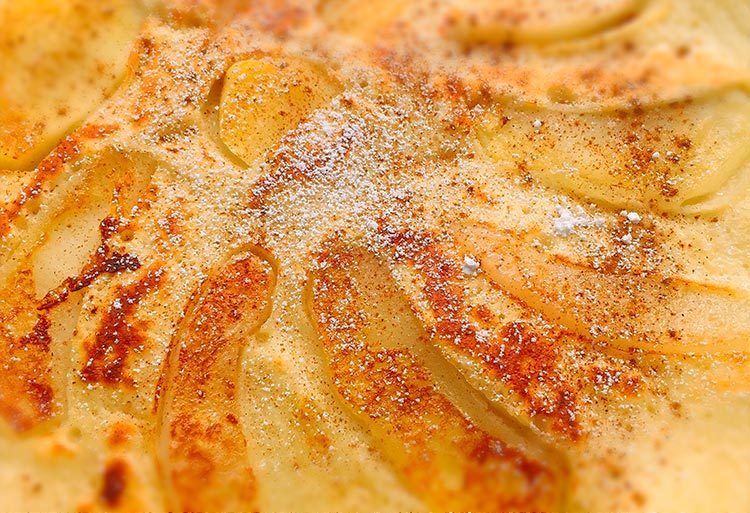 Our pancake philosophies are different, but we still respect the preferences of one another. I'm a die hard maple syrup girl, and Felix is more of a fruit topped pancakes kind of guy.
In reality we all know that both schools of pancake are created equally delicious.
So these are German pancakes with apple and pear. I went totally wild and also dipped them in maple syrup #noregrets.
If you like your pancakes extra fluffy, you can either add a splash of sparkling water, or separate the egg yolks from egg whites, and whip the egg whites before adding them to the batter.
The suggestion to use an apple and a pear is a guideline. You could add a banana or some blueberries. Whatever is your best fruity combination/ whatever is in the fridge.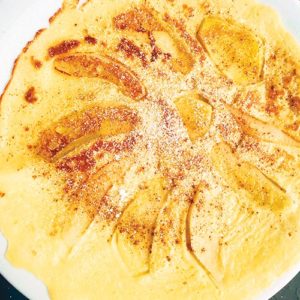 German Apple Pancakes
2016-09-18 13:31:28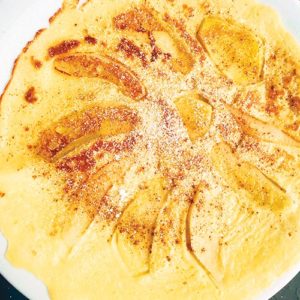 Serves 2
Ingredients
1 Cup flour
1 Cup buttermilk
2 Eggs
1 Packet vanilla sugar
1 tsp white or fruit sugar
A pinch of salt
1 Apple
1 Pear
Sprinkle of Powder sugar
Sprinkle of Cinnamon
Instructions
Whisk the first 6 ingredients together in a large bowl.
Peel and slice the fruits thinly.
Heat some salty butter in a medium-high frying pan. When the pan is hot, pour about a quarter of the batter into the pan, and immediately lay out the fruit slices on top, gently pressing down so that they are embedded in the dough.
When its golden brown on the bottom flip it over.
Have the fruit side cook for another 3-4 minutes until golden brown.
Remove from the pan, add powder sugar and cinnamon on top and serve !
Victoria's Kitchen http://kitchenbyvictoria.com/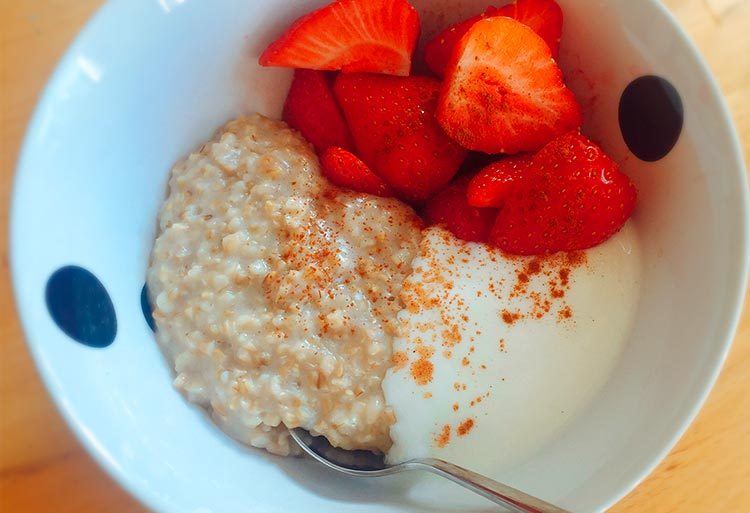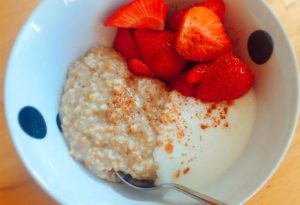 Fruity Oats Breakfast Bowl
2016-05-07 12:17:54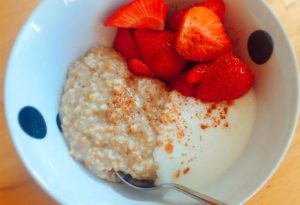 Serves 2
Ingredients
1/2 cup steel cut oats
Frozen raspberries and/or mango
Fresh strawberries
Cinnamon
Maple syrup
Yogurt (go for whole fat unless you are punishing yourself)
Instructions
Pop the steel cut oats on the stove with enough water to comfortably cover the oats, and simmer away for 20 mins.
While the oats are cooking wash and chop the strawberries.
3 minutes before taking the oats off the stove, add a handful of frozen strawberries and/or mango and give it a good stir.
When it's time to plate up, put equal parts strawberries, yogurt, and fruity oats into your bowl.
Top with a sprinkle of cinnamon and a drizzle of maple syrup.
Victoria's Kitchen http://kitchenbyvictoria.com/