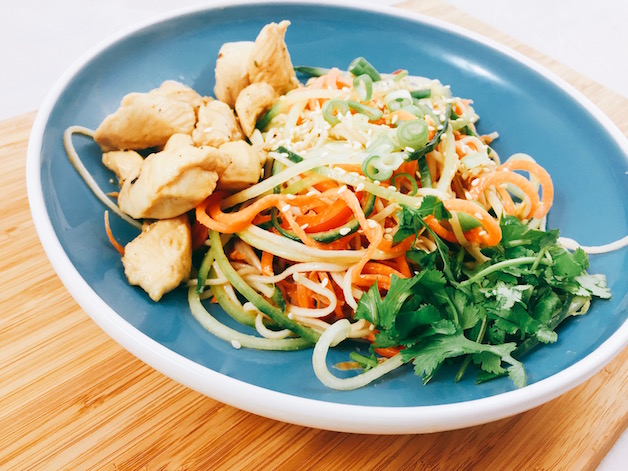 This is from the amazing Sprouted Kitchen Bowl & Spoon cookbook, given to me by some of my closest friends for my birthday last year.
The original recipe calls for tofu. I made it with chicken and I realized… it's better without any protein as a super fresh and crunchy soba noodle salad.
So feel free to add tofu or chicken if you wish, but this recipe is without.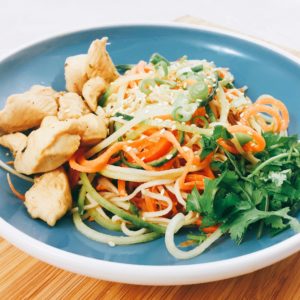 Soba Noodle Salad with Ribbon Veggies
2017-02-16 14:45:47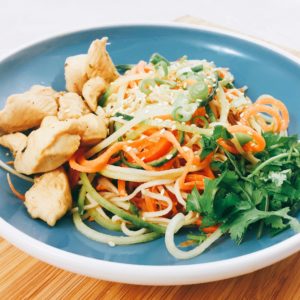 Serves 4
Ingredients
Freshly ground salt and pepper
3 ounces soba noodles
1 red bell pepper
3 carrots, peeled
1 English cucumber
1 bunch of cilantro, coarsely chopped
2 green onions, thinly sliced
2 tablespoons toasted sesame seeds, for garnish
1 large avocado
DRESSING
1 tablespoon yellow miso paste
1 (3-inch) piece of fresh ginger, peeled and grated
1 teaspoon honey
Zest and juice of 2 limes
1 tablespoon toasted sesame oil
1 teaspoon Sriracha sauce
Instructions
Cook the soba noodles until al dente, rinse with cold water, and drain. Seed and slice the bell pepper into thin strips. Use a julienne peeler to make long strips from the carrot and cucumber, keeping away from the inner seedy part of the cucumber. Put the noodles and prepared vegetables into a large mixing bowl.
For the dressing, whisk together the miso, ginger, honey, lime zest and juice, sesame oil, and Sriracha. This much can be done up to 2 days in advance and kept covered in the fridge.
When ready to serve, pour the dressing over the veggies and noodles, add the chopped cilantro and toss to coat. Top the bowl with the green onions, sesame seeds, and tofu. Serve each portion with a quarter of an avocado.
Adapted from https://www.amazon.com/Sprouted-Kitchen-Bowl-Spoon-Inspired/dp/1607746557/ref=pd_sbs_14_img_0?_encoding=UTF8&psc=1&refRID=AYEG1QE74YHHDGD72V55
Adapted from https://www.amazon.com/Sprouted-Kitchen-Bowl-Spoon-Inspired/dp/1607746557/ref=pd_sbs_14_img_0?_encoding=UTF8&psc=1&refRID=AYEG1QE74YHHDGD72V55
Victoria's Kitchen http://kitchenbyvictoria.com/