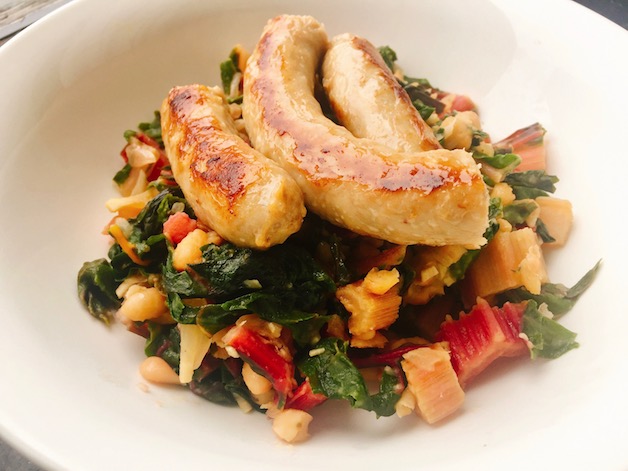 This was thrown together at the last minute on a Saturday night, and turned out to be a huge hit.
It's really easy, and carb free. If you are looking to make it even more healthy you can obviously also skip the sausage, but it's pretty tasty on top so I recommend keeping it.
It was inspired by something my mama often makes, with greens and white beans (I know that there are other recipes on this blog of similar variations!).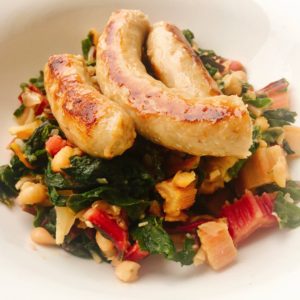 Swiss Chard & White Beans with Sausage
2017-06-25 00:45:57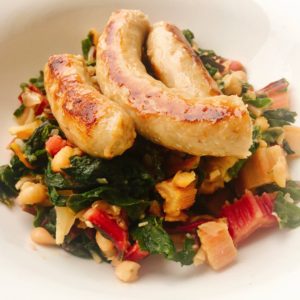 Serves 2
Ingredients
1/2 a large onion (or a whole small onion), peeled and minced
A heap of garlic, as much as you can handle (we used 5 cloves)
1 bunch swiss chard (or other leafy greens), washed and chopped into small pieces
1 can cannellini beans (or other white beans), drained and rinsed thoroughly
A giant pinch of salt & freshly ground pepper
Sausage of your choosing. I would suggest an Italian sausage with fennel seeds.
Instructions
Sautee the onion and garlic in a heap of oil, with a small pinch of salt.
After a few minutes (before the garlic browns), throw in the swiss chard and cook until it's wilted.
Add in the beans, and cook for about 6 more minutes, stirring occasionally to avoid them sticking to the pan. You want them to be kind of mushy in the end, not fully intact. This gives the whole mixture a much creamier feel. Taste it, adding salt, pepper, and extra olive oil until you are happy with the taste.
Throw the sausage on a smaller frying pan, and cook until browned and cooked through.
Serve the chard and beans mixture with the sausages on top.
Victoria's Kitchen http://kitchenbyvictoria.com/