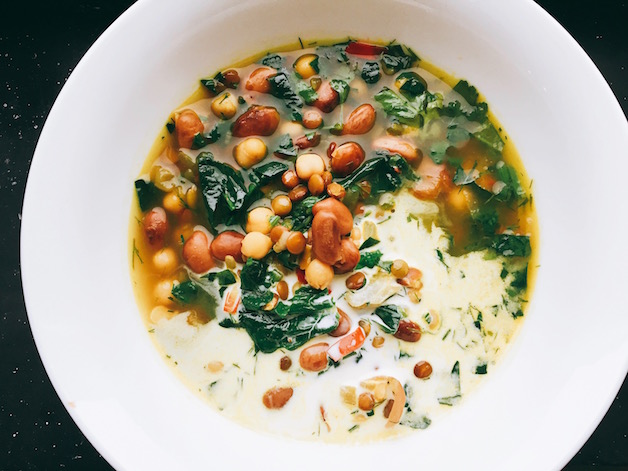 I remember making this soup about 6 years ago, and it completely blew me away.
The broth is hearty, and the contrast with the the tangy sour cream is too good to be true.
The combination of textures between the lentils, chickpeas, borlotti beans, and egg noodles is also so special.
I will confess that I forgot to add the noodles this time *sigh*. So they are not featured in the photo. If you want to refer to the original recipe visit 101cookbooks.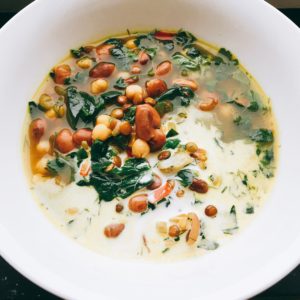 Three Bean & Egg Noodle Soup
2017-02-16 16:04:10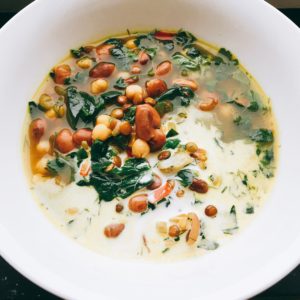 Serves 4
Ingredients
2 tablespoons olive oil
1 onion, thinly sliced
1 long red chili OR green serrano, finely chopped
½ teaspoon ground turmeric
1 teaspoon ground cumin
¼ teaspoon freshly ground black pepper
8 ½ cups / 2 liters good-tasting vegetable stock/broth
100g / 3.5 oz yellow split peas or brown lentils
1 ½ cups cooked chickpeas, rinsed if using canned
2 cups / 350g cooked borlotti beans
fine grain sea salt
120 g thin egg noodles, fresh or dried
3 ½ oz / 100g fresh spinach leaves, finely shredded
½ cup finely shredded cilantro leaves
2 tablespoons chopped fresh dill
Juice of one lime
Toppings
1 tablespoon olive oil
1 tablespoon unsalted butter
1 large onion, thinly sliced
100 ml sour cream or creme fraiche
Instructions
Heat the oil in a large, thick-bottomed soup pot over medium heat. Add the onion and the chile and cook until they soften, a few minutes. Add the spices and cook for another thirty seconds, just long enough for them to toast a bit, then stir in the stock. Bring to a boil and add the split peas/lentils to the pot. Cook until they are just tender, about 25 minutes. Stir in the cooked chickpeas and borlotti beans. Once the beans have heated throughout, season with salt to taste.
In the meantime, you can prepare the toppings. Heat the olive oil and butter in a large frying pan over medium heat along with a couple big pinches of salt. Cook the onion, stirring occasionally, until golden and caramelized, 8 - 10+ minutes. Set aside.
Just before you're ready to eat, add the noodles to the simmering soup and cook until al dente. Stir in the spinach, and cilantro and dill. Add a big squeeze of lime to the pot or serve wedges along with each bowl of soup. Taste and adjust the seasoning to your liking.
Serve right away, each bowl topped with a big spoonful of caramelized onions and some creme fraiche.
Adapted from 101cookbooks
Victoria's Kitchen http://kitchenbyvictoria.com/