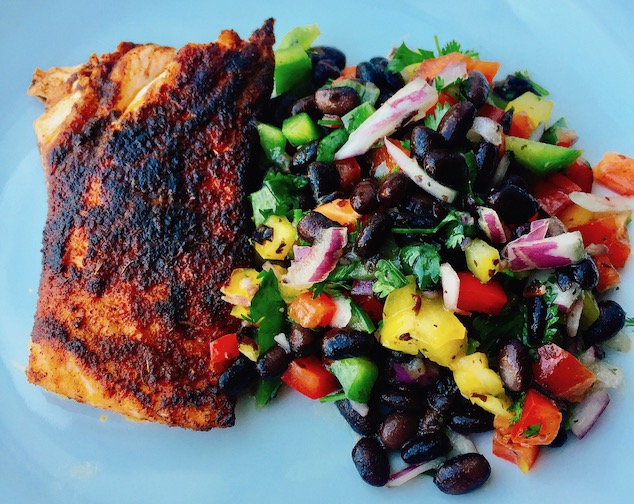 I'll be honest, I cheated here with a blackening seasoning mix. If you want to make your own feel free to Google it, but if you are looking for a quick after work meal just buy a pre-made seasoning mix and use that.
The recipe for the black bean salad can be found here.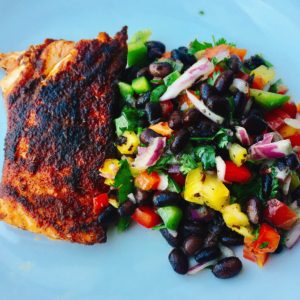 Blackened Salmon & Black Bean Salad
2017-06-24 13:02:27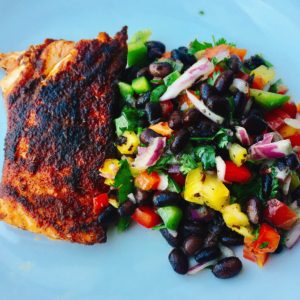 Serves 2
Ingredients
2 salmon filets
2 tbsp butter, melted
A few teaspoons of blackening season mix
Instructions
Wash and dry salmon. Set on a plate, and pour half the butter over the filets.
Add the seasoning mix and spread evenly with your fingers.
Heat the pan, and cook 2-5 minutes until blackened on the one side. As it's cooking, repeat the butter & seasoning exercise on the unseasoned side. Cook for another few minutes, until the fish is blackened, and flakes.
Victoria's Kitchen http://kitchenbyvictoria.com/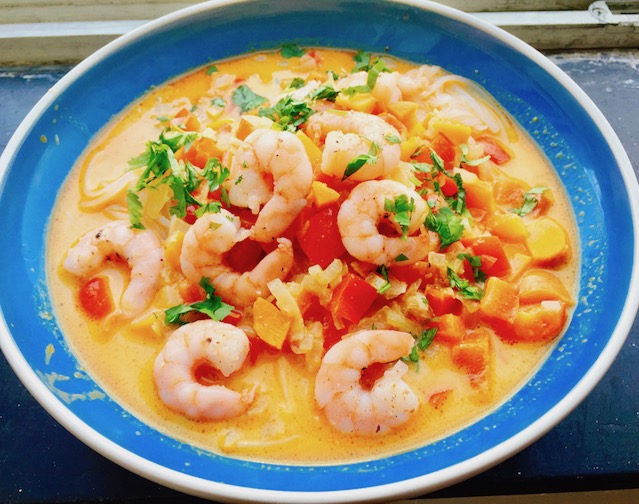 This is a comforting slurpy noodle bowl that you can tailor to your spicy tolerance.
Take care not to under salt, it needs to be just the right amount salty and spicy.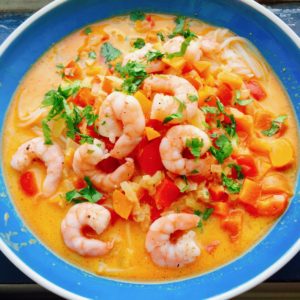 Shrimp Curry Noodle Bowl
2017-06-24 12:30:53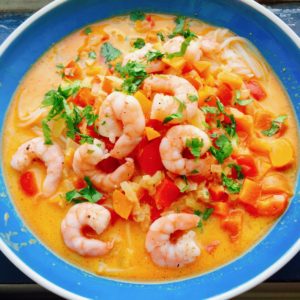 Serves 2
Ingredients
8 ounces uncooked rice noodles
1 pound jumbo shrimp, peeled and de-veined
Salt & Pepper to taste
2 tablespoons coconut oil, divided (or any mild-flavored cooking oil)
1 small white onion, peeled and thinly-sliced
1 large red bell pepper, cored and diced
1 large carrot, peeled and diced
4 cloves garlic, peeled and minced
3 tablespoons Thai red curry paste
2 (15-ounce) cans coconut milk
2 cups chicken or vegetable or seafood stock
1/2 teaspoon ground ginger
optional: 1-2 red Thai chiles, thinly-sliced
toppings: chopped fresh cilantro, thinly-sliced red onions
Instructions
Cook rice noodles according to package instructions. Drain and rinse with cold water, and set aside.
Meanwhile, lay out the raw shrimp on a plate and pat dry with a paper towel. Season the shrimp generously on both sides with a pinch of salt and pepper.
Heat 1 tablespoon oil in a large stockpot over medium-high heat. Add shrimp and cook for 1-2 minutes per side, until the shrimp are pink and opaque and cooked through. Remove from pan with a slotted spoon and set aside.
Add the remaining 1 tablespoon oil to the stockpot. Add sliced onion, bell pepper and carrot, and sauté, stirring occasionally, for 6-8 minutes or until the onion is soft and translucent. Add garlic and sauté for 1-2 more minutes, stirring occasionally, until fragrant.
Add in the coconut milk, stock and ginger (and chiles, if using), and stir to combine. Continue cooking until the mixture reaches a simmer. Reduce heat to medium, and continue simmering for 5-10 more minutes.
Stir in the noodles. Taste, and season with extra salt and pepper and curry paste to taste. (Add a few generous pinches of salt and pepper, especially if the stock you use is not very salty.
Serve warm, topped with a few pieces of the cooked shrimp, and your desired toppings.
Adapted from Gimme Some Oven
Victoria's Kitchen http://kitchenbyvictoria.com/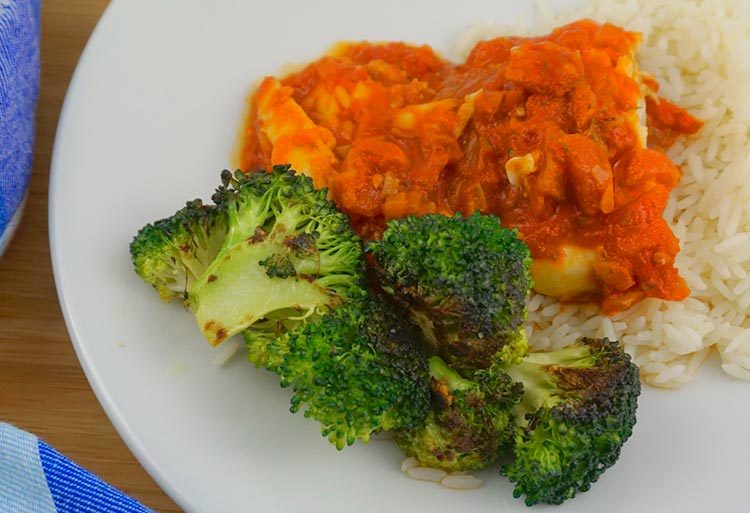 This is really healthy and really tasty. Whenever you have a hankering for pasta, but you are feeling really guilty, go for this. It has the same feeling because of the tomato sauce, but you're only eating white fish.
You can serve it with whatever you wish, it's pictured here with white rice & sautéed broccoli, but any green vegetable will be a nice compliment and if you want it to be one step healthier go for brown rice.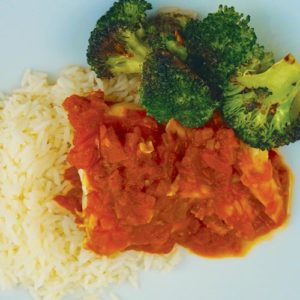 Cod Cooked in Tomato & Thyme
2016-12-02 16:08:54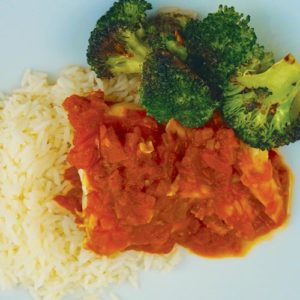 Ingredients
A large glug of olive oil
1 onion, chopped
1 garlic clove
400g can chopped tomato
1 tablespoon dried thyme, or a few sprigs of fresh
1 tbsp soy sauce
4 cod fillets or another white fish
Instructions
Heat the oil in a large heavy bottomed pan. Add the onion, and stir around a bit to soften (5 minutes), before adding the garlic. Stir around for a few more minutes and add the tomatoes and the thyme.
Simmer gently for 5-10 minutes, before adding in the fish, and covering each filet with a bit of sauce.
Cover and cook for 10 minutes or until the fish flakes apart. Season well with salt and pepper, and serve.
Victoria's Kitchen http://kitchenbyvictoria.com/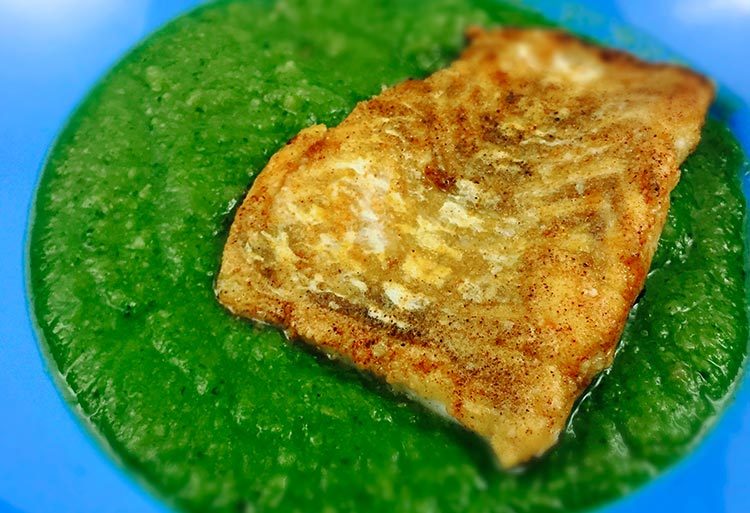 This is one of the best recipes I've ever made. The haddock is delicate, soft, and light, and the broccoli is flavorful and hearty underneath. It's smooth in texture but contains some soft chunks, and gives a bright green color that is just beautiful to look at.
I learned from my brother that cooking broccoli or other green vegetables with the top of the pot OFF, actually preserves the brightness of the color. I boiled this broccoli to death so there is no other excuse for why it looks so good!
Final note, is that for a dinner of about 4 people this would be absolutely perfect.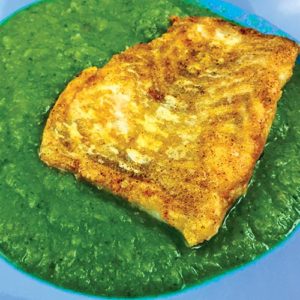 Spiced Haddock with Warm Broccoli Puree
2016-11-08 14:59:02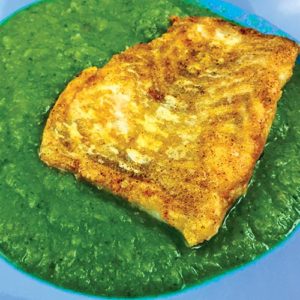 FOR THE BROCCOLI PUREE
1 head of broccoli, washed and chopped into bits (it doesn't really matter how big you just want them all roughly the same size, but... to be honest...whatever)
1 potato, peeled and chopped into squares
1 spoonful flavorful vegetable bouillon (I used one with a strong taste of fennel and it was fantastic)
Salt & Pepper
FOR THE SPICED HADDOCK
3 tablespoons white flour
1 teaspoon ground ginger
1 teaspoon paprika
1 teaspoon fine sea salt
2 haddock fillets (skin on if possible)
1 tablespoon sunflower or other light oil such as peanut
½ lemons (cut into wedges)
Instructions
First make the broccoli mash. Put on a pot of water to boil and chop your broccoli and potato. When the water is boiled put in a good handful of salt, the bouillon, the broccoli and the potato.
Let boil for a good ten minutes with the top off (turn on your fan because it will be steaming!) Remove from the heat, reserve 2 large mugs of cooking water, and drain the rest. Add the vegetables back into the ban with a bit of the reserved cooking water, and puree with a hand blender. You can't really go wrong here, it just depends on how thick you want it to be. Mine actually turned out more like soup (very watery), and I absolutely loved it. If you want it more like a thick puree add less water. Season to taste, let sit, and start the fish.
Mix the flour, paprika, ginger, and salt on a plate. Wash and dry the haddock fillets and pat them on both sides into the flour mixture until well coated. Heat a thick pan with the oil over medium high heat, and when the oil is hot, put both fillets in the pan, skin-side down, and cook for 2 minutes. Turn them over and cook for another 1½ minutes, or until the fish is just cooked through. If you have thicker fillets you may need to do 3 minutes followed by 2 minutes.
Remove from the heat and plate up with a wedge of lemon on the side of each plate.
Enjoy!!
Adapted from Simply Nigella
Victoria's Kitchen http://kitchenbyvictoria.com/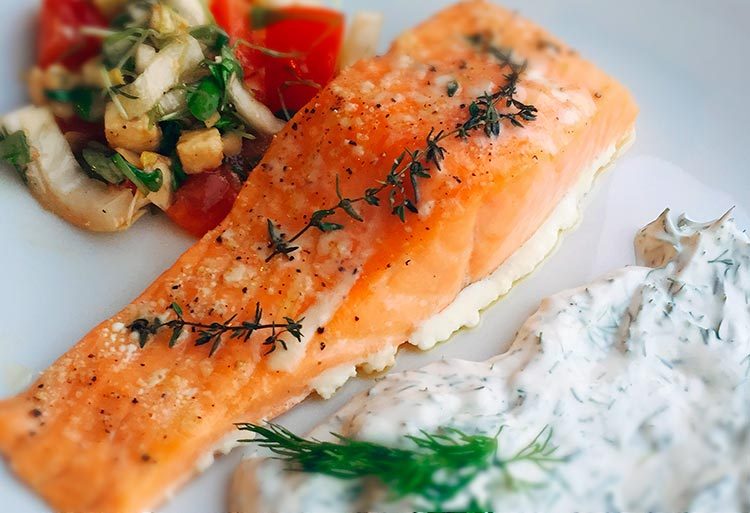 This was my first time slow-roasting. It makes a beautifully tender, evenly cooked, very moist piece of fish. I almost think it is actually better at room temperature or even cold. It would be the perfect way to prepare fish if you have quite a few people coming over and you're looking for an easy hit.
The marriage between salmon and dill is a natural and happy one
Try this with another kind of fish if you like! Anything relatively thick.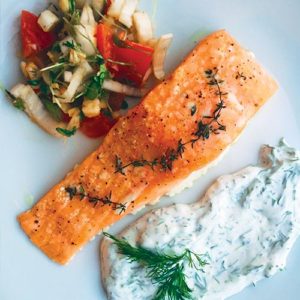 Slow-Roasted Salmon
2016-09-04 03:45:42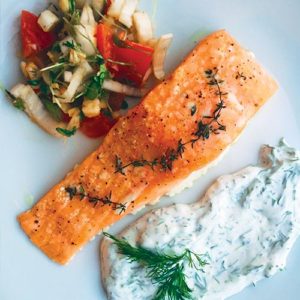 Serves 2
Ingredients
A glug of extra-virgin olive oil
2 thick salmon fillets
A few fresh thyme sprigs
Kosher salt
Chopped fresh dill, 1 garlic clove pressed, and Greek yogurt to finish
Instructions
Preheat the oven to 275f/135c. Pour a small bit of olive oil into the pan, and place the fish in, skin side down.
Rub the top with a bit more olive oil. Sprinkle lightly with salt. Tuck some thyme underneath the fish, and the rest above.
Roast for 15-35 minutes, until a two-pronged kitchen fork inserted in the thickest part of the fish meets with no resistance, the flesh separates easily from the skin, and is just beginning to flake when you poke into it. Don't worry if the top of the fish looks kind of raw on the outside; this is due to the low roasting temperature. It will be cooked inside.
Remove the thyme and sprinkle with fresh dill or chives.
Serve with Greek yogurt mixed with dill and garlic (1 clove, pressed).
Adapted from Food52
Victoria's Kitchen http://kitchenbyvictoria.com/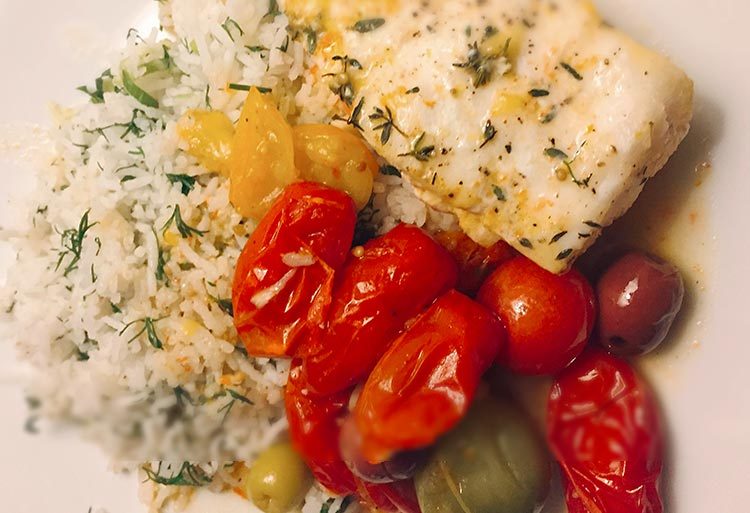 This is an easy meal when cooking for a group of people, pop it into the oven and there isn't much to do after that except for fiddle with your salad and dessert!
It's all about the cherry tomatoes, see if you can find a really fun bunch of green, yellow, orange and red tomatoes to make it really wild.
As for the olives, kalamata and nicoise work best.
I would recommend making this with rice, because all those soupy tomatoes are just begging to be sopped up onto rice.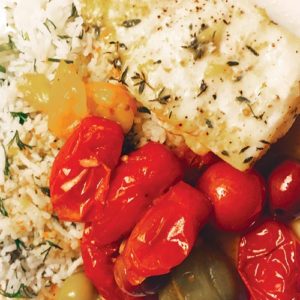 Roast Cod with Cherry Tomatoes & Olives
2016-08-28 12:39:31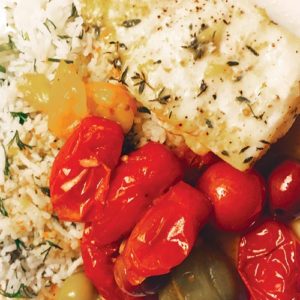 Ingredients
1 pound assorted grape and cherry tomatoes - different colors work best
3 cloves garlic, chopped
4 tablespoons olive oil
1/1/2 -2 pounds cod
30 assorted olives
1 handful chopped fresh herbs (basil, thyme, mint and oregano work well)
1 cup chicken stock - if the cherry tomatoes are too dry
Instructions
Preheat oven to 375f/190c.
Place tomatoes in overproof dish and toss with garlic and two tablespoons of olive oil. Roast for 25 minutes on lower rack in oven. While tomatoes are cooking, cut fish into 4 equal sized pieces, rinse and pat dry.
Remove tomatoes from oven, nestle fish into the tomatoes and their juice, scatter olives and return to oven for about 25 minutes but this all depends on the thickness of the fish. Test for doneness - cod should separate easily and be just opaque. Remove from oven.
Sprinkle fresh herbs, and salt and pepper to taste. Sprinkle last two tablespoons of olive oil all over. Serve hot with rice.
Notes
Juiciness of the tomatoes can vary (especially in Belgium!)- when adding the fish, if the tomatoes are not seeping, add 1 cup of chicken stock.
Adapted from Food52
Victoria's Kitchen http://kitchenbyvictoria.com/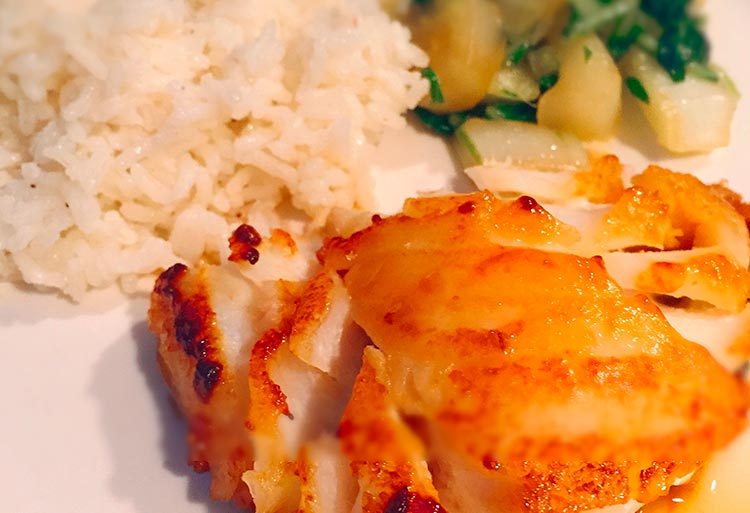 This is all about the marinade. The longer you can do it the better, but a few hours will work. The original recipe calls for 3 days of marinading, but that's impossible for most people.
This should be served with rice & some asian-style bok choy (try sautéing with soy sauce, rice vinegar, ginger, and garlic and giving it a final drizzle of sesame oil).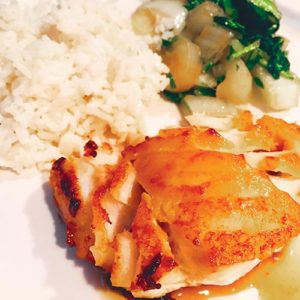 Miso Marinated Cod
2016-07-26 20:15:27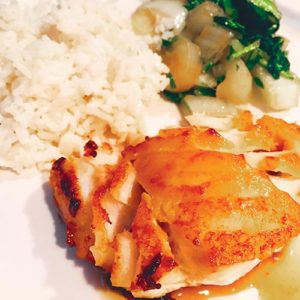 Ingredients
1/4 cup sake
1/4 cup mirin
4 tablespoons white miso paste
3 tablespoons sugar
4 cod fillets
Coconut oil
Instructions
Start by making the miso marinade. Bring the sake and mirin to a boil in a medium saucepan over high heat. Boil for 20 seconds to evaporate the alcohol. Turn the heat down to low, add the miso paste, and whisk. When the miso has dissolved completely, turn the heat up to high again and add the sugar, whisking constantly to ensure that the sugar doesn't burn on the bottom of the pan. Remove from heat once the sugar is fully dissolved. Cool to room temperature.
Pat the cod fillets thoroughly dry with paper towels. Slather the fish with the miso marinade and place in a glass dish or bowl and cover tightly with plastic wrap. Leave to marinate in the refrigerator for 1 day ideally, or in a pinch you can marinate the fish for a minimum of 3 hours.
When you are ready to cook the fish: Preheat the oven to 400°F/200°c. Heat an oven-proof skillet over high heat on the stovetop. Film the pan with a little coconut oil, then place the fish skin-side-up on the pan and cook until the bottom of the fish browns and blackens in spots, about 3 minutes. Flip and continue cooking until the other side is browned, 2 to 3 minutes. Transfer to the oven and bake for 5 to 10 minutes, until fish is opaque and flakes easily.
Adapted from The Kitchn
Victoria's Kitchen http://kitchenbyvictoria.com/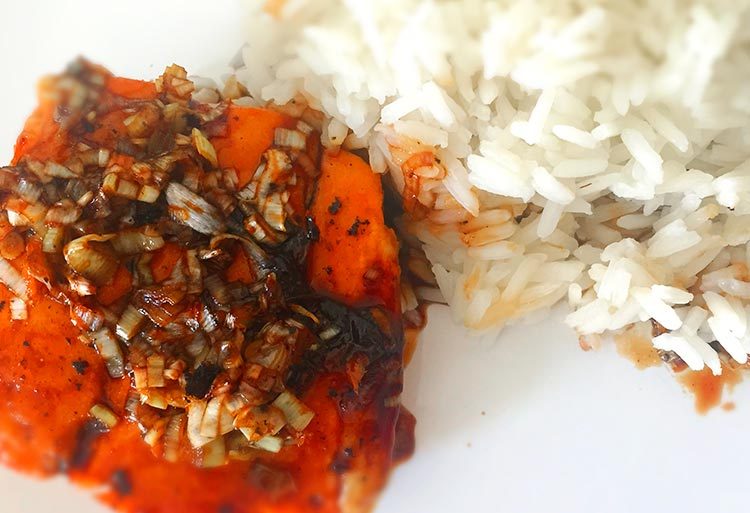 Yum. Thanks Nigella. This is easy, fast, and delicious. To find the mirin and rice vinegar you may need to visit a specialty Asian food grocery store.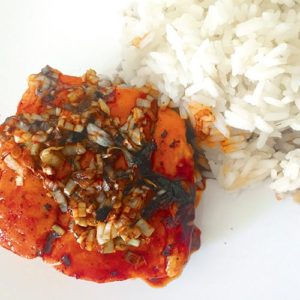 Mirin Glazed Salmon
2016-07-25 04:44:29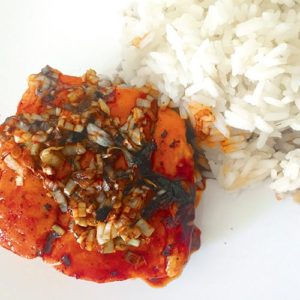 Serves 4
Ingredients
60ml/4 tbsp mirin (Japanese sweet rice wine)
25g/2 tbsp light brown sugar
60ml/4 tbsp soy sauce
Pinch of powdered ginger
4 salmon filets
2 tablespoons rice wine vinegar
1 - 2 spring onions, sliced
Rice- 4 portions
Instructions
Cook the rice according to package instructions.
If you are making a green side like broccoli throw it into the pan now.
Mix the mirin, brown sugar and soy sauce in a shallow dish that will take all 4 pieces of salmon, and marinate the salmon in it for 3 minutes on the first side and 2 minutes on the second. Meanwhile heat a large non-stick frying pan on the stove.
Cook the salmon in the hot, dry pan for 2 minutes and then turn the salmon over, add the marinade and cook for another 2 minutes. Sprinkle with a pinch of powdered ginger.
Remove the salmon to whatever plate you're serving it on, add the rice vinegar to the hot pan, and warm through.
Put the rice on the plate, topped with the salmon, and pour the on top, together with the spring onion strips.
Adapted from Nigella Lawson
Victoria's Kitchen http://kitchenbyvictoria.com/
It's a great weeknight meal because it's ready in 15 minutes maximum (that's mainly to take into account the time to cook the rice. I'd suggest serving with a side of salad or if you have the energy a bit of stir-fried broccoli (garlic and olive oil is enough, the salmon is flavourful so you don't need to overcompensate with your sides).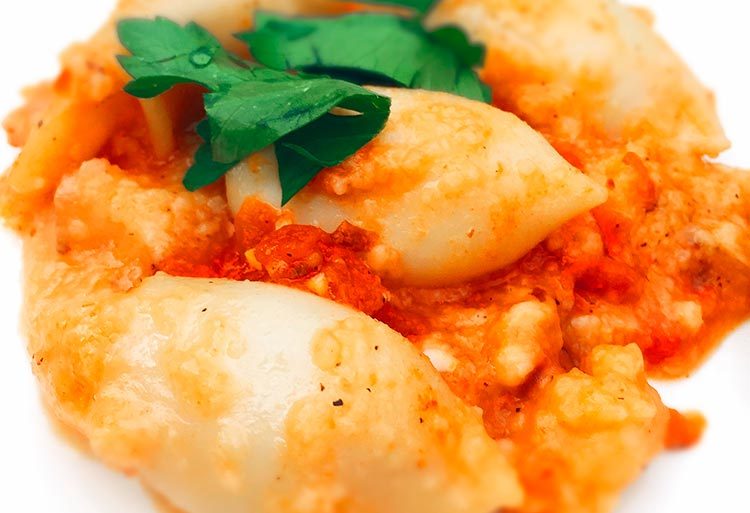 This dish became the focus of most of our attention this week. We woke up thinking, how can we get black pepper taralli? Should we make them ourselves? Should we schlep over to the fancy seafood store and buy them? HOW do you make them?
We did pulled out all the stops for this one. We called our Italian cousin for an authentic recipe, we bought all of the ingredients to make it at home, and we went to the fancy fish store to buy a fortune's worth.
Day of cooking arrives. The moment we've all been waiting for.
The Taralli. Are. Rancid.
Thinking quickly we used some panko + a huge pile of black pepper and these came out completely amazing. I've still put taralli as an ingredient, if you can get ahold of them. But if you can't, no bother!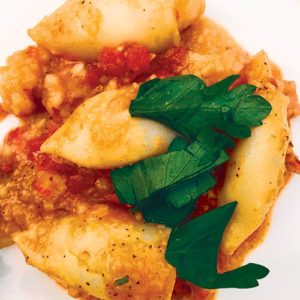 Shrimp Stuffed Calamari
2016-07-07 17:41:42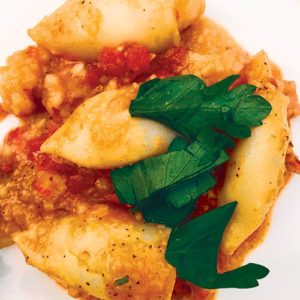 FOR THE CALAMARI
½ cup black-pepper taralli, OR Italian breadsticks OR panko
1lb pound large squid (about 6), cleaned, bodies and tentacles separated
A large glug of extra-virgin olive oil
1 large spoonful unsalted butter
5 garlic cloves, roughly chopped
Red-pepper flakes or another chile (aleppo, urfu, etc.), to taste
½ pound peeled shrimp, cut into small pieces
¼ cup dry white wine
½ teaspoon finely grated fresh lemon zest
Salt & Pepper to taste (if you do not use the black pepper taralli, use LOTS of black pepper
FOR THE SAUCE
A large glug of extra-virgin olive oil
Red-pepper flakes, to taste
4 garlic cloves, crushed
1 large can crushed tomatoes
Salt and freshly ground black pepper
1 handful Italian flat-leaf parsley, chopped
Instructions
Make the sauce: In a wide, deep pan, warm the olive oil over medium heat. Add red-pepper flakes to taste and the garlic, and cook until fragrant and just beginning to color. Stir in the tomatoes, and season with salt and pepper. Bring the tomatoes to a boil, then lower the heat and simmer the sauce for 15 minutes.
Make the stuffing: Smash the taralli or the breadsticks until it forms coarse crumbs.
Chop the squid tentacles finely, and pat them very dry with paper towels.
In a large skillet, heat a glug of olive oil over medium heat. When hot, add the squid tentacles, and spread them out. Sear until golden brown, about 5 minutes, then add the butter, garlic and red-pepper flakes to taste. Cook, stirring, until the garlic just starts to color, about 1 minute.
Add the shrimp, season with salt and cook until just pink, about 2 minutes. Add the wine, and simmer for 1 minute. Turn off the heat, and stir in the crumbs and lemon zest. The crumbs should look like wet, clumpy sand. If the mixture is too dry, sprinkle in a little more wine, and allow the filling to cool until just warm.
Stuff each squid body with the filling, leaving a bit of room (the stuffing will expand as it cooks).
Add the calamari and any extra stuffing into the tomato sauce pot, and keep it at a very gentle simmer.
Cover the pan, and simmer for 45 minutes, stirring occasionally and adjusting the heat to make sure the sauce maintains a lazy bubble. Adjust with salt to taste. Garnish with the parsley.
Serve with bread or pasta.
Adapted from NY Times
Victoria's Kitchen http://kitchenbyvictoria.com/