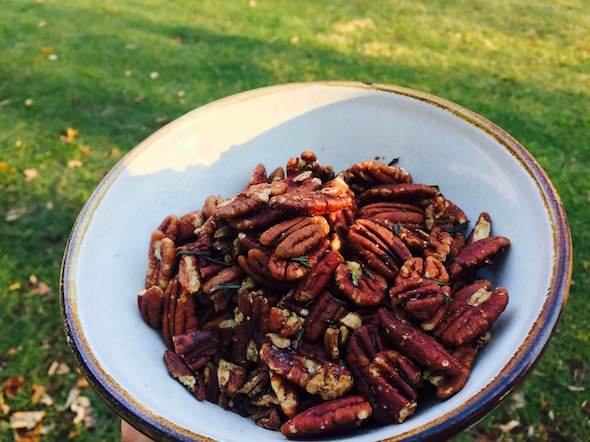 These are a Christmas season staple on Beckwith Rd… and it ain't for nothing.
They are addictive, and delicious, and (comparatively) rather healthy.
The key is to find fragrant rosemary. The other key is not to burn the nuts.
Enjoy !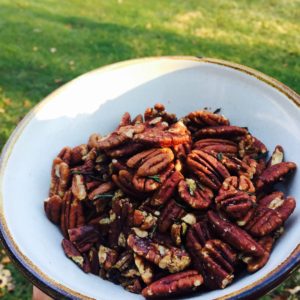 Spiced Holiday Pecans
2016-12-28 12:04:06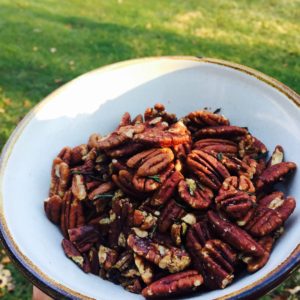 Ingredients
2 Tablespoons of butter
1-2 Tablespoons brown sugar or honey
Pinch of cayenne
1-2 teaspoons of salt
¼ cup rosemary (just the spikes, ripped off the stalks)
1 baking sheet full of pecans, in a single layer
Instructions
Preheat the oven to 350.
Arrange the pecans on the baking sheet, and when it comes to heat, pop them in until fragrant (5-10 minutes). Don't let them burn- stay attentive.
While the pecans are baking, melt the butter in a pan, and add in the cayenne, honey or brown sugar, and salt. Stir to combine.
Just before the nuts come out of the oven, chop the rosemary coarsely.
When the nuts come out of the oven, pour them quickly into a large bowl, toss with the rosemary and the butter mixture.
Toss quickly to combine fully, and let cool.
Victoria's Kitchen http://kitchenbyvictoria.com/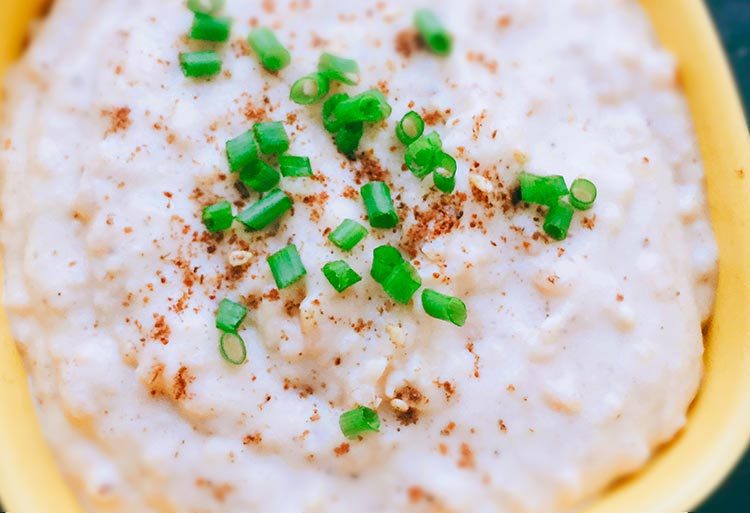 Who knew! Red lentil hummus is not… red. It's not orange, nor is it pink.
So it's a mystery where the color goes.
But man is it creamy. I've also used a Middle Eastern spice here called za'atar. It's a mixture of sumac, sesame seeds, and thyme. It's worth hunting down to give this a really tangy and fabulous taste. If you can't find it of course you'll be fine with just the tahini in the same way that regular hummus is made.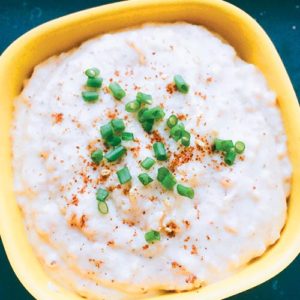 Red Lentil Hummus
2016-10-10 14:26:36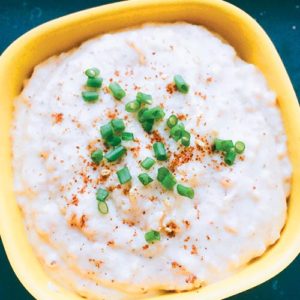 Ingredients
1/2 cup red lentils, rinsed and picked through
3/4 cup water
3 large spoonfuls of tahini
A large drizzle of olive oil
A big squeeze of lemon juice
A large pinch of fleur de sel
A large pinch of za'atar
Instructions
Cook the lentils with the water until mushy- about 10-15 minutes. Add a touch more water if you need to prevent them from sticking to the bottom of the pan during the cooking process.
When done, pull off the heat, and smash with a spoon to soften further.
Mix in the remaining ingredients, in whatever ratio strikes your fancy, this recipe is very adaptable.
Victoria's Kitchen http://kitchenbyvictoria.com/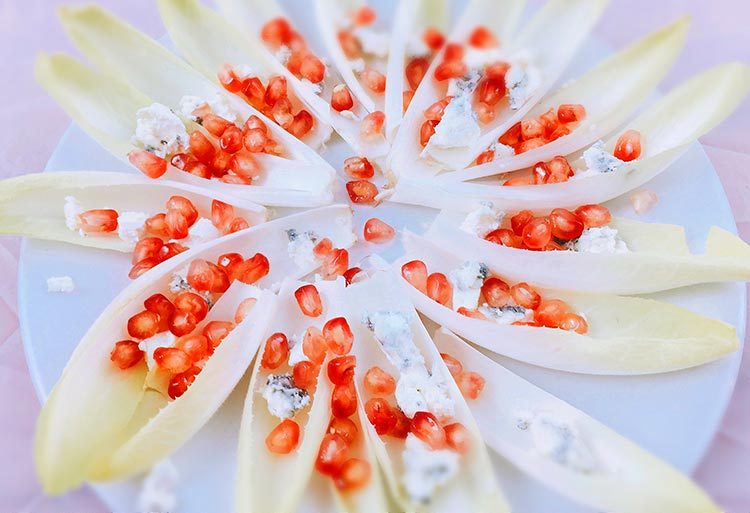 This is a great appetizer, very pleasing to the eye, healthy, and delicate.
Also, very easy to make and can be made ahead of time.
You won't get any points for making something uber complicated, but sometimes that's ok.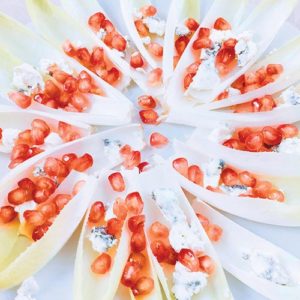 Endives with Pomegranates & Goat Cheese
2016-10-10 14:19:04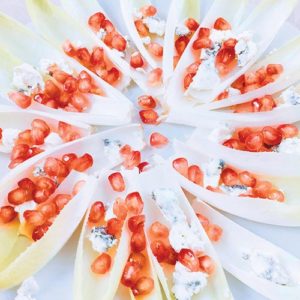 Ingredients
4 Endives, washed
Seeds from a half a pomegranate (eat the rest for breakfast!)
A small piece of goat cheese, any type, as long as you can crumble it somehow
Instructions
Gently tear off each endive leaf and arrange nicely on a plate.
Crumble the goat cheese evenly across the leaves, and sprinkle the pomegranate seeds on top.
Enjoy!
Victoria's Kitchen http://kitchenbyvictoria.com/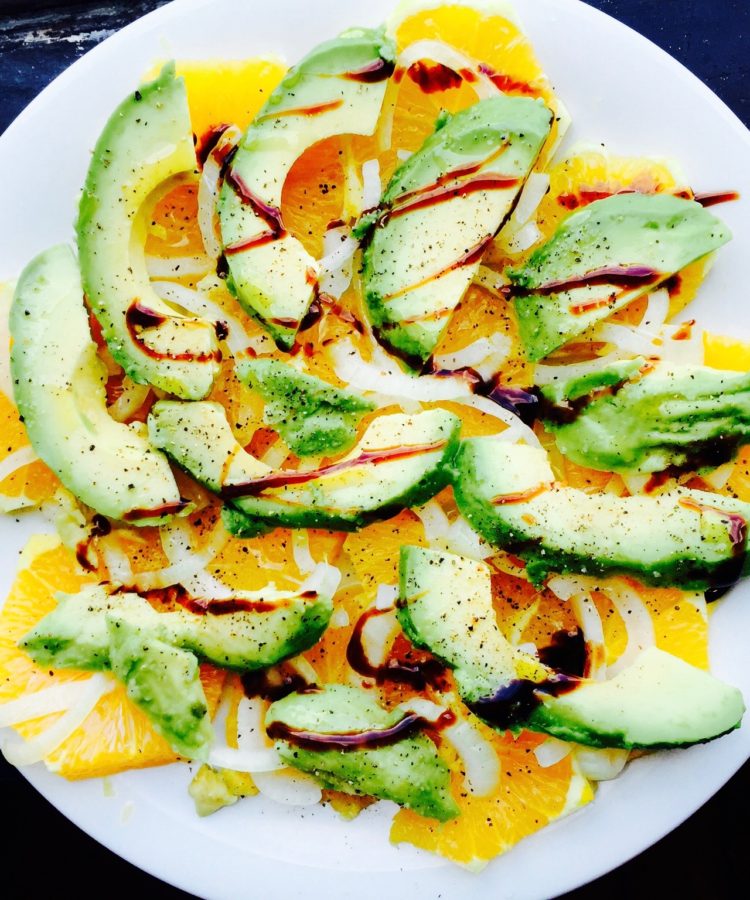 Unusual? Yes. Delicious? Also yes. The combination of avocado, orange and onion is just wonderful, the textures, the tastes, all merried by a drizzle of balsamic. It's painfully easy, and very attractive.
The biggest challenge you'll face (if you live in Belgium), is finding ripe avocados and juicy oranges.
If you open your onion and it tastes a bit too strongly, you can 'flash pickle' it, by slicing it in a bowl, and covering the slices for 5 minutes with hot water and a few spoonfuls of apple cider vinegar.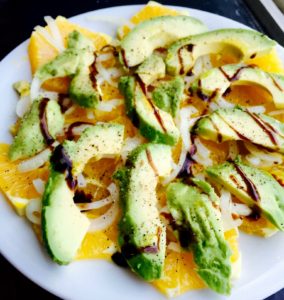 Avocado, Orange & Onion Salad
2016-07-26 20:08:03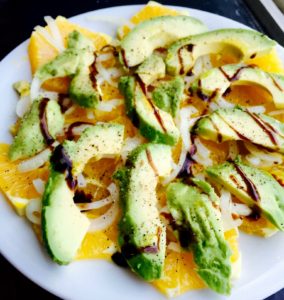 Serves 6
Ingredients
1 sweet onion
2 oranges
2 avocados
High quality extra virgin olive oil
High quality balsamic vinegar
Fleur de sel
Instructions
Slice the first ingredients to roughly the same thickness, and arrange nicely on a platter.
Sprinkle salt, and drizzle on oil and vinegar.
Victoria's Kitchen http://kitchenbyvictoria.com/