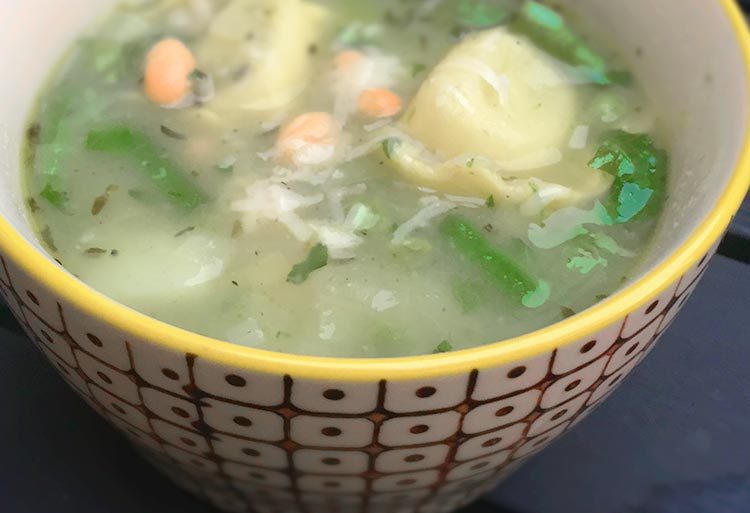 This soup is the perfect for the spring, with all the fresh green vegetables, but also somehow heart-warming for when it's a bit cold out. Perfect for a Belgian summer!
It is largely based on Nigella's recipe, but with some tweaks.
Basic rules of thumb:
High quality Parmesan required

Spinach & Ricotta Tortellini Soup

2016-06-24 14:35:03

Serves 4

Ingredients

3 glugs of olive oil
3 cloves garlic, peeled and chopped
Leaves from a few fresh thyme sprigs or 1 tsp. dried thyme
1 large handful of frozen peas
2 leeks, washed well, halved lengthwise and thinly sliced
1 potato, peeled and finely diced
1 celery stalk, finely diced
1 zucchini, half-peeled and finely diced
1 handful green beans, trimmed and cut into short lengths
2 litres cold water
1 can cannellini or white beans, drained and rinsed
250g fresh spinach-and-ricotta tortelloni
Leaves from 1 small bunch fresh basil (about 1 cup, packed)
A handful of grated Parmigiano-Reggiano cheese

Instructions

Warm the oil in a large, heavy saucepan, stirring in the thyme.
Add the peas and garlic, and stir around in the oil, then add the leeks, potato, celery, zucchini and green beans and stir in the pan.
Pour in the water, add the salt, put the lid on the pan and let come to a boil, then remove the lid and let everything bubble until the vegetables—check the potato particularly—are tender, 10 to 15 minutes.
Remove 3 ladlefuls of the soup mixture, trying to scoop up more vegetables and less liquid, and place in a large bowl. Add in the basil and the Parmesan cheese, and blend with a hand blender. It doesn't have to be smooth, but well blended enough to bring a new texture to the soup.
Add the beans to the pan and bring back to a boil, then add the tortellini and bring to a boil again. Turn off the heat.
Scrape the basil, Parmesan and pureed vegetable mixture back into the pan, stirring it into the soup. Let it stand for 10 to 15 minutes before eating.

Adapted from Nigelissima

Adapted from Nigelissima

Victoria's Kitchen http://kitchenbyvictoria.com/

A drizzle of olive oil never goes amiss.
Most importantly, it's served in the most adorable bowl which was a recent gift from Paris from a very close friend. Arguably the soup is out of focus because I was so concentrated on the cute bowl.