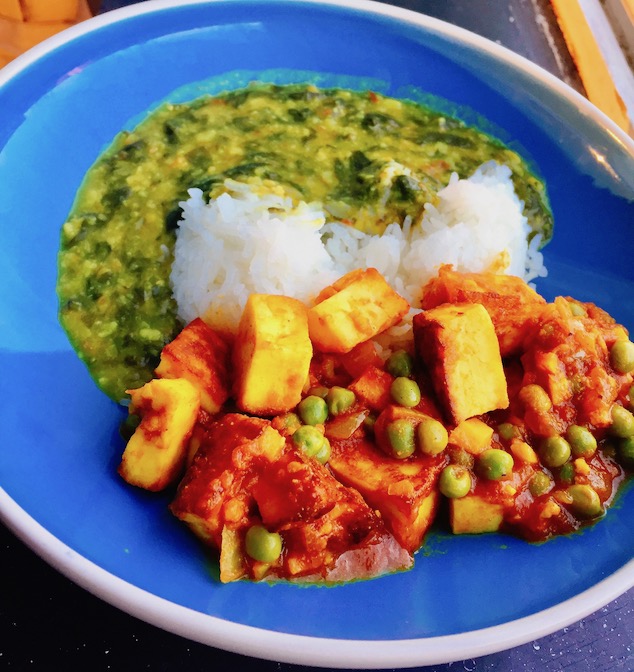 As I mentioned in the last post, I apologise for the visual repetition, I cooked these two dishes together on the same night.
This recipe is the green daal pictured in the back of the photo.
Its from the blog 101cookbooks by Heidi Swanson, and it's been one of my standby recipes for years. It's so easy to make, all you need is time (it takes about 2 hours in total, but really only 15 minutes of effort within that). Perfect for a dinner party because you can get it all on the stove, and let it bubble away while you pick up your mess.
The recipe calls for white daal (urid daal), but to be honest I've made it with every kind of lentils over the years, and it's always delicious.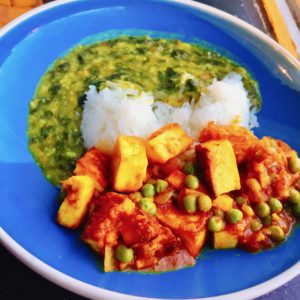 Palaak Daal
2017-07-15 03:47:28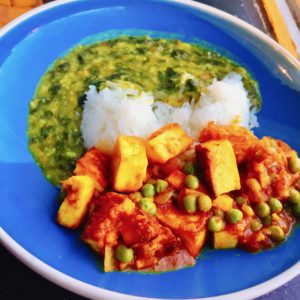 Ingredients
1 cup / 185 g white urid or urad daal, (or any other lentils or mung beans) picked over and rinsed
6 cups / 1.5 liters water, plus more if necessary
1/2 pound spinach, washed and finely chopped
1 tablespoon ginger, peeled and finely chopped
1/2 teaspoon turmeric
2 medium green chile peppers, minced
2 tomatoes, chopped
1/2 teaspoon salt
2 tablespoons butter
1/2 teaspoon cumin seeds
1 teaspoon pure red chile powder
more salt to taste
juice of 1/2 a lemon
1/4 cup cilantro, chopped
Instructions
In a large pot over medium-high heat combine the daal and water. Bring to a boil, then add the spinach, ginger, turmeric, 3/4 of the green chiles, and all of the tomatoes. Reduce the heat, and simmer for 1 1/2 to 2 hours or until the lentils are extremely soft. You may need to add a bit more water during the cooking process to keep the lentils soupy. After an hour and a half, stir in the salt.
In a separate pan, heat the butter and cumin and fry until the cumin seeds start to pop. Now add the red chile powder and fry for another 30 seconds. Add this butter mixture to the lentils and allow to cook for another five minutes. Taste, and season with more salt if needed. I also enjoyed a touch of lemon juice added at this point. Serve topped with the cilantro and the remaining green chiles.
Adapted from 101cookbooks
Victoria's Kitchen http://kitchenbyvictoria.com/