Chicken Enchiladas with Salsa Verde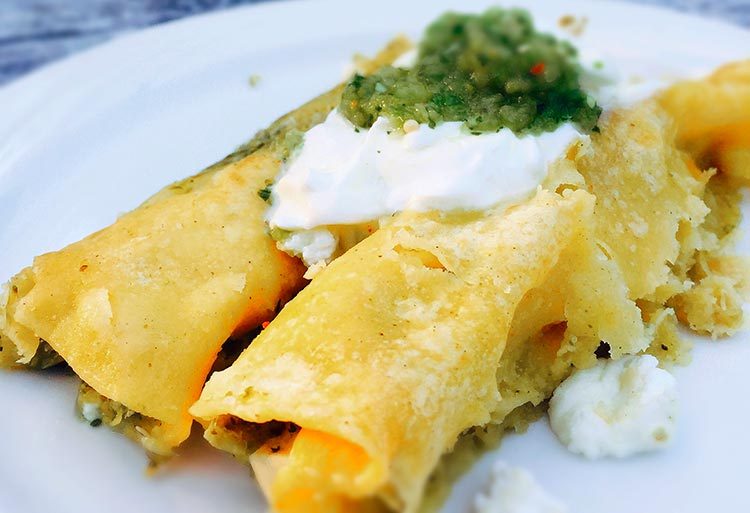 We are clearly on a NY Times kick over here. And it's a good time to be because I'm home in Connecticut and there is no way tomatillos, corn tortillas, and Mexican crema would be available in Belgium.
So, Belgian friends, I put the measurements in metrics just to tease you.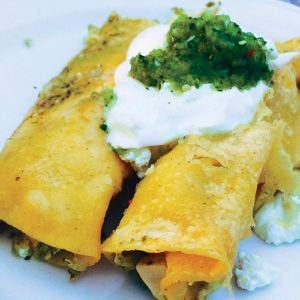 Chicken Enchiladas with Salsa Verde
2016-07-07 17:37:54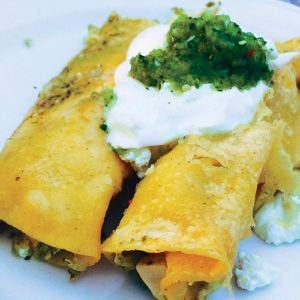 Serves 6
Ingredients
Meat from a leftover chicken or a rotisserie chicken
FOR THE SALSA VERDE
2lbs/900g fresh tomatillos, husked, rinsed and cut into quarters
1 small white onion, peeled and chopped
1 clove of garlic, peeled and chopped
2 serrano chiles or more to taste, seeds removed if you want it less spicy, stemmed and roughly chopped
4 to 5 tender stems of fresh cilantro, with leaves, roughly chopped
Salt to taste
FOR THE ENCHILADAS
½ cup neutral oil, like canola
12 yellow corn tortillas
1 cup crumbled queso fresco
1 cup Mexican crema, or use crème fraîche or sour cream
1 medium-size white onion, peeled and chopped (optional)
Instructions
Pre-heat the oven to 375f/190c
Shred meat from leftover or rotisserie chicken and set aside.
Make the salsa verde: Combine tomatillos, onion, garlic, serranos and cilantro in a blender or food processor and purée until smooth, adding water as needed to thin it out a little. Season with salt to taste.
Prepare the tortillas: In medium sauté pan set over medium-high heat, heat oil until it begins to shimmer. Using tongs or a wide spatula, place a tortilla in the hot fat; it should start to bubble immediately. Heat tortilla for about 10 seconds a side, until soft and lightly browned. Remove tortilla and set on a rack set over a baking pan, or just on a baking pan if you don't have a rack. Repeat with remaining tortillas, working quickly.
Assemble the enchiladas: Use a ladle to put about 1/2 cup salsa verde in the bottom of a 9-by-13-inch baking pan and spread it out a little. Roll a few tablespoons of shredded chicken into each tortilla with a teaspoon or so of salsa verde and place it seam-side down in the pan, nestling each one against the last. Ladle salsa verde over top of rolled tortillas and sprinkle with about half the crumbled cheese.
Transfer to oven and bake until sauce bubbles and cheese is melted, about 15 minutes. Dot with crema, sprinkle with remaining cheese and, if using, chopped onion, then serve immediately.
Adapted from NY Times
Victoria's Kitchen http://kitchenbyvictoria.com/