Chicken & Pumpkin Stew with Thyme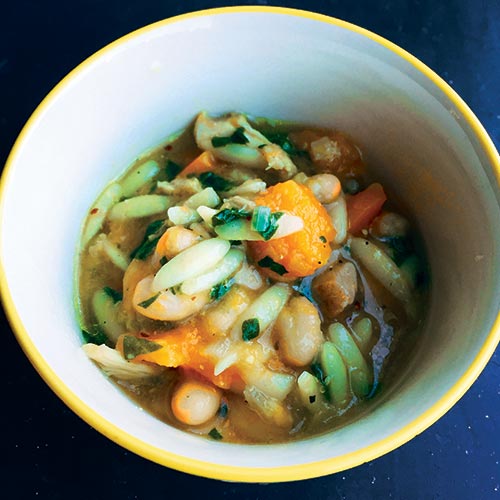 The combination of chicken and pumpkin is not one to forget. It's quite autumnal because of the color, and because it's hot soup.
Also, critically, pumpkin is one of those veggies that freezes really well, so you can keep it in the freezer and whip it out whenever you need it, officially making this a convenient after work meal. You just need to buy the chicken meat and you're good to go.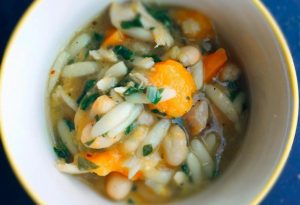 Chicken & Pumpkin Stew with Thyme
2016-08-28 12:32:37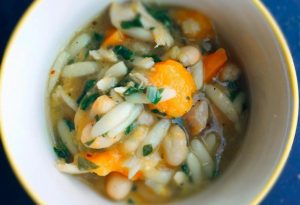 Ingredients
6 chicken thighs, either boneless, or not
Chicken bouillon
Bay leaf
Thyme (3 stalks fresh or 1 tsp dried)
1-1.5 cups frozen cubed pumpkin
1 onion, chopped
2 carrots, chopped
1 celery stalk, chopped
1/2 cup orzo or any other small soup pasta
A handful of parsley, chopped
Instructions
Bring a pot of water to boil (this will be your soup broth, so aim for the amount of soup you'd like to make).
Turn the heat down to medium, add the chicken, and poach it until cooked. Remove from the water and once cool shred into tiny bits.
Into the same water, add the bay leaf, bouillon, onion, carrots, celery, pumpkin, and thyme. Cook over a light simmer for 15-20 minutes, or until the vegetables are soft. Add back in the chicken, remove the bay leaf, and add salt and pepper to taste.
Once finished, add the chopped parsley and serve immediately.
Victoria's Kitchen http://kitchenbyvictoria.com/