Chicken, Olive and Preserved Lemon Tagine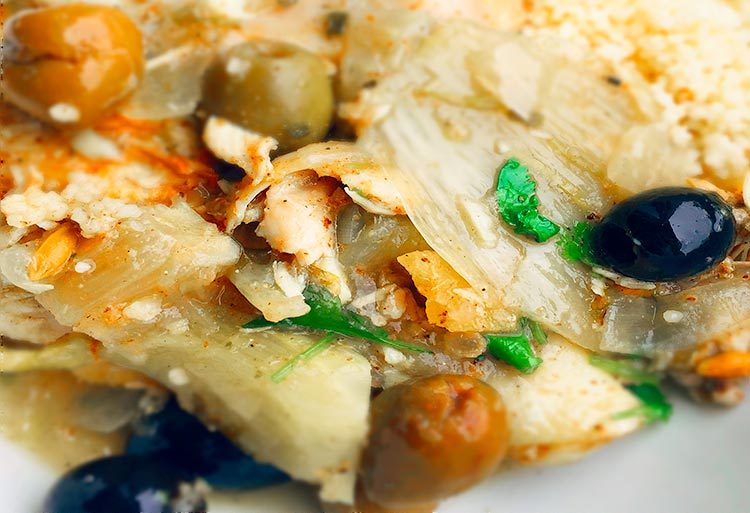 This recipe is taken from Jamie Oliver's book "Jamie Does…" which is quite good, but I'm mainly preoccupied with the Greek and Moroccan chapters. I'll confess I've made nothing from the Swedish and French bits.
You don't need a tagine to make this, but you should invest in a le creuset pot if you don't have one yet.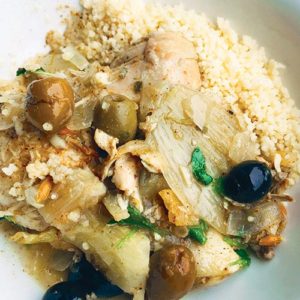 Chicken, Olive and Preserved Lemon Tagine
2016-07-02 19:18:50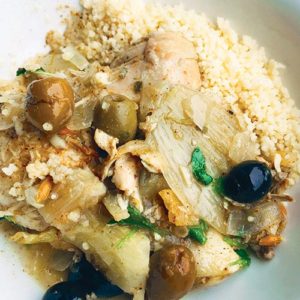 Serves 6
Ingredients
1 whole chicken broken down into four (make your butcher do it)
Olive oil
2 large fennel bulbs, chopped into 8 wedges each
2 onions, roughly chopped
1 bunch of coriander, stalks chopped finely, leaves reserved for garnish
4 cloves of garlic, sliced
2-3 small preserved lemons, deseeded and chopped
80g stoned black and green olives
Good pinch of saffron
500ml hot chicken stock
cooked couscous to serve
For the spice rub
1 heaped teaspoon coriander seeds, freshly ground if you have the energy, otherwise just ground
1 level teaspoon ground cumin
1 heaped teaspoon ground ginger
2 tablespoons olive oil
salt and pepper
Instructions
Massage your chicken pieces in the spice rub and leave covered in a bowl in the fridge for a few hours (overnight is preferable).
Over medium-high heat, fry your chicken pieces in some olive oil (skin side down first) for about 5 minutes a side until golden brown. Remove chicken from the pot and set aside.
Next fry the onions, fennel wedges, coriander stalks and garlic for a couple of minutes. Then mix in the preserved lemons, olives and saffron. Add the chicken back to the pot and evenly distribute the ingredients before adding your hot stock.
Cover the pot and simmer on a low heat for 1.5 hours, or until the meat starts to fall away from the bone.
Give the mix a bit of a gentle stir half way through and add more liquid if it looks dry. Taste, and season with salt and pepper if required.
Serve on a bed of couscous, topped with reserved coriander leaves.
Victoria's Kitchen http://kitchenbyvictoria.com/