Chickpea Crespelle with Ricotta, Spinach & Marinara sauce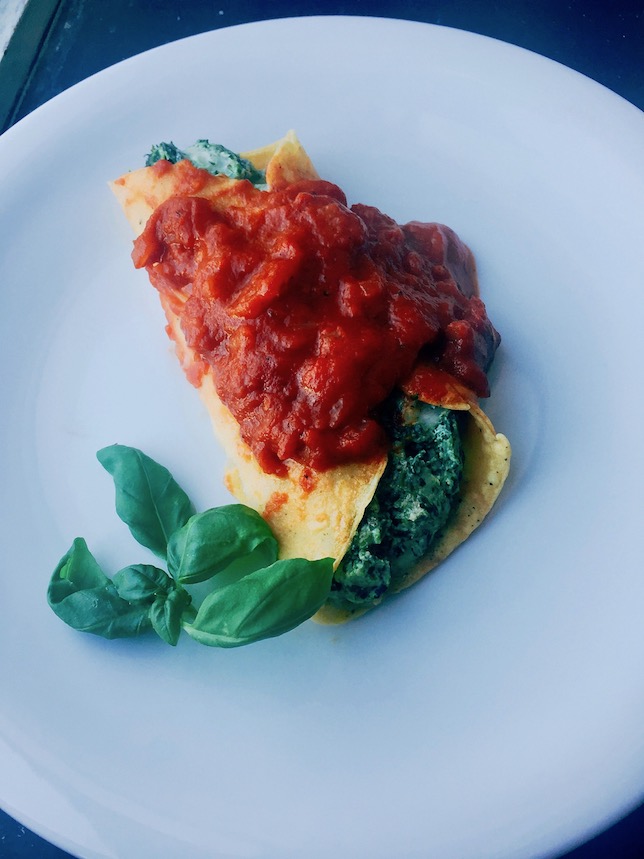 In retrospect, this wasn't a weeknight meal. This wasn't a 30-minutes to the table smash. but it was a big hit! So perfect for a Monday night when you have a bit of extra time. The main sell here is that it feels like a decadent pasta dish, but in reality it's made from chickpea flour, and packed with spinach, so nothing to be ashamed of!!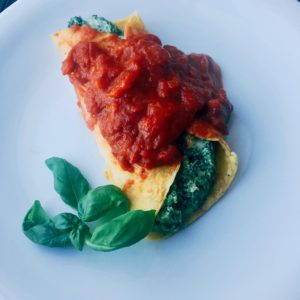 Chickpea Crespelle with Ricotta, Spinach & Marinara sauce
2018-06-18 14:30:37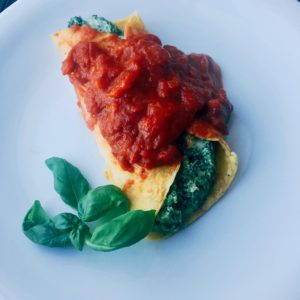 Serves 4
Ingredients
For the crespelle: (MAKES APPROX 6)
• 160 g / 1 cup chickpea flour (aka gram flour)
• 240 ml / 1 cup water
• A pinch of salt and pepper
• 1 spoonful herbes de provence
For the filling
• 1 package 400 grams frozen spinach, defrosted and squeezed through a cheese cloth to get out excess water
• 250g ricotta cheese
• Salt and freshly ground black pepper
• 1 large egg
• 1 cup finely shredded mozzarella cheese
• 1/4 cup grated parmesan cheese
For the sauce
• 3 tablespoons olive oil
• 1 small yellow onion, finely chopped
• 6 cloves garlic, finely chopped
• 1 can diced or whole tomatoes
• 1 small box (500g) tomato passata
• 1 teaspoon dried thyme or oregano
• 1/4 teaspoon crushed red pepper (optional)
• Salt and freshly ground black pepper to taste
• 1/4 cup fresh herbs like parsley or basil
Instructions
Make the crespelle batter: In a medium bowl, mix together the ingredients, and leave to sit for 20 minutes.
In the meantime, get the sauce on the stove: chop the onion and the garlic, sautee with olive oil for 5 minutes, sprinkle in the herbs and then the tomato passata and diced tomatoes. Let it bubble away on a low heat while you keep working.
Prepare the filling next: Combine all filling ingredients in a large bowl and stir well. Getting all of the water out of the spinach is critical to be sure your crespelle aren't soggy.
Once that's done, head back to your crespelle batter. Put a small frying pan over medium high heat, and pour a small amount of oil in the pan. You'll want to run over it with a paper towel to remove excess oil- you really want a thin film. Pour a small amount of batter into the pan and let it cook. After a few minutes, start to pull it away from the sides of the pan- when it starts to come loose you'll be ready to flip. I flip carefully with my fingers. It's easier than with a spatula!
Keep making all of the crepes, until your batter is done.
Fill each crepe with the filling, and roll up into the pan. Cover with tomato sauce, add a bit of grated cheese on top, and pop it into a 180c oven for about 30 minutes.
Remove, and enjoy!
Victoria's Kitchen http://kitchenbyvictoria.com/