Chilled Tomato & Peach Soup with Pistachio & Basil Pistou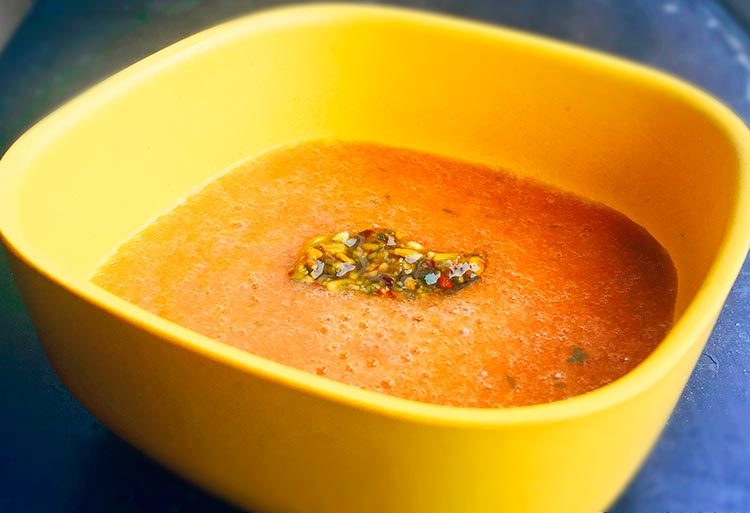 I'm not one for fruit in main courses… in fact normally I would never do such a thing.
But I found some really gorgeous yellow heritage tomatoes, and I felt inspired to get outside of my comfort zone.
Raging success.
We ate this as a main course, but to be fair it is more appropriate for an appetizer. It could look particularly cute in some fancy glasses.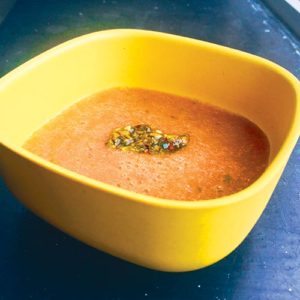 Chilled Tomato & Peach Soup with Pistachio & Basil Pistou
2016-09-04 13:25:50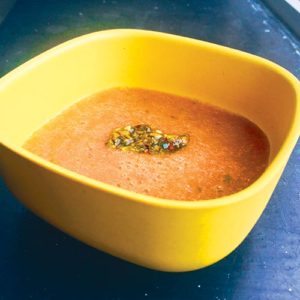 Serves 4
Ingredients
4 medium ripe yellow peaches
2 large yellow heirloom tomatoes (some red and orange and even green are ok!)
Fleur de sel
8-10 fresh basil leaves
The juice of 1 large lime
The zest of ½ a lime
¼ cup/28g pistachios , shelled
1 ½ Tablespoon/22ml extra virgin olive oil
Instructions
Peel the peaches using a sharp paring knife (the skins should come off fairly easily if ripe) and blanche the tomatoes by briefly blanching in boiling water in order to skin them.
Combine the peeled peaches and tomatoes with a pinch of salt and 5 large basil leaves in a blender along with the lime juice and zest. Blend on high until smooth. T
aste and season with additional salt if needed. Refrigerate until well chilled (at least 2 hours).
While it's chilling, make the pistachio basil pistou by pulsing together the shelled pistachios and four or five basil leaves with a pinch of salt with a hand blender. Add the olive oil and pulse until just combined.
Serve soup topped with the pistachio basil pistou.
Adapted from Gourmande in the Kitchen
Victoria's Kitchen http://kitchenbyvictoria.com/