Chorizo & Chickpea Stew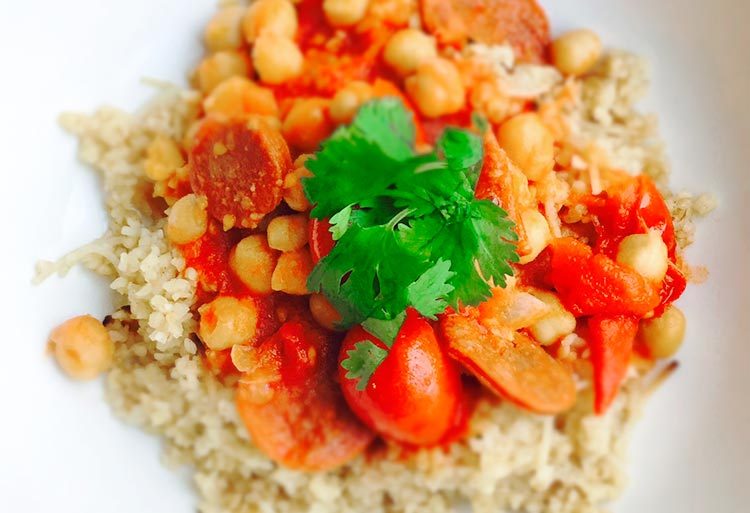 Two words: Easy. Crowd-pleaser.
This is such a winner. It's taken from a recipe from Nigella Lawson, although slightly adapted. The best part about it is that except for the coriander you can keep everything in the pantry and whip it out to impress some last-minute guests.
I had the pleasure of cooking this one for our fabulous 'Food Team' at work, no group of ladies more deserving!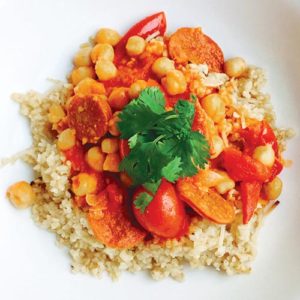 Chorizo & Chickpea Stew
2016-05-25 15:16:33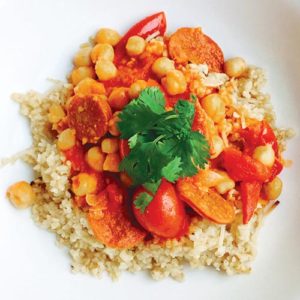 Serves 4
Ingredients
A glug of regular olive oil
50g vermicelli
250g Bulgar
1 tsp cinnamon
2 tsp sea salt
.5 liters water (a bit more than 2 cups by American measurements)
2 bay leaves
350g chorizo (cut into coins)
4 large spoonfuls amontillado sherry
2 cans chickpeas (400g) rinsed thoroughly
2 cans cherry tomatoes (400g) (plus 1 1/2 cans water)
Fresh coriander
Instructions
Sautee the chorizo pieces in a large pot over medium heat, until the orange oil runs out. Then add the sherry and let it bubble away.
Add the chickpeas and canned tomatoes, and half fill each empty tomato can with water and swish it into the pan. Put on a high heat and let it bubble away until you are finished with the bulgar. About 5 minutes in taste and add salt and pepper to taste.
To make the bulgar, warm the olive oil in a pan over medium heat. Fry the pasta bits in the oil for a minute, stirring, until they start to brown. Then add the bulgar and stir for another minute or two until it starts to smell toasted.
Stir in the cinnamon and the salt, and then pour the water into the pan. Add the bay leaves, and bring to a boil, then turn down to the lowest heat, cover, and leave for 15 minutes, until all the water has been absorbed.
Served topped with chopped coriander.
Adapted from Nigella Lawson
Victoria's Kitchen http://kitchenbyvictoria.com/