Cinnamon Swirl Bread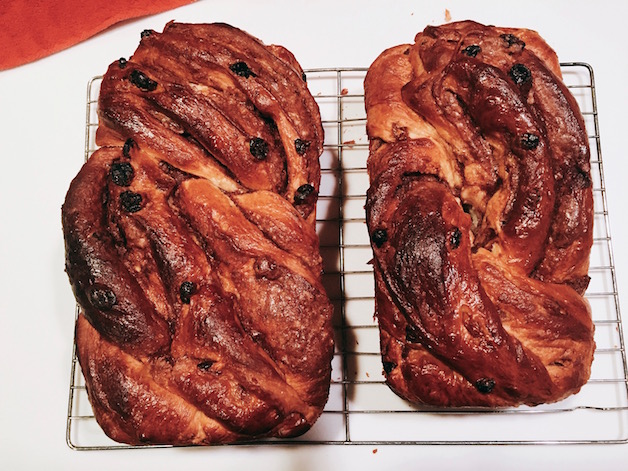 I received this cookbook for Christmas, and boy was this a great recipe to start with. The recipe makes 2 loaves, which disappeared in 24 hours at our house.
You can eat it as is, but I highly recommend toasting slices and giving them a thick slather of butter. Just do it, don't ask questions.
It is light and fluffy (thanks in part to the dry milk powder), and has just the right amount of sweetness from the filling.
It looks like a hassle, and I won't lie to you, it is. But it's worth it.
Lastly, it's not recommended to do this without a kitchen aid because the dough is very sticky which makes the kneading literally painful. Just find a friend who owns a mixer and go to their house to make it.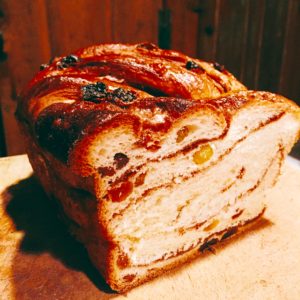 Cinnamon Swirl Bread
2017-01-07 18:03:07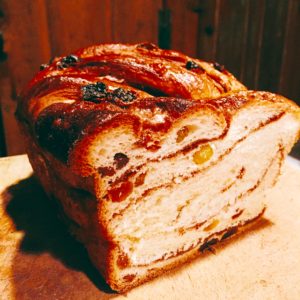 Bread
8 tablespoons unsalted butter, cut into tiny cubes
3 ¼ cups bread flour
¾ cup nonfat dry milk powder
1 tablespoon instant or rapid rise yeast
1 ½ cups water, room temperature
½ cup sugar
1 egg, room temperature
1 ½ teaspoons salt
1 ½ cups raisins (golden are nice, but any will work)
Filling
1 cup powdered sugar
1 tablespoons ground cinnamon
1 teaspoon vanilla extract
½ teaspoon salt
1 egg, beaten with 1 tablespoon room temperature water and a pinch of salt
PART 1
Toss butter cubes with a bit of flour, just to prevent them from sticking together. Set aside to soften.
Whisk the remaining flour, milk, powder, and yeast together in the bowl of your Kitchen Aid.
Whisk water, sugar, and egg in a separate bowl, until sugar is dissolved.
Using dough hook on low speed, slowly add the water mixture to the dry mixture and continue to mix until a cohesive dough forms and there is no dry flour left (about 2 minutes). Cover bowl with plastic wrap and let sit for 20 minutes.
Add salt to dough and knead on medium-low speed until dough is smooth and elastic, about 8 minutes. With mixer running, add butter cubes a few at a time, and knead for about 4 minutes or until the butter is fully incorporated. Continue to knead until dough is smooth and elastic, another 4 minutes. Reduce speed to low, slowly add raisins and mix for a minute or until incorporated.
Transfer dough to lightly greased large bowl. Using greased bowl scraper or your fingers, fold dough over itself by gently lifting and folding edge of dough towards middle. Turn in a circle as you make a total of 8 folds around the outside of the dough. Cover dough with plastic and let rise for 45 minutes. Repeat folding, cover again, and let rise until doubled in size, about 1 hour.
PART II
Press down on dough gently to deflate it. Transfer it to a lightly floured counter, divide in half, and cover one half loosely with greased plastic wrap. Working with the other piece, press and roll it into an 11 x 6 inch rectangle, with the short size parallel to your body.
Stretch and fold dough lengthwise into thirds, so it becomes an 11 x 3 inch rectangle. Roll dough away from you into a firm ball. Cover with the greased plastic wrap and repeat with the second dough lump.
Make the filling by whisking together al of the filling ingredients in a small bowl.
Take the first dough ball you made, coat lightly with flour, and place on a lightly floured counter. With the seam facing down, flatten with a rolling pin, into 18 x 7 inch rectangle, again with the short edge parallel to your body.
Mist the top of the dough with a water spritzer. Sprinkle half of the filling mixture, leaving a small border around the edges. Mist filling with water spritzer until surface is speckled. Roll dough away from you into a firm cylinder, as tightly as you can. Pinch the seam and ends closed. Cover loosely with greased plastic and let rest as you repeat the process with the second dough ball.
PART III
Grease two 8.5 by 4.5 inch loaf pans with butter. Using a sharp knife, cut one cylinder in half lengthwise. Turn the cut sides face up (so you can see the stripes with the filling facing you). Gently stretch into 14 inch lengths, pinch together the tops, and twist around one another (start by placing the left side over the right). You want the cut sides to always face up, and they should be tightly twisted. Pinch bottom end together, and place into greased loaf pan.
Repeat with other loaf.
Cover with greased plastic and let rise until dough is 1 inch above the rim of the baking pan, about 1.5-2 hours.
Adjust oven rack to middle position, and heat oven to 350f/176c. Gently brush loaves with egg mixture, and bake until crust is browned (roughly 25 minutes) rotating the pans halfway through baking.
Reduce oven temperature to 325f/162c, cover loaves with aluminum foil, and continue to bake until loaves register 200f/93c (about 15-25 minutes).
Remove from oven, let rest for 5 minutes before removing from pans, and let rest for 3 hours on a wire rack before serving.
Adapted from Bread Illustrated
Victoria's Kitchen http://kitchenbyvictoria.com/