Coconut Cauliflower and Leek Soup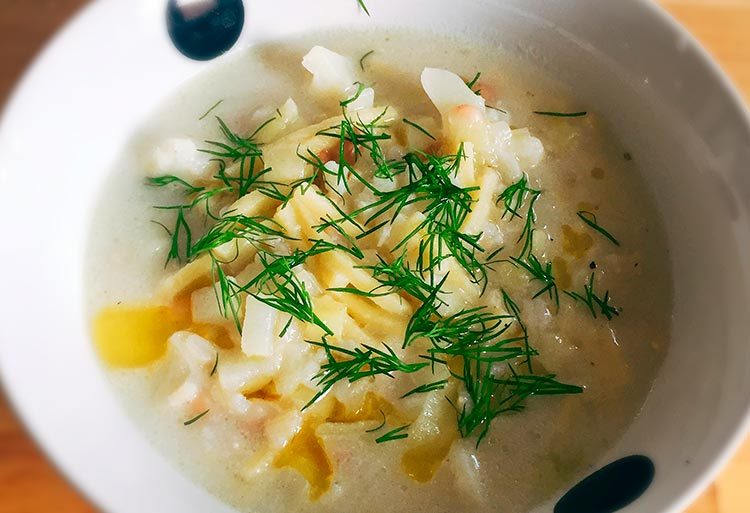 This recipe is largely based on a recipe called leek soup from Heidi Swanson's 'Near & Far: Recipes inspired by home and travel'. The mix of lemon zest and coconut oil is a treat, and the final result is a creamy and hearty soup that's filling as a main course. It's only flaw its the fact that it's very monotone so don't skimp on the dill when arranging your toppings!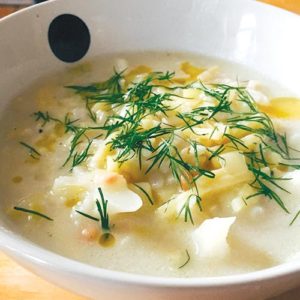 Coconut Cauliflower and Leek Soup
2016-05-08 11:42:33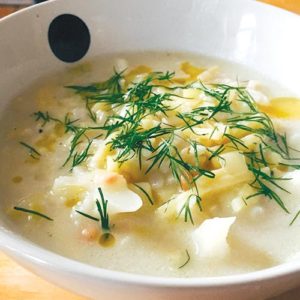 Serves 4
Ingredients
1/4 cup coconut oil
3 leeks, washed and chopped
Zest of two lemons
2 litres water
1.5 cups cooked brown rice (3/4 cup dry)
1 can white beans
100-150ml coconut milk
Half a head of cauliflower
150g fresh egg noodles
dill, fresh lemon juice, and lemon infused olive oil to serve
Instructions
If you aren't using leftover brown rice, get the rice on the stove as soon as possible. Cook according to package instructions.
10 minutes before the rice is done, heat the oil in a large soup pot.
When hot, stir in the leeks. Salute, stirring regularly until the leeks are soft.
Add in the zest of both lemons, stir around for a minute or two, and pour in the water and salt.
Bring to a simmer and stir in the beans, coconut milk and rice (which you've drained and rinsed after boiling separately).
Once it's back up to a simmer again, add the cauliflower and pasta.
Cook for a few minutes, and then serve topped with fresh dill, a squeeze of lemon and a drizzle of lemon infused olive oil.
Adapted from Near & Far: Recipes Inspired by Home and Travel
Adapted from Near & Far: Recipes Inspired by Home and Travel
Victoria's Kitchen http://kitchenbyvictoria.com/