Cornflake Crusted Chicken & Moroccan Carrot Salad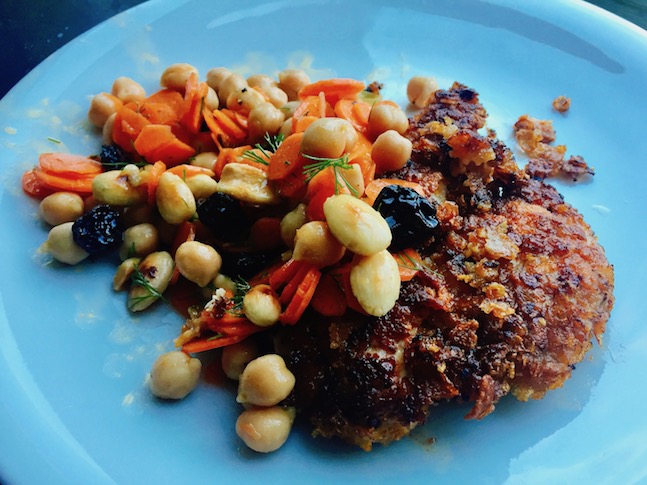 I know. Cornflakes on chicken seems really counterintuitive. Just go with it. This is from Nigella so you can have a little faith.
It's crispy on the outside, tender and juicy on the inside.
We paired it with a moroccan carrot salad that was quite tasty, but if you want to go easy you can also just put it on top of salad and it would be a great and simple combination with the chicken.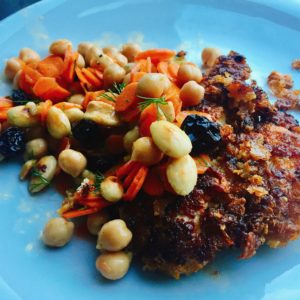 Cornflake Crusted Chicken & Moroccan Carrot Salad
2017-06-24 12:52:49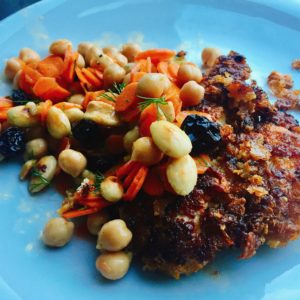 FOR THE CHICKEN
2 chicken escalopes or breast filles (200-300g total)
1/4 cup dijon or l'ancienne mustard
1 clove garlic, peeled and pressed
1/2 tsp ground cinnamon
1 egg
3 cups cornflakes
1 1/2 tsp paprika or pimento picante (depending on how much you like spicy)
vegetable oil
FOR THE CARROT SALAD
4 carrots
1 can chickpeas
A handful of prunes, chopped
A handful of almonds, chopped
A handful of dill, chopped
Ground coriander to taste
Ground cumin to taste
Salt & Pepper to taste
FOR THE CHICKEN
Keep out of the fridge before you cook so that it's not cold when you'll be frying. If you are using breasts instead of escalopes, slice them thinly.
In a shallow dish, mix the mustard and the garlic. Add the cinnamon and the egg and whisk to combine. Put the escalopes in, turn them, and leave them while you make the cornflake mixture.
In a separate bowl, put the cornflakes in and crush them by hand. Add the paprika and mix in.
Dredge the chicken from the egg mixture into the cornflake mixture, and let dry on a wire rack for 5-10 minutes.
Head the oil in a heavy frying pan, and when hot fry 3 mins on the first side, then turn them over and cook for another 3 minutes. Check that they are cooked through, if so, remove from the heat and serve.
FOR THE SALAD
Mix all ingredients together in a bowl. Readjust the seasonings to taste.
Victoria's Kitchen http://kitchenbyvictoria.com/