Crispy Herb Rice with Saffron and Lemon Vegetables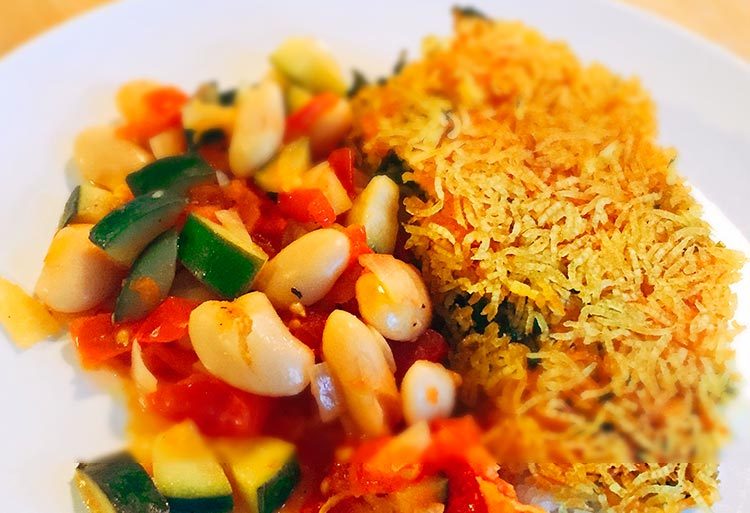 This recipe is slightly adapted from Sally Butcher's 'The New Middle Eastern Vegetarian', which is one of the best cookbooks I've ever owned. Buy it.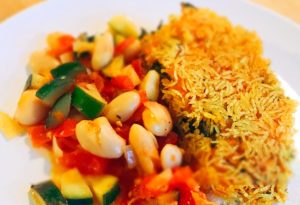 Crispy Herb Rice with Saffron and Lemon Vegetables
2016-05-07 11:23:31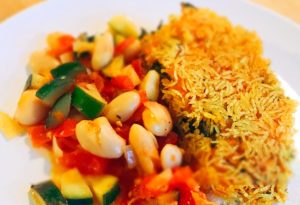 Serves 4
For the rice
1 cup of basmati rice
5 cloves garlic, finely chopped
1 bunch each parsley, cilantro, dill, and chives
1.5 teaspoons turmeric
coconut oil
salt
For the saffron lemon vegetables
Chunk of butter
2 onions
2 zucchini, washed and chopped
4 tomatoes, washed and chopped
1 can butter beans
Pinch of saffron
Juice and zest of 1 organic lemon
salt and pepper
Instructions
Boil the rice as indicated on the package, rince and drain it. While the rice is boiling, wash and chop the herbs. Heat the coconut oil in a pan and fry the garlic without allowing it to turn brown. Put the herbs and the turmeric into the pan, stirring constantly. Fry for about 7 minutes.
In another frying pan, fry some coconut oil on medium high heat (a good amount, you want to cover the bottom of the pan). Add a layer of rice and wait until it starts to brown and stick to the pan. Then add in a layer of the green mixture, followed by the rest of the rice layered on top. Make a few holes with the back end of a wooden spoon. Fit a cloth covered lid on the pan and cook for 5 minutes on high, before turning down the heat and letting cook for 30 minutes.
While the rice is sizzling away, Put the saffron in a tiny amount of water with the lemon zest and juice. Set aside. Melt some butter in another pan and put in the onion and zucchini. Fry them for 10 minutes, before adding in the tomatoes. Fry for another 10 minutes before adding the beans. Pour the saffron mixture over the vegetables, cover, and let sit. Season to taste.
When the rice is ready, serve it with the crispy side face up, and the vegetables drizzled alongside.
Adapted from The New Middle Eastern Vegetarian
Adapted from The New Middle Eastern Vegetarian
Victoria's Kitchen http://kitchenbyvictoria.com/