Egg & Watercress Salad with Curry Vinaigrette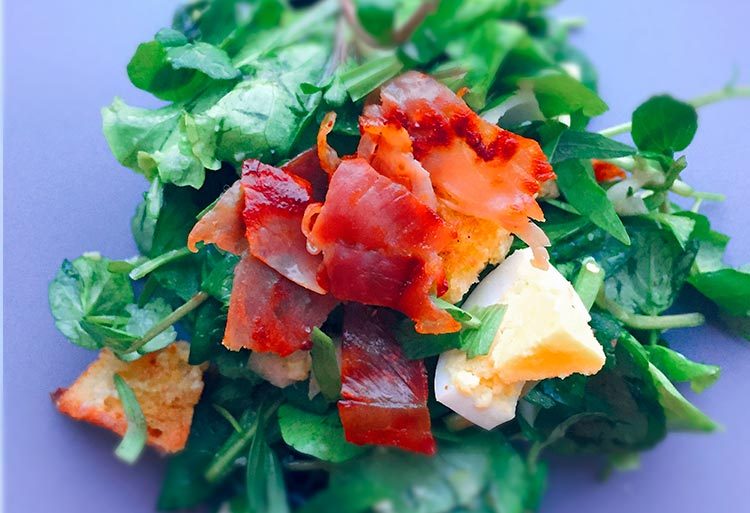 Found this recipe in an airport magazine. The airport: JFK, the magazine: Cook Fresh.
It is truly delicious. But, I'm not going to lie… it's also labour intensive. It's not difficult, it just takes time.
It was a little reminder for me that eggs really can be the crown jewel of a salad, and homemade croutons are worth every extra second spent.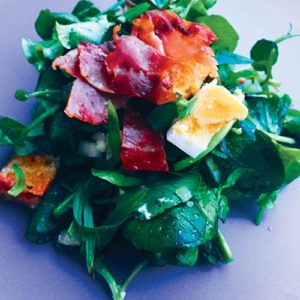 Egg & Watercress Salad with Curry Vinaigrette
2016-08-28 09:31:21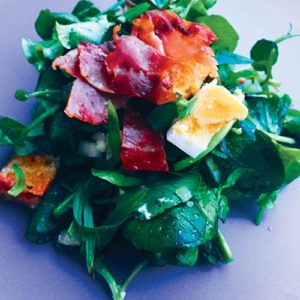 Serves 2
Ingredients
Extra Virgin Olive Oil
Pinch of cayenne pepper
Salt & pepper
4 slices bread, cut into small cubes
2 slices prosciutto, coarsely chopped
3 large spoonfuls of white wine vinegar or white balsamic vinegar
1 tsp curry powder
1 tsp dry mustard
8oz watercress, trimmed
4 hard-boiled eggs, coarsely chopped
1/4 cup finely chopped sweet onion
2 spoonfuls chopped fresh tarragon
Instructions
Heat the oven to 450f/225c, and put a small pot of water on to boil.
Combine the bread cubes with a splash of olive oil & the pinch of cayenne, and lay out on an aluminum foil covered baking sheet. Pop into the oven until golden brown (5-8 minutes).
When the water is boiling, hard boil the eggs.
Separately, in a dry skillet over medium heat, cook the prosciutto, stirring occasionally, until crisp (about 4 minutes). Set aside.
In a small bowl, whisk the vinegar, curry powder, syrup, mustard, 3/4 tsp salt. Slowly whisk in 3 spoonfuls of olive oil.
In a large bowl, toss the croutons with 1/4 cup of the vinaigrette to soften them slightly. Add the watercress and toss again, add the egg, prosciutto and tarragon, and the rest of the vinaigrette (to taste).
YUM!
Victoria's Kitchen http://kitchenbyvictoria.com/