Falafel Burgers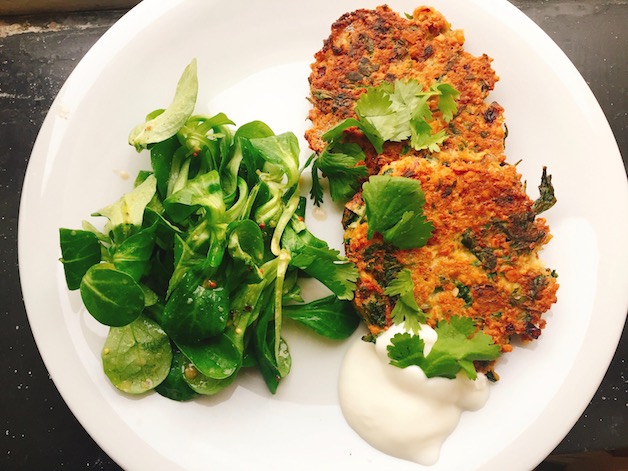 We were aiming for veggie burgers but this came out tasting exactly like falafels (not a huge surprise since falafels ARE chickpea burgers), but the spice mix is just perfect here.
We had them with a simple salad and a dollop of thick yogurt. You should put some cucumber in the yogurt if you remember it (we didn't).
Enjoy!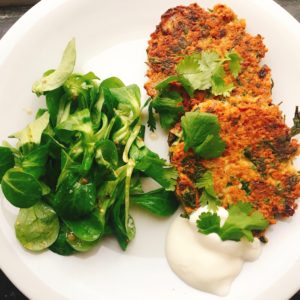 Falafel Burgers
2017-05-21 13:02:47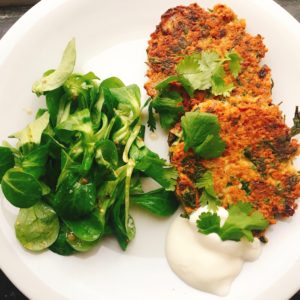 Ingredients
2 cans chickpeas, drained and rinsed
4 garlic cloves, minced
2 tablespoons tahini
4 large eggs
2 teaspoons kosher salt
3 teaspoons ground cumin
3 teaspoons ground coriander
1 small red onion, finely chopped
1 lemon, zested
1 cup frozen chopped spinach, thawed, excess moisture squeezed out
1/4 cup quinoa
1/2 cup parsley, chopped
1/4 cup extra-virgin olive oil
Instructions
In a food processor, combine the chickpeas, garlic, tahini, eggs, salt, cumin, and coriander. Pulse the mixture until it's slightly chunky.
Pour the contents of the food processor into a large bowl. Add the red onion, lemon zest, spinach, quinoa, and parsley.
In a heavy-bottomed skillet, heat 2 tablespoons of olive oil over medium-low heat. Using a 1/3 measuring cup, scoop out the mixture and form patties, approximately 1/2 inch thick. Add the patties to the skillet (careful not to crowd the pan), cover, and cook for 6-7 minutes, or until golden brown. Flip the patties, cover, and cook the 2nd side for another 6-7 minutes. Remove from the skillet and allow to cool on a wire rack or paper towel. Continue to cook the remaining patties in the same fashion, adding more olive oil as needed.
Adapted from Hapa Nom Nom
Victoria's Kitchen http://kitchenbyvictoria.com/