Pork, Fennel & Prune Stew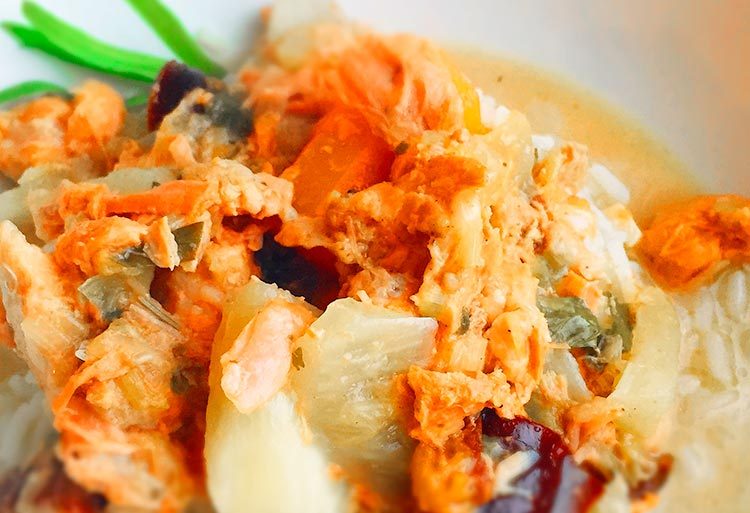 If you don't own a slow cooker, I'm sorry. This recipe is from a book called 'Slow Cooker Revolution', and it is absolutely revolutionary.
If you need to adapt for a regular stove it's fine, just cook it on the stove top for 3 hours. It is important that it's cooked for ages because it's a fatty cut of meat (yum!)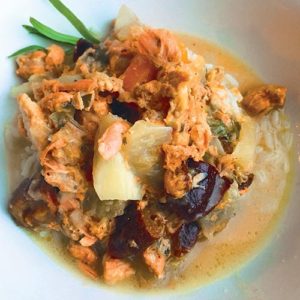 Pork, Fennel & Prune Stew
2016-06-24 14:58:52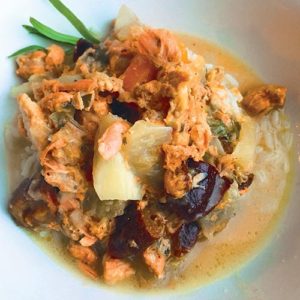 Serves 4
Ingredients
500g leeks, white and light green parts only, halved lengthwise, sliced .5 inch thick, and washed thoroughly
3 garlic cloves, minced
2 glugs vegetable oil
1.5 cups/glasses full of chicken broth
1/2 cup brandy
2 spoonfuls tapioca powder (you'll need to go to a health food store for this one if you live in Belgium. If you live in the US minutes tapioca is fine)
2 bay leaves
500g boneless pork butt, cut into 3 cm chunks
500g carrots, peeled, halved lengthwise, and sliced 1 inch thick
1 fennel bulb, tops discarded, halved, and sliced
1.5 cups prunes, quartered
.5 cups heavy cream
2 spoonfuls minced tarragon
1 spoonful fresh squeezed lemon juice
Instructions
Sautee leeks, garlic, and oil in a pan, stirring occasionally on low heat until leeks are softened. Transfer to slow cooked.
Stir in broth, brandy, tapioca, and bay leaves. Season pork with salt and pepper and nestle into slow cooker. Cook on low for 9-11 hours, or on high for 5-7 hours.
20 minutes before you are ready to eat, steam carrots and fennel on the stovetop. When tender, put into the slow cooker.
Add in prunes and cream, and let sit until the time is up. Season with salt and pepper and a squeeze of lemon juice just before serving.
Adapted from Slow Cooker Revolutoin
Victoria's Kitchen http://kitchenbyvictoria.com/