Fusilli with Italian Sausage & Basil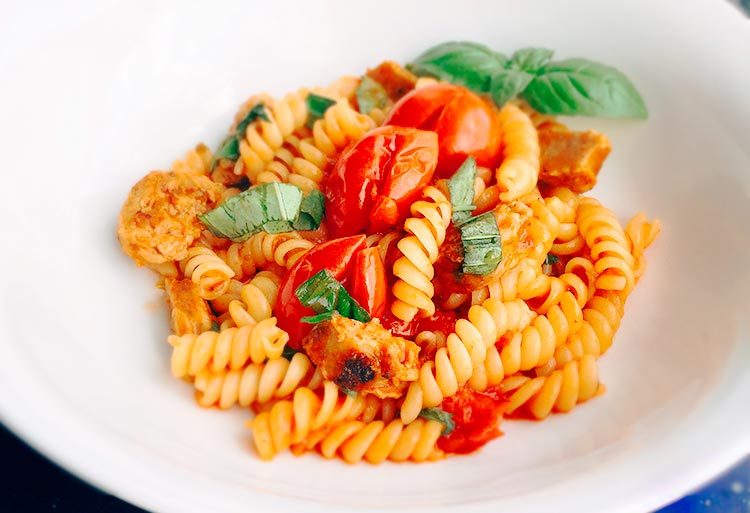 This was an off the cuff dinner made with the leftover pasta from the Spinach and Leek Soup with Sausage. That's right- 5 days later. I think everyone should be a little more flexible about leftovers. When in doubt, eat it. If it's bad- you'll know.
If you don't have leftover sausage you can of course make it within the recipe, it's written below as such.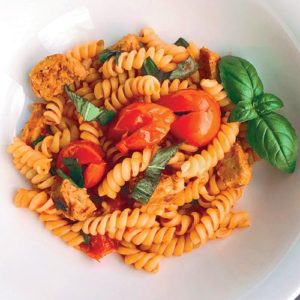 Fusilli with Italian Sausage & Basil
2016-05-18 13:29:19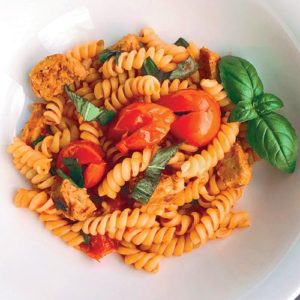 Serves 2
Ingredients
3 Italian sausages (they should have fennel seed in them)
200g fusilli or another small pasta (about a third of a box)
1 onion
2 cloves of garlic
1 can crushed tomatoes
1/4 tsp cayenne pepper (or more if you like spicy)
1 tsp oregano
1/4 cup basil leaves, chopped
1/4 cup parmesan cheese, grated
Instructions
Sauté the sausages in a  pan. Once browned all over, slice and throw back in the pan to brown all over. When done, add the onion and garlic and continue to stir.
After a few minutes, add the can of tomatoes, and the spices. Continue to stir on a low flame as the pasta cooks. A minute or so before the pasta is done, stir in the basil.
When the pasta is done, reserve a cup of pasta water, strain the pasta, and throw it into the sauce. Add the reserved pasta water in small amounts until the dish reaches your ideal consistency. I prefer my pasta saucy!
Remove from the heat and add the parmesan.
Victoria's Kitchen http://kitchenbyvictoria.com/