Ginger Vegetable Stir Fry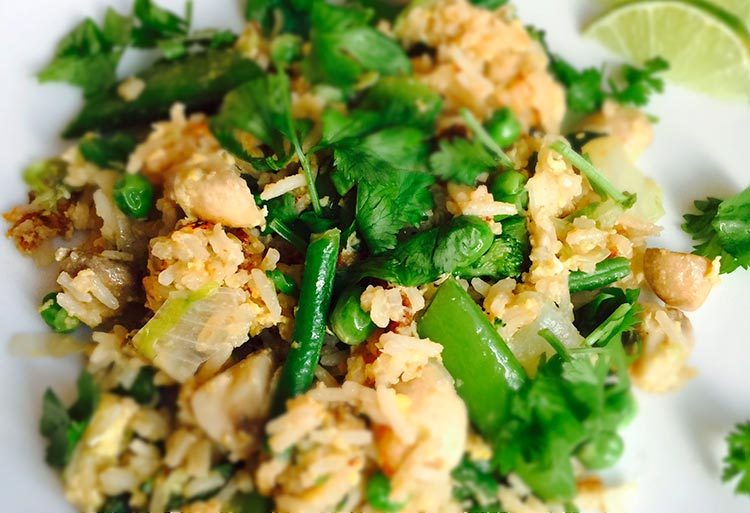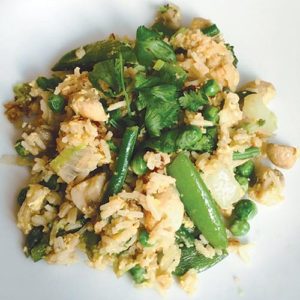 Ginger and Vegetable Stir Fry
2016-06-06 13:24:50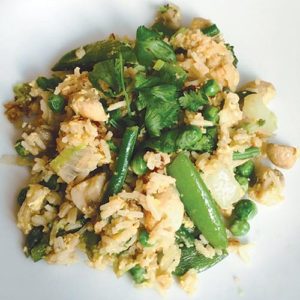 Serves 2
Ingredients
2 spoonfuls Coconut oil
A handful of broccoli or broccolini
A handful of sugarsnap peas and/or green beans
A handful of mushrooms
A handful of fresh peas
3 spring onions/scallion
2 Cloves of garlic
2 Eggs
A half spoonful of red pepper flakes
1 Spoonful of powdered ginger or 1 spoonful of grated raw ginger
Sesame oil
Shoyu or soy sauce
2 Servings of rice (could be leftover from take out the night before)
Coriander to serve
Instructions
If not using leftover rice, cook the rice according to package instructions.
In a separate pan (ideally a wok), heat a lump of coconut oil over medium high heat. Add the vegetables that take longer to cook, in this case broccoli, sugar snap peas, and mushrooms. Stir around a bit until they start to cook through. Then add the fresh peas, spring onion, garlic and red pepper flakes.
One minute later, turn the heat to high, and throw in the cooked rice and powdered ginger. Stir until rice is hot, and then crack the egg on top and stir very quickly so that the rice is evenly coated and the yolk and white are well combined. (If you have the energy to wash an extra dish you can mix the egg in a mug first to ensure it's fully combined before pouring in). I rarely have this energy.
Stir it around quickly, and add salt and pepper to taste. Pour on a splash of sesame oil and a splash of soy sauce or shoyu, also to taste.
In the photo I garnished it with lime slices, which i don't recommend actually squeezing on this dish, I was just desperate for a little side garnish. You could also top with coriander, which is delicious.
Victoria's Kitchen http://kitchenbyvictoria.com/
This is my favourite recipe for leftover rice. It could work with a range of other vegetables, try broccoli, bok chop, the green stuff is best.
It should be noted, that after decades of eating leftover rice without a problem, I recently discovered that if it's not stored properly it can actually give you food poisoning. More information here, but the bottom line is, once you've cooked rice, get it dry, and get it cold (straight into the fridge). The longer it sits at room temperature the more likely bacteria is to grow. If you store it properly there is no reason you can't enjoy it the next day.