Grilled Corn & Barley Salad with Tomato Vinaigrette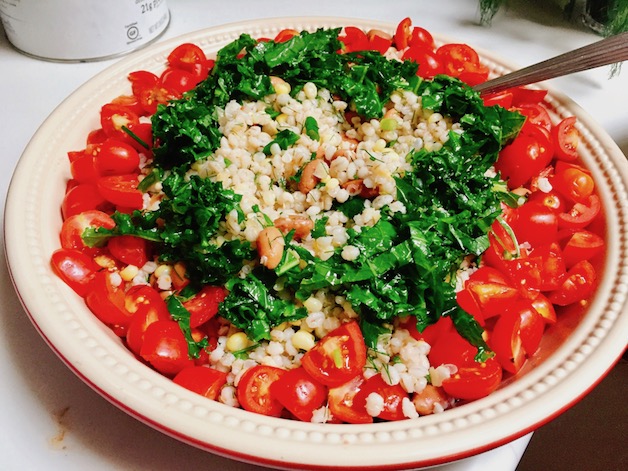 This was one of the best meals of the year. This salad with fresh corn together with a pulled brisket (recipe coming shortly). A perfect fresh summer meal.
Don't do this with canned corn it just won't be as delicious.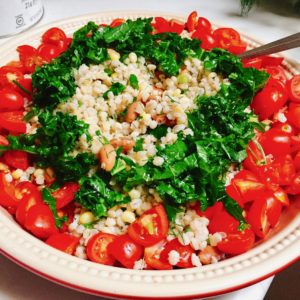 Grilled Corn & Barley Salad with Tomato Vinaigrette
2017-11-13 15:43:24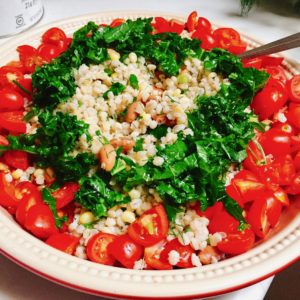 Ingredients
1/2 cup dried pearl barley
3 ears of corn (shucked)
1 pint grape or cherry tomatoes
1 cup cooked cannellini beans
1 ripe tomato
1 1/2 teaspoons apple cider vinegar
1 large garlic clove
1/4 cup basil cut into ribbons
1 bunch of chives, thinly sliced
¼ - ½ cup(s) olive oil
Instructions
Boil barley according to package directions, using a large stock pot.
Brush corn with olive oil and grill on all sides until charred gill marks appear.
Meanwhile, halve all of the tomatoes and rinse and drain beans.
Cut kernels off the corn. As you cut, collect any of the "milk" that comes from the cutting process, then use the back of the knife to scrape the remaining "milk" from the cleaned cob.
Next, cut the large tomato in half and grate with a box grater over a dish or wide bowl, discarding the skins, but collecting the juice and pulp. Paste the garlic clove by mincing the garlic, and then adding some salt and rubbing the mixture between your cutting board and the side of your chef's knife. Add that paste into the tomato mixture. Add a pinch of salt, crushed red pepper to taste, vinegar, and corn milk. Always crush dried herbs in the palm of your hand before adding to release the oils…releasing oils = releasing flavor! Whisk in olive oil slowly. Your goal here is to create an emulsion. This should yield at least a ½ c. of vinaigrette.
If you plan on making ahead, make ¼ c. of extra vinaigrette to freshen before serving. Reserve your vinaigrette. Combine barley, tomatoes, corn, beans and fresh herbs in a large bowl and dress with your tomato vinaigrette. Toss to combine. Finish with a drizzle of your best olive oil.
Adapted from Food52
Victoria's Kitchen http://kitchenbyvictoria.com/