Hainanese Chicken Soup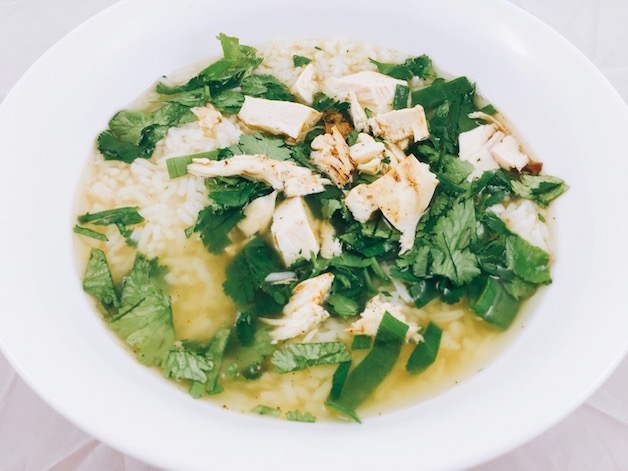 This recipe reminds me so much of a recipe my mother makes- we always called it scallion chicken.
This is basically the soup version of that. A chinese spiced ginger and scallion broth with shredded chicken, fresh coriander, and served on a bed of rice. YUM.
If possible, use homemade chicken stock and the chicken leftover from your last roast. I roasted a chicken last Sunday with the sole purpose of making this dish afterwards and oh dear was it worth it.
If not possible, not to worry, the directions below explain how you can use bouillon & poach your own chicken in the broth.
The recipe itself is largely based on one from the Hairy Bikers: Chicken & Egg cookbook, given to me by my lovely Bibbsles!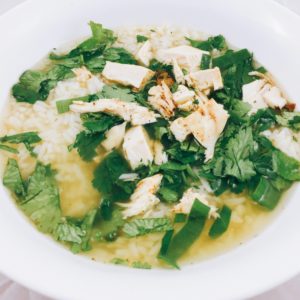 Hainanese Chicken Soup
2017-03-26 14:39:38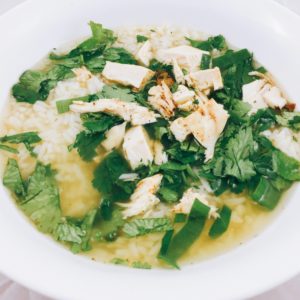 FOR THE BROTH
1.2 liters chicken stock
A long thumb sized piece of ginger
1 bunch spring onions (that's right, an entire bunch)
3 garlic cloves, sliced
3 star anise
a few peppercorns (I used mixed and not just black, but as you prefer)
4 skinless chicken breasts (optional, if you don't have already cooked, leftover chicken)
FOR THE RICE
a tablespoon of butter
2 garlic cloves, crushed
a smaller chunk of ginger, peeled and grated
300g jasmine rice
TOPPINGS
Sriracha chile sauce
A handful of cooked, shredded chicken
Fresh coriander, washed and chopped
Soy sauce
Instructions
First make the broth. Thinly slice the ginger (no need to peel it). Slice the spring onions, and set 2 aside for use as a topping at the end.
Pour the stock into a saucepan and add the ginger, sliced spring onions, garlic, star anise, peppercorns, and a half teaspoon of salt. Bring to the boil and simmer for 5 minutes.
*If you are poaching your own chicken, add them at this point and let them simmer gently for 7-8 minutes. Turn off the heat and leave the chicken to stand for 5 minutes. Remove the chicken from the pan and set it aside to cool before shredding with your fingers*
If you are not cooking new chicken, just let that broth bubble away while you make your rice.
To make the rice, heat the butter in a saucepan with a lid, and add the garlic and ginger. Cook for 3-4 minutes until the garlic has softened but don't let it brown at all. Add the rice, and stir until all the grains are glossy.
Measure out 500ml of the stock and pour it over the rice. Season with salt, bring it to a boil, then turn the heat down and cover the pan leaving it to summer for 10 minutes. Remove the pan from the heat and let it sit to absorb any excess water for another 10 minutes.
To serve, warm the remaining chicken stock (strain it if you need to- sometimes all the chunks sink to the bottom and it's not necessary). Put a ladleful of rice in each bowl, and cover with shredded chicken. Pour a ladleful of stock on top, and then garnish with spring onions, coriander, and let people top with sriracha and soy if they wish.
Victoria's Kitchen http://kitchenbyvictoria.com/