Healthy Coconut Almond Cookies with Cacao Nibs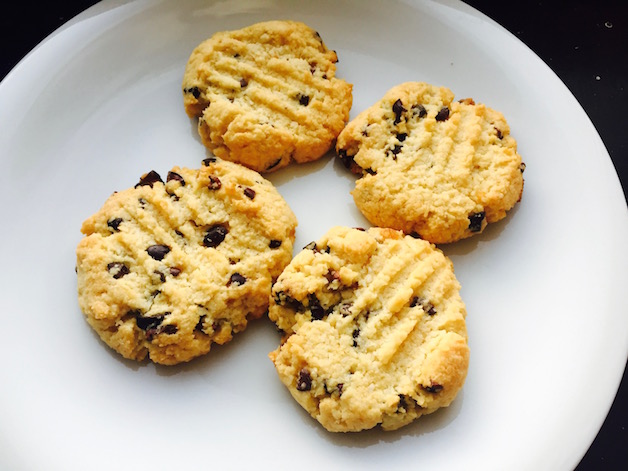 I've been working on the process of cleaning out the cabinets, in particular all the little half bags.
I googled coconut, almond meal, and cacao nibs, and this one popped up. It's originally from Sprouted Kitchen, but I got the Minimalist Kitchen.
They are super healthy- the only naughty bit is the brown sugar.
Don't overbake them. When they first come out they'll look soft, but as long as there is a touch of golden brown I promise they'll firm right up once they cool down.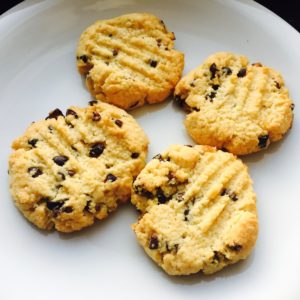 Healthy Coconut Almond Cookies with Cacao Nibs
2017-02-16 15:46:45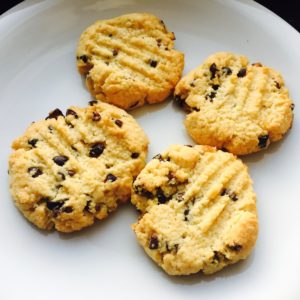 Ingredients
1 ¼ cups (137 g) almond meal
¼ cup (30 g) chopped dark chocolate or cacao nibs
½ cup (40 g) shredded unsweetened coconut
½ teaspoon baking powder
¼ teaspoon salt (Sara used sea salt)
1/3 cup (73 g) brown sugar (Sara used muscovado)
1 egg
3 tablespoons (45 g) coconut oil, melted
½ teaspoon vanilla extract
Instructions
In a large mixing bowl, stir together almond meal, dark chocolate chips, coconut, baking powder, salt and sugar.
In a separate bowl, beat egg until uniform in color and doubled in volume.
Whisk in the coconut oil and vanilla, then add to dry ingredients and mix until just combined.
Chill in the fridge for at least 30 minutes or even overnight.
Preheat oven to 375 degrees F (190 C).
Shape dough into 1-inch balls, place on baking sheet with 1-1/2 inch space in between each. Press down slightly to flatten a bit.
Bake until edges begin to brown, 7-10 minutes.
Remove from oven and let cool before serving.
Adapted from Minimalist Baker
Victoria's Kitchen http://kitchenbyvictoria.com/