Hearty Mushroom & Spinach Orzotto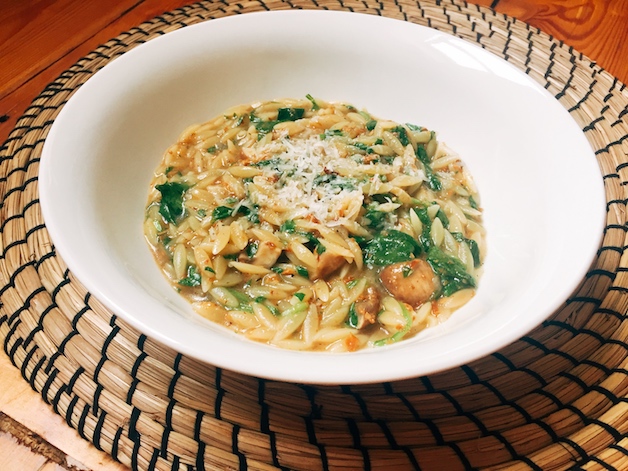 This is greek pasta cooked in a risotto style- constantly stirred adding bits of broth. The trick to getting it extra mushroomy is to blend dried mushrooms with their soaking liquid and alternative this with broth.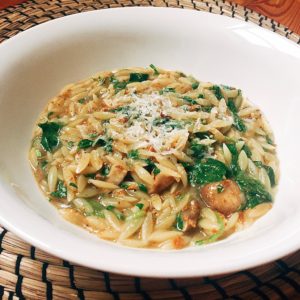 Hearty Mushroom & Spinach Orzotto
2018-06-11 11:49:28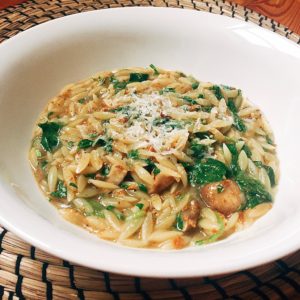 Serves 2
Ingredients
1 shallot
1 clove garlic
Olive oil
1/3 cup white wine or sherry
200 grams orzo (greek pasta)
1 teaspoon herbes de provence
1 teaspoon dried thyme (or fresh if you have it)
2 large handfuls of white, brown or mixed mushrooms
2-3 cups vegetable or chicken broth
15g dried mushrooms (I used chanterelles, porcini would also be delicious)
3 large handfuls of spinach, washed and chopped
Salt & pepper
Grated parmesan, for topping
Instructions
First, put the dried mushrooms in a bowl and cover with boiling water. Let sit.
Chop the garlic and the onions, and sauté it in olive oil, salt and pepper for about 3 minutes. Once soft, add the orzo and toss it to ensure it's coated in the olive oil. Let it toast a bit for a few minutes, then add the dried herbs.
Toss again, then add the chopped mushrooms, and the sherry. Coat all of the pasta and let the sherry bubble away until it starts to evaporate.
Add in a cup of broth at a time, and keep stirring (risotto style).
In parallel, blend the dried mushrooms with their liquid in a blender, and start to alternate this mixture with the broth. Taste the pasta as you go along to test for doneness, and adjust the salt and pepper as you go.
Once done, add in the spinach, stir until wilted, and pull off the heat. Top with grated parmesan and serve hot!
Victoria's Kitchen http://kitchenbyvictoria.com/