Heidi Swanson's Spicy Green Soup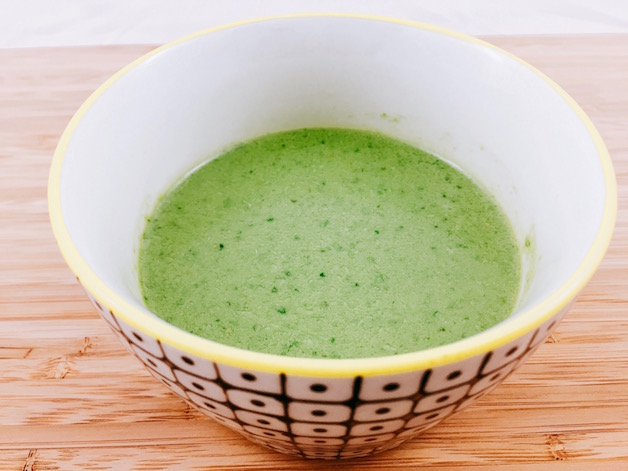 I'm not going to lie… this is spicy.
But it's perfect when you are starting to get sick.
Have a box of tissues close by, and get ready to blow your nose!
Packed with fresh herbs, chile, garlic and ginger-it's the punch of health to make you really feel alive (or breathe fire).
If you are sensitive to heat, just cut back on the ginger/garlic and/or chile, it's easily adaptable.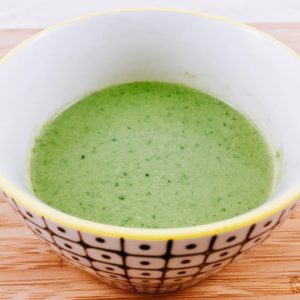 Heidi Swanson's Spicy Green Soup
2017-02-16 14:14:06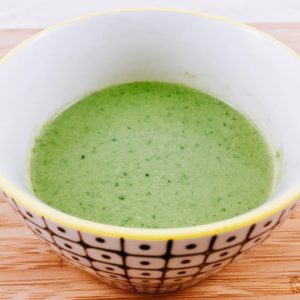 Serves 4
Ingredients
1 liter of water
2 cloves of garlic
¾ cup firmly packed basil leaves
1 ¼ cup firmly packed cilantro leaves and stems
¼ cup lightly packed mint leaves
1 thick 2-inch piece of ginger, peeled and grated
3 tablespoons extra virgin olive oil
2 small serrano chiles (stemmed and deseeded
1 teaspoon fine grain sea salt
Zest of 1 lemon
1 Tablespoon runny honey
Any of the following as to add on top: poached eggs, hot white beans, soba noodles, brown rice
As final garnish any of the following: chopped black olives, lemon wedges, or toasted almond slices.
Instructions
In a saucepan, bring water just to a simmer.
As the water heats, combine the garlic, basil, cilantro, mint, ginger, olive oil, chiles, almonds, salt, lemon zest, and honey in a food processor. Blend until smooth, thinning with a couple of tablespoons of cold water and scraping down the sides along the way, until the mixture becomes as smooth as possible.
Taste and adjust to your liking; the paste should be strong and spicy.
Just before serving, add the paste to the simmering water and stir well. Dial back the heat at this point; you don't want it to return to a simmer, but you do want it very hot.
Taste and adjust the seasoning—a bit more salt or a squeeze of lemon juice. (Editors' note: Don't skimp on the lemon!)
Ladle into bowls with your chosen accompaniment and enjoy on its own or topped with any of the suggested toppings.
Adapted from Food52
Victoria's Kitchen http://kitchenbyvictoria.com/